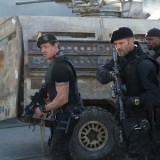 Movie Review: The Expendables 2 (2012)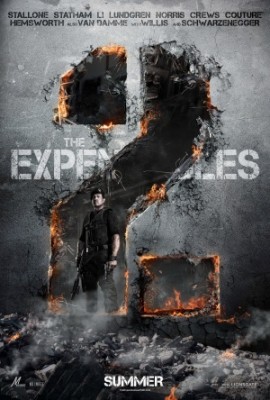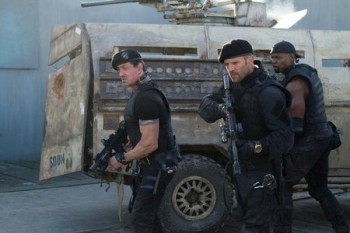 Movie Information
:
:
:
:
:
Genre(s):
Action, Adventure, Thriller
MPAA Rating: R
Director(s): Simon West
Actor(s): Arnold Schwarzenegger, Bruce Willis, Chuck Norris, Dolph Lundgren, Jason Statham, Jean-Claude Van Damme, Jet Li, Sylvester Stallone, Terry Crews
Writer(s): David Agosto, Ken Kaufman, Richard Wenk, Sylvester Stallone
Producer(s): Danny Dimbort, Guymon Casady, Jason Constantine, Robert Earl
Studio(s): Millennium Films
Posted August 18, 2012 by
Mariusz Zubrowski
The Expendables 2 is the Brazzers of explosion porn. The critical backlash surrounding its predecessor, "The Expendables" — an experiment in how many washed-up stars you can manage into a single film — didn't detract it from becoming a success, and this sequel includes more of what every reviewer hated about the first—mindless gore and a don't-give-a-fuck attitude. However, director, star, and writer Sylvester Stallone puts Simon West (responsible for "Con Air" and "The Mechanic") at the helm this time around, instead sticking to his acting chops (in addition to a credit for helping pen the script). The result is the most entertaining film of the summer.
Mr. Church (Bruce Willis), the series' enigmatic government agent, returns with another job for our eponymous clique of mercenaries: To retrieve a mysterious "package." As security, he forces group leader Barney Ross (Stallone) to accept Maggie (Yu Nan), a woman with killer charms, into his pack of alpha-men. Alongside Gunner Jensen (Dolph Lundgren), Lee Christmas (Jason Statham), Hale Caesar (Terry Crews), Toll Road (Randy Couture), and Billy the Kid (Liam Hemsworth), a greenhorn military sniper, they set out on a mission destined for disaster. When one of their own is murdered by a ruthless rival mercenary named Jean Vilain (Jean-Claude Van Damme) and their target turns out to be five tons of weapons-grade plutonium, the crew locks and loads for a wave of destruction through hostile territory.
They're not emotionally complex, but the leads of The Expendables 2 are as endearing as the action figures you had as a kid. Stallone and co-scribe Richard Wenk had a lot of fun with this ode to '80s actioners and it's evident through the colorful interactions between these characters. Each member of the clique has an idiosyncrasy. As they work around each other's quirks the headliners develop themselves as likable protagonists. Their camaraderie is also a lot more organic in this follow-up. Stallone's chemistry with Statham is especially on-point, while Lundgren and Crews are honorable standouts amongst the ensemble cast. On the opposite side of the playing field, Van Damme's Belgian accent makes him a cool throwback to those outlandish Reagan-era villains.
Poking fun at the ridiculousness of the genre and the movies that made them stars, the humor is as memorable as the body count. Occasionally, they misfire (as is the case with Arnold Schwarzenegger's character, who repeats the same "Terminator" reference far too many times); other times, like in Chuck Norris' self-deprecating intro as Booker, a retired military operative who's virtually indestructible, the facetiousness adds another layer of rewatchability. But the funniest scene has Caesar pondering the life-long question, "What would you have for your last meal?"
Unlike the team's high-powered guns, West's direction jams along the way. For a movie that prides itself on grandiose violence, the CG is a tad spotty. And he relies too much on shaky camera during the third act. This makes the action hard to follow. A much anticipated one-on-one brawl between Ross and Vilain is also underwhelming (despite Van Damme specifically requesting the scene be re-done after being unhappy with the original confrontation). Fortunately, he abstains from the sappy romance far too common in today's blockbusters.
While the anticlimactic ending somewhat detracts from the overall experience, the rest of the movie is enjoyable enough to make The Expendables 2 worth your time and money. If Stallone and company continue this upward curve, the forthcoming threequel (already in its planning stages) could be a titan.