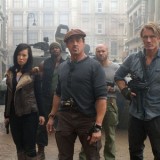 Movie Trailer #2: The Expendables 2 (2012)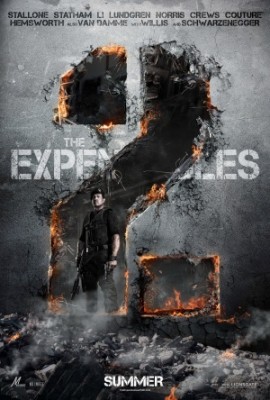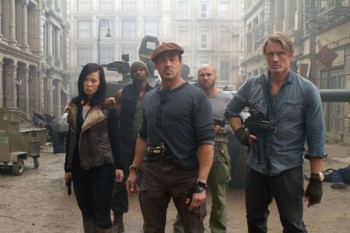 Movie Information
:
:
:
:
:
Genre(s):
Action, Adventure, Thriller
MPAA Rating: R
Director(s): Simon West
Actor(s): Arnold Schwarzenegger, Bruce Willis, Chuck Norris, Dolph Lundgren, Jason Statham, Jean-Claude Van Damme, Jet Li, Sylvester Stallone, Terry Crews
Writer(s): David Agosto, Ken Kaufman, Richard Wenk, Sylvester Stallone
Producer(s): Danny Dimbort, Guymon Casady, Jason Constantine, Robert Earl
Studio(s): Millennium Films
Posted May 3, 2012 by
sasori
The first go round in December was just a tease as to what was to come with The Expendables 2. Today Lionsgate opened the lid with the first full trailer and it's got a shitload of explosions in it. Very 80′s-like explosions preceded by very 80′s-like action. That doesn't mean it isn't a fun watch but a bad guy stealing plutonium (pretty cool its Van Damme though) to somehow wreak havoc on the world is a derivative storyline. The draw is still the fact that nearly every 80′s, 90′s and 00′s action stars are starring in it and that they can still hold their own. See below to draw your own conclusions.
See the teaser trailer here: The Expendables 2 Trailer #1.
The Expendables 2 stars Sylvester Stallone, Jason Statham, Jet Li, Dolph Lundgren, Chuck Norris, Randy Couture, Terry Crews, Liam Hemsworth, Jean-Claude Van Damme, Bruce Willis and Arnold Schwarzenegger.
The Expendables 2 strafes US and UK theaters on August 17, 2012.