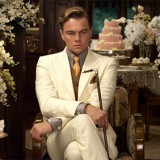 Movie Review: The Great Gatsby (2013)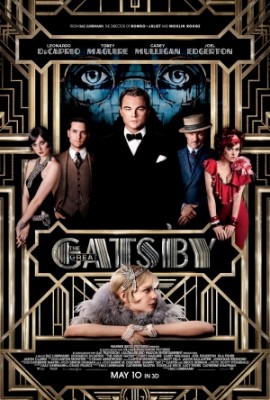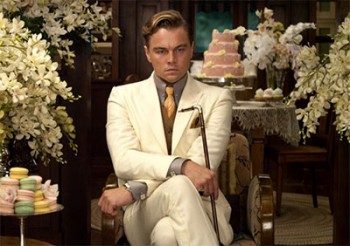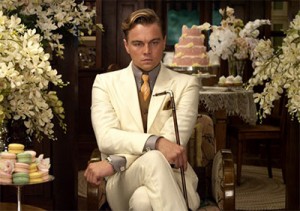 Movie Information
:
:
:
:
:
Genre(s):
Drama, Romance
MPAA Rating: PG-13
Director(s): Baz Luhrmann
Actor(s): Carey Mulligan, Isla Fisher, Joel Edgerton, Leonardo DiCaprio, Tobey Maguire
Writer(s): Baz Luhrmann, Craig Pearce
Producer(s): Baz Luhrmann, Catherine Knapman, Catherine Martin, Douglas Wick, Lucy Fisher
Studio(s): Warner Bros.
Published on May 10, 2013 by
Greg Eichelberger
If Terrence Malick is the master of the unnecessary voiceover, and Ang Lee is the master of the unnecessary split screen, then surely Baz Luhrmann is the unequaled master of the unnecessary — and over-the-top — mix of garish glitz, flash and explosive cinematechnics.
His latest, The Great Gatsby, an ambitious tackling of the 1925 F. Scott Fitzgerald novel (which seems almost biographical at times), is no exception to this observation. Not only is Luhrmann's choreographically, color-charged, light-up-the-screen method of direction on display but it also pulsates with his characteristic out-of-date song placement (music purists just need to view a snippet of "Moulin Rouge!" to get an infuriating example of that idiosyncrasy, although most women I ever met seem to LOVE that picture).
In this adaptation (there are at least four other major film versions; last being in 1974), Luhrmann has past Academy Award nominees Leonardo DiCaprio ("Blood Diamond," "The Aviator" and "What's Eating Gilbert Grape") and Carey Mulligan ("An Education") putting in solid efforts, but the supporting cast, led by Tobey Maguire (the Spider-Man series), Joel Edgerton ("The Odd Life of Timothy Green") and Isla Fisher ("Confessions of a Shopaholic") leaves much to be desired. And unfortunately for all of the cast members, the sheer pomposity of the production, the overwhelming weight of the visual pyrotechnics, the skull-cracking musical barrages and 3D experience not worth the trouble or the extra cost completely drowns out any possible memorable (or even less than memorable) performance.
It's like 20 pounds of sweet delicious frosting, but no one remembered the cake. Also, running at almost two and-a-half hours, The Great Gatsby makes Luhrmann's "Australia" look like the soul of brevity.
The well-worn plot of this enterprise has Nick Carraway (Maguire), a rube from the Midwest arriving in New York during the Jazz Age to begin what he hopes is a writing career. His cousin, the lay-about, ultra-rich Daisy Buchanan (Mulligan) is in an obviously unfaithful marriage with the blue-blooded Tom (Edgerton), who is slumming with a mechanic's wife (Fisher). Carraway soon finds himself living next to — and eventually drawn into the world of — the mysterious Jay Gatsby (DiCaprio) who is both a megamillionaire, war hero, industrialist and world's greatest enigma.
That's pretty much the basis one needs to know, considering that most other aspects of The Great Gatsby (including more flashbacks than one cares to engage in) are totally crushed by the dazzling and stunning light show. The suits, the automobiles, the set designs and art direction are all to be commended — to a point. Musically, however, those who expected Luhrmann to have included such 1920s classic artists as George Gershwin, Paul Whiteman, Gene Austin or Fred Waring to the soundtrack, forget it. Here, he uses the "talents" of modern — and vastly overexposed — musicians such as Beyoncé, Jay-Z, Will.i.am, Q-Tip and others with simply no regard to authenticity. His worst crime, though, is including a nice, simple 1967 love song, "Happy Together," by the Turtles which has been bastardized beyond all recognition by The xx and turned into an off-key screaming rant.
Between that aural monstrosity and the epileptic seizure-inducing visuals, I found myself leaving the theater in a daze that even a quick rewatching of the book's 1949 film adaptation (with Alan Ladd in the lead role) was unable to cure.