Now what would we do as a movie audience if we did not have cinematic simpletons to provide the pure escapist nuttiness and nonsense for us to forget our own daily worries? Basically, the treasured movie moron comes in all shades of mood and method of oblivious introspection. Some of these clueless characterizations are lovable lunkheads while other have hidden darkness of shame and slander.
In Top 10 Movie Morons we will look at the film-related fools that participated in the shifty shenanigans that highlighted their awkward adventures while putting on the hapless high jinks (or poignancy) for the amused viewers. Perhaps labeling some of these selections as "moronic" may be considered insensitive or inappropriate as a few of them do maintain a sense of humanity and innocence within their various souls. As for the others being an unabashed nitwit is indeed a badge of honor — for them and for us watching them from the sidelines.
In ALPHABETICAL order the Top 10 Movie Morons are as follows:
#10 Ron Burgundy from "Anchorman: The Legend of Ron Burgundy" (2004)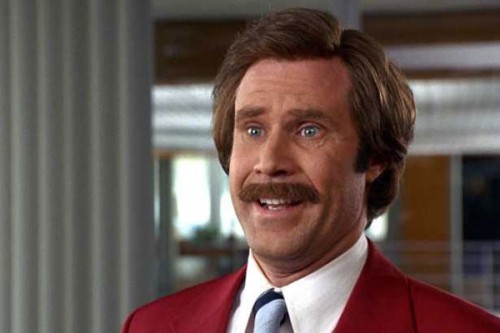 The always self-absorbed San Diego-based newsman Ron Burgundy (Will Ferrell) believed his own hype as the vain media darling in local broadcast journalism. In fact, Burgundy's whole news team were as insufferable as he was under the skin: Chauvinistic, pompous, oafish and needlessly vapid. Still, Ron Burgundy was the head egomaniac in charge of the all-boys network where he ruled in front of the camera until a capable female co-anchor came along in Veronica Corningstone (Christina Applegate) to remind Burgundy and his band of Neanderthal newsmakers that they were no more special or entitled than a mere bag of stale corn chips. Obviously, Ferrell's Ron Burgundy is a satirical jab at the polished pretty boy/girl personalities that play an integral part in the news drive wars. Thankfully, Burgundy's moronic presence was received with outlandish hilarity.
#9 Karl Childers from "Sling Blade" (1996)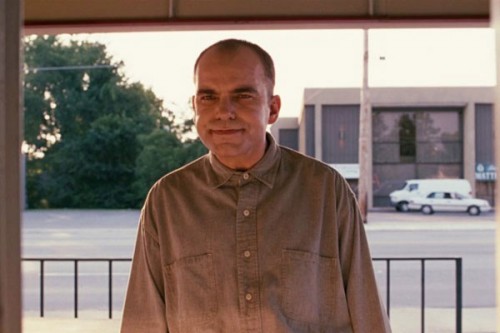 The perception of murderous mental patient Karl Childers (Billy Bob Thornton) being a "moron" will probably be a bit of a stretch for a troubled characterization steeped in sadness, sorrow and dramatic darkness. Still, we are talking about perception as the audience viewed the developmentally disabled Karl as a redeemable countrified moron with a stirring backstory of tragic consequences. Accused with murdering his mother and her lover at the tender age of 12-years old, Karl had been confined to an Arkansas psychiatric hospital. Upon his release Karl found some redemption in befriending a young boy named Frank (Lucas Black) and his mother as he tries to come to terms with his turbulent past. Eventually, Karl's involvement with Frank would come full circle and bring to the surface the recurring institutionalized nightmare that he had just left behind. Thornton earned an Academy Award nomination portraying the mentally unstable soul looking to resolve his demoralizing and dysfunctional demons.
#8 Lloyd Christmas and Harry Dunne from "Dumb & Dumber" (1994)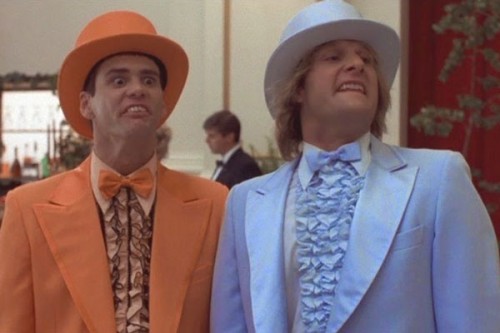 The dim-witted duo of "Dumb & Dumber" came on with a strong banal bang at the box office in the mid 90's when the tedious tandem of Jim Carrey and Jeff Daniels came together in idiotic unison and gave the movie audience a celebratory reason to embrace the over-the-top moronic exploits of Carrey's Lloyd Christmas and Daniels' Harry Dunne. Directorial siblings Peter and Bobby Farrelly took goofiness and grossness to a zany new level as they unleash these couple of imbecilic buddies on a cross-country adventure from Rhode Island to Colorado as they clumsily try to return a briefcase of cash to pretty Mary Swanson (Lauren Holly, Carrey's future ex-wife). Snagging the then-red hot Carrey for "Dumb & Dumber" was a winning move since the Canadian comic sensation was already known for his moronic mastery in prior TV roles and other 1994 movie vehicles as "Ace Ventura: Pet Detective" and "The Mask" not to mention his futuristic foolishness in 1996's "The Cable Guy" and beyond.
#7 Inspector Jacques Clouseau from "A Shot in the Dark" (1964)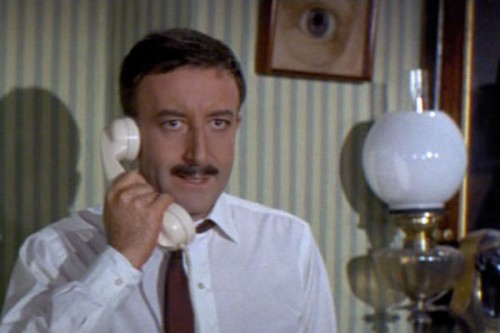 The late great Peter Sellers breathed feisty lunacy life into the bumbling brilliance of French Inspector Jacques Clouseau in Blake Edwards' infectiously wacky "A Shot in the Dark." Clouseau, in all his infuriating glory, was tapped to investigate the murder of wealthy Benjamin Ballon's Spanish driver and haphazardly stumbles along the way as bodies turn up dead in the process. Clouseau's mishandled methods in getting to the bottom of the crime is a constant source of frustration to his superior Charles Dreyfus (Herbert Lom) whose blood pressure rose drastically whenever Clouseau's pesky antics escalated. From being shamelessly attracted to the Number One suspect in maid Maria Gambrelli (Elke Sommer) to causing giddy havoc leading to further goofy-minded destruction certainly put a permanent stamp on Seller's iconic crime-solving moron in the "Pink Panther" pantheon of lofty laughs.
#6 Forrest Gump from "Forrest Gump" (1994)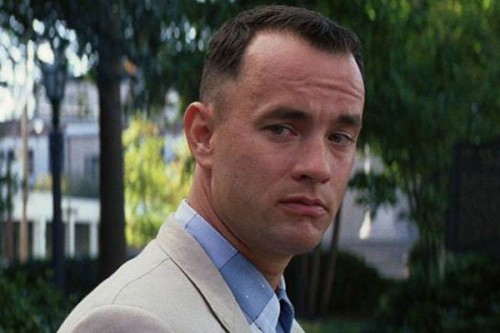 Who can ever forget Tom Hanks' second Oscar-winning triumphant turn for best actor as the Alabama-based delayed soul whose impressive yet unintentional touch with historical events would only be shaped by his true love for his crisis-driven childhood sweetheart-turned-tortured crusading adult Jenny Curran (Robin Wright)? The slow-witted Southerner may have had a low IQ but he was high on hope and everything that come across his path as he unwillingly carved out a life of extraordinary achievements in contrast to the messy existence of his beloved and troubled Jenny — a wounded woman that Forrest would have traded all his accidental comfort for just to experience the affection for the first female outside of his mother (Sally Field) to take the time to accept him of his limited terms. During a critical chase on the football field one of the incensed coaches referred to Forrest as a "moron" while discovering his gridiron potential. In fact, others from Forrest's childhood bullies to military mentor-turned-close confidant in wheelchair-bound Lieutenant Dan (Oscar-nominated Gary Sinise) would question the well-meaning idiot savant. Soon, the good-natured Forrest would command the respect of everyone he inadvertently inspired. Deservedly, "Forrest Gump" would prove that even unfairly labeled "morons" can have an open golden heart laced with innate smartness, feeling and integrity.
#5 Luther Heggs from "The Ghost and Mr. Chicken" (1966)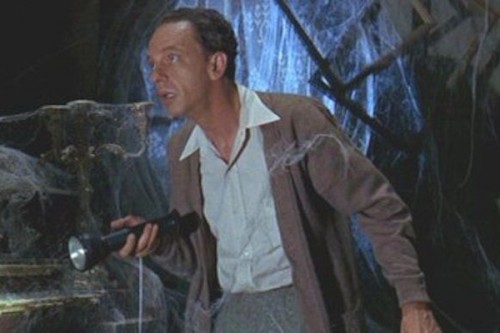 The highly popular Don Knotts took his Emmy-winning comedic clout from television's "The Andy Griffith Show" and tried to forge his moronic yet humorous stimulating nervous Nellie routine to the movies in fare such as 1966's "The Ghost and Mr. Chicken." Knotts was in typical shaky form as Luther Heggs, an aspiring reporter looking to land a job with his small town newspaper The Rachel Courier Express. Naturally the townsfolk think of the wiry Luther as a walking joke. The only way that Luther can convince the newspaper and town (as well as his love interest Alma Parker played by Joan Staley) to take him seriously while pursuing a journalism career is to investigate the on-going mystery involving a haunted house considered scandalous. Knotts applied his trademark hysteria and conceit so wonderfully done on "The Andy Griffith Show" and shared the nerve-racking nuttiness in "The Ghost and Mr. Chicken" as well as other vehicles such as 1964's "The Incredible Mr. Limpet," 1967's "The Reluctant Astronaut" and 1968's "The Shakiest Gun in the West."
#4 Earl Mott from "Ruthless People" (1986)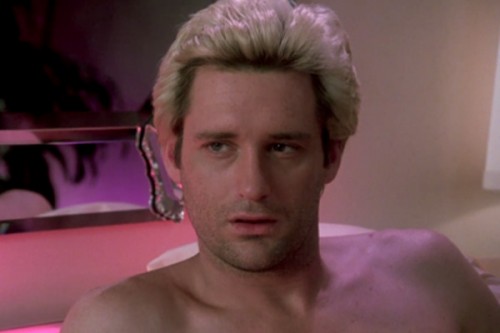 There is an extremely hilarious scene in "Ruthless People" where Lt. Bender (Art Evans) is on the rooftop waiting for the conniving businessman Sam Stone (Danny DeVito) to drop off the ransom money to his wife Barbara's (Bette Midler) captors Ken and Sandy Kessler (Judge Reinhold and Helen Slater) until the doofus Earl Mott (Bill Pullman) shows up out of nowhere and tries to grab the money in the middle of the sting operation. Bender's voice through the bullhorn instructs the moronic Mott to drop the money but the numbskull (an associate of Sam's mistress Carol played by Anita Morris) cannot figure out where the orders are coming from as he continues to wrestle the cash from Sam's hands. At that point Bender utters one of the funniest lines in disbelief as he quips, "This may very well be one of the stupidest human beings alive" or something to that effect. Indeed, Earl Mott was a supreme moron in the first degree and he made all the other pathetic participants in the naughty black comedy "Ruthless People" look like geniuses in comparison.
#3 Lennie Small from "Of Mice and Men" (1939)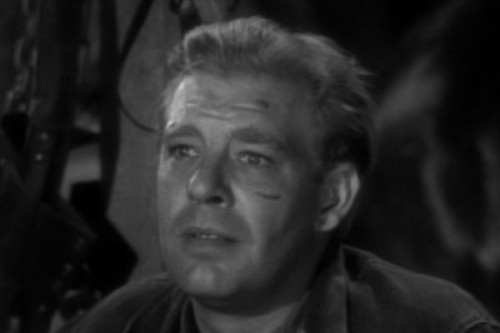 John Steinbeck's literary migrant farmhands George Milton and Lennie Small were brought to the big screen in director Lewis Milestone's absorbing movie adaptation with Burgess Meredith and Lon Chaney Jr. assuming the roles of the mismatched drifters with dreams of ranching their own property during the Great Depression. The focus is specifically on Chaney Jr.'s Lennie, the hulking mental man-child with ox-like strength but maintaining the pea brain to not realize how destructive he can actually be without realizing how his brute power does not correlate with the common sense of his misguided actions. Hence, this is why the more sensible George must look out for the moronic consequences caused by the mentally-challenged Lennie. Unfortunately, George could not save Lennie from his deadly encounter with a bored rancher's wife who ends up lifeless in the misunderstood oaf's hefty hands. Is Lennie Small a monstrous moron or simply a victim of his own uncontrollable transgressions?
#2 The Three Stooges (1930 thru 1970)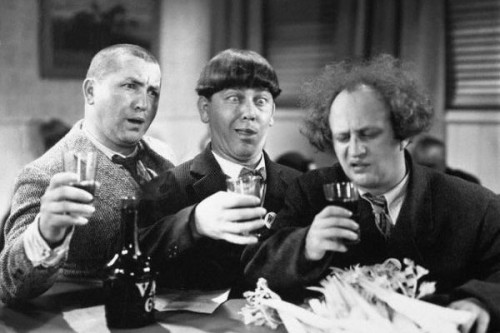 Nobody on the planet cannot conquer the masters of moronic slapstick in television and movies as much as the trend-setting princes of putz in Moe Howard, Larry Fine, Curly Howard, Shemp Howard, Joe Besser and Curly Joe DeRita (not forgetting Emil Sitka as the "an honorary" Stooge as well). For five-plus decades The Three Stooges emerged from Vaudeville, studio shorts, TV and film to become the world's most cherished cult-following movie morons complete with challenging physical comedy, playful put-downs, colorful pratfalls, adventurous sight gags and other kinds of free-spirited debauchery. Most of the younger generations may want to cite some of the Stooges' gimmicky movies toward the end of their maturing career in the 1960's farces ranging from 1959's "Have Rocket, Will Travel" to 1965's "The Outlaws IS Coming!" The anatomy of The Three Stooges' overall movie career (and as a developing comedy act going way back into the 1920's with Ted Healy) is too extensive to recall. Whatever reincarnation The Three Stooges were as a ticklish trio on both the small and big screen the off-kilter appeal stayed the same — they were three blind mice and we enjoyed the several decades in watching them constantly run.
#1 Ernest P. Worrell from "Ernest Goes to Camp" (1987)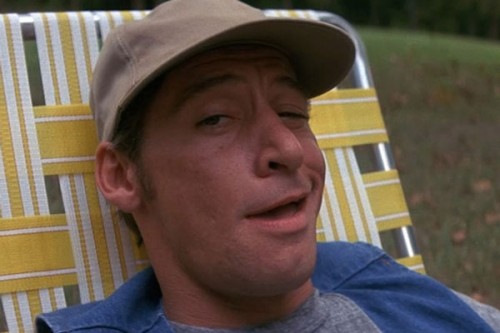 The moronic character of Ernest P. Worrell (Jim Varney) first came from a series of immensely popular TV ads that gained an infectious following nationwide to the point that the grating and loquacious television pitchman became an automatic sensation. Alas, the elastic-faced Varney had arrived and was now allowed to make his meddlesome mark in guilty pleasure Hollywood movies that would soon become the Ernest-infested film franchise. In addition to 1987's "Ernest Goes to Camp" Varney would crawl into Ernest P. Worrell's bothersome skin in such wacky vehicles as 1986's "Dr. Otto and the Riddle of the Gloom Beam," 1988's "Ernest Saves Christmas," 1990's "Ernest Goes to Jail," 1991's "Ernest Scared Stupid," 1993's "Ernest Rides Again," 1994's "Ernest Goes to School," 1997's "Ernest Goes to Africa" and 1998's "Ernest in the Army." Ernest was a motor-mouthed misfit but his loony lasting power provided some silly-minded fun borrowed from the late Varney's years of giddy exposure in the various TV campaigns launched on the boob tube.