Manipulation comes in all forms of misleading faces — misguided love, abuse, aggression, guilt, fear, disillusionment, sadness, blackmail, etc. However, when manipulation is used as a tool from one of the most nurturing souls imaginable (read: Your mother) then there is a disruptive element bound to tarnish the special bond meant to connect between mother and child — big and small.
In Top 10 Manipulative Movie Mothers let us take an observational gander at the top movie mothers whose manipulation had an impacting effect on the offspring they raised with questionable mothering skills. After witnessing these on-screen crazed care-givers you will probably feel very fortunate to embrace your sane "Mommy Dearest" in comparison.
In ALPHABETICAL order according to the manipulative movie mothers' character name here are the following cinematic selections:
#10 Mrs. Bates from "Psycho" (1960)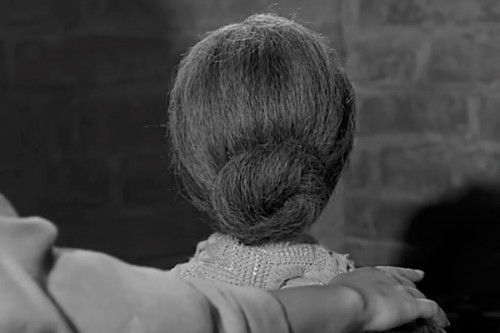 Let's face it folks . . . any woman that spawned the dysfunctional and disturbing Norman Bates (Anthony Perkins) from the infamous Bates Motel in Alfred Hitchcock's classic creeper "Psycho" is not going to immediately be mistaken for Mother Hubbard anytime soon. The unseen Mrs. Bates was the cold-hearted catalyst behind one of cinema's most beleaguered loners in Hitchcock's creepy creation of nutcase Norman Bates. Still, who could fully blame Norman for his embedded twisted tendencies that grew out of his severely psychological detachment for the domineering Mrs. Bates. Movie audiences did not need to physically see the manipulative mother to know what a wicked-minded woman she was underneath her heavily indifferent skin.
#9 Joan Crawford from "Mommy Dearest" (1981)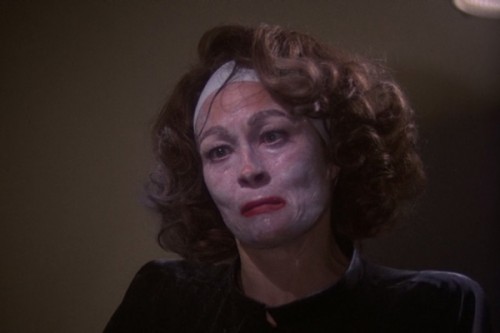 According to the unintentional campy biopic "Mommy Dearest" Oscar-winning actress Joan Crawford was the manipulative mouthpiece that used abusive tactics physically and mentally to control her adoptive daughter Christina while assuming her welcomed diva-like public persona to unsuspecting adoring fans. The film is based on Christina Crawford's revealing and popular memoir. Faye Dunaway starred as the legendary Hollywood man-hungry and coat-hanger-obsessive hothead that terrorized her little Christina (Diana Scarwid) as she tackled behind-the-scene demons in her personal life as the pressure of her movie career flourished in front of the camera. Many were split on Christina's horrifying account in airing out her famous screen queen mother's dirty laundry in print and on the big screen.
#8 Eleanor Crisp from "Kindergarten Cop" (1990)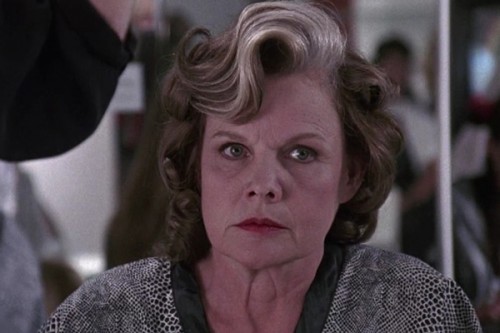 Indeed, the mother-from-hell in "Kindergarten Cop," Eleanor Crisp (Carroll Baker), was a manipulative domestic monster that was the motivating factor behind her menacing drug pusher son Cullen's (Richard Tyson) attempt to snatch her young grandson Cullen Jr. (aka Dominic Palmieri) away from his ex-wife Rachel (Penelope Ann Miller) — the teacher currently romancing Detective John Kimble (Arnold Schwarzenegger) who is undercover as a kindergarten teacher out to anticipate the conniving Crisps' daring move to abduct the jeopardized youngster. Eleanor was relentlessly pushy and controlling. It is not surprising how her riff raffish son Cullen's life in crime emerged when he is merely the sinister chip of the old motherly block.
#7 Mrs. Eleanor Shaw Iselin from "The Manchurian Candidate" (1962)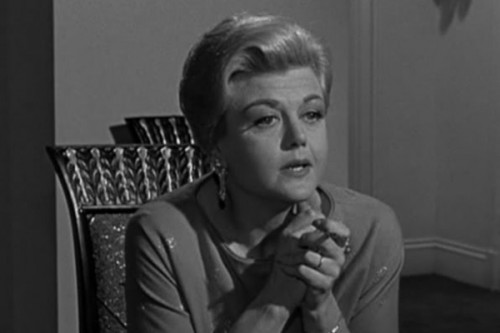 Angela Lansbury's Oscar-nominated role as the corruptible right-wing mother assigned to brainwash her Korean War vet son in filmmaker John Frankenheimer's compelling political potboiler "The Manchurian Candidate" is nothing short of mesmerizing. Lansbury's Eleanor Iselin, wife of U.S. Senator John Yerkes Iselin (James Gregory) who's looking to occupy the White House as a presidential leader, is recruited to program her war weary offspring Sgt. Raymond Shaw (Laurence Harvey) into becoming an American assassin. Raymond is not too thrilled with his domineering mother or the man she remarried in his arch conservative senatorial stepfather. Eleanor is drastically calculating and willing to mind-bend her delirious son in the name of pursuing a Communist witch hunt if not furthering the high stakes political ambitious of her haphazard husband. In short, Eleanor Shaw Iselin was one nihilistic Cold War matriarch with the emphasis on "cold."
#6 Judith Madigan from "Mother's Boys" (1994)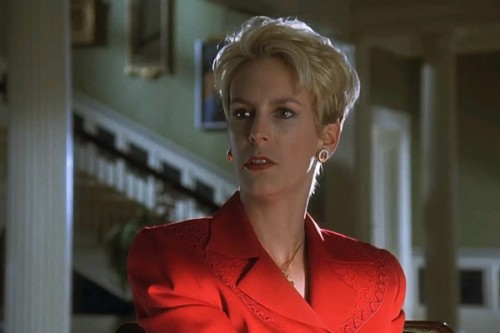 Judith 'Jude' Madigan (Jamie Lee Curtis) was the privileged but unstable wife and mother that walked out on her husband and three young sons. Robert Madigan (Peter Gallagher) had moved on in the aftermath of Jude's abandonment and had even found new love in school principal Callie Harland (Joanne Whalley). When Jude decides to re-enter the lives of Robert and her boys she is drawn into manipulation mode to win back her four favorite men and oust Callie in the process. Jude's agenda is to cozy up to her oldest son Kes (Luke Edwards) and play on his inner anger and alienation while convincing him that Callie is the destructive force that is keeping him and his brothers from being a complete family again. "Mother's Boys" is the melodramatic pits but Curtis's salacious turn as the scheming and self-serving delusional mother with damaging influence over her mentally tormented boys is one of her most underrated, tension-building roles that does not get enough credit.
#5 Doris Mann from "Postcards from the Edge" (1990)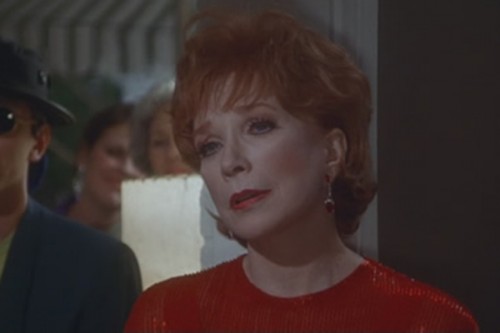 Hollywood has-been Doris Mann (Shirley MacLaine) was a star-maker in her heyday on the big screen. She is also star-maker when it comes to hitting the bottle hard. Doris is the mother of substance abuser Suzanne Vale (Meryl Streep) who has taken the familiar step in dipping into the ill-advised devices of destruction. In fact, the movie studios won't touch Suzanne until she cleans up her act. The solution: Suzanne must reside with her mother Doris in order to resume her movie career. This is not good news for Suzanne as she always struggled with her identity growing up in the heralded shadows of Doris' successful movie career from yesteryear. Basically, Doris' imposed manipulation on Suzanne was her glamorous TinselTown reputation, man-hopping abilities and substance abuse violations — all manifesting an everlasting awkwardness and insecurity that affected a broken Suzanne. Doris was bigger than life to her adoring fans but her embarrassing and sluggish antics could never be shaken from Suzanne's marred childhood (or adulthood for that matter). Is Doris' manipulative need for stardom and erratic behavior the cause of Suzanne's neurotic inadequacies as a struggling performer in the present day?
#4 Mary Jones from "Precious" (2009)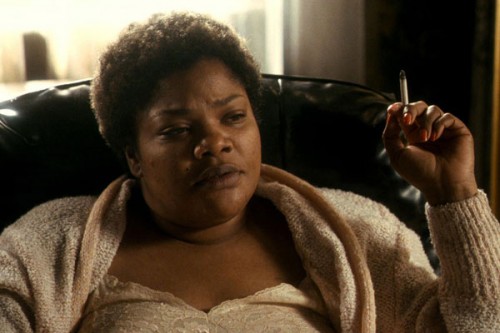 Director Lee Daniels served up one of the most harrowing, sadistic and numbing movie mothers on the big screen in 2009's shocking "Precious." Actress/comedienne Mo'Nique deservedly took home the Academy Award for her penetrating portrayal of Mary, a monstrously manipulating mother of a severe morbidly obese pregnant 16-year old Clareece 'Precious' Jones (Oscar nominee Gabourey Sidibe). The Harlem-based Precious was at the emotional mercy of Mary's horrifying hands creating the constant barrage of verbal put-downs and harsh physical fury. Precious' pregnancy for both her children was caused by her sick-minded rapist biological father. The jobless Mary (also a habitual smoker, TV watcher and fraudulent welfare check recipient) is needlessly callous in her mean-spirited criticisms of Precious' efforts to better herself. Perhaps Mary is the recurring reminder of recycled hopelessness, helplessness and unshakable dejection that has invaded her chaotic life. Unfortunately, the walking wounded Precious is the victimized by-product of Mary's miserable manipulation and misplaced malaise. Dare we summarize that raging Mary is every bit a prisoner of her own caged chaos as her down-spiraling daughter in quiet despair?
#3 Momma Lift from "Throw Momma from the Train" (1987)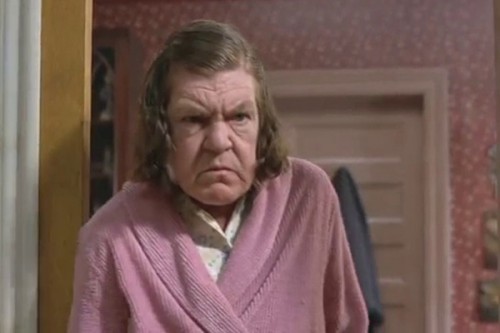 The late great character actress Anne Ramsey seemed to corner the market in portraying crabby prune-faced manipulating mothers with a comical yet caustic hold on her wayward adult children. In 1985's "The Goonies" she played Mama Fratelli as she led her wacky villainous sons on a mission to hunt down a band of elusive kids on the run. A couple of years later in 1987's black comedy "Throw Momma from the Train" Ramsey would earn an Oscar nomination as the blistering and bothersome Momma that constantly hounds and harasses her fed up writing student son Owen Lift (Danny DeVito) to the point he enlists his classroom instructor Larry Bonner (Billy Crystal) to "off" her for good. After all, Momma is haggard, hostile and hauntingly irritating to the frustrated Owen. Ramsey is devilishly committed to her off-kilter role as the comedic homemaking hellion bent on destroying the last nerve in her son's diminutive body. Ramsey's Momma is comically crass and overbearing . . . and that is her charming side!
#2 Mrs. Robinson from "The Graduate" (1967)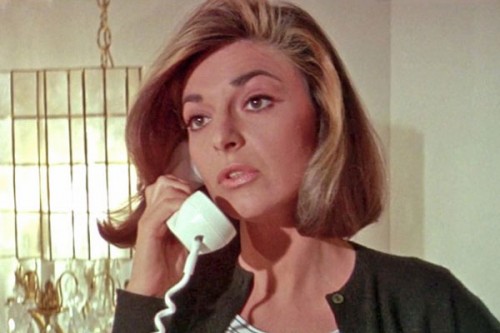 Mrs. Robinson (Anne Bancroft) is clearly one of cinema's most celebrated manipulative cougars. In "The Graduate" she is a mind-blowing mother that treads on the wild side as she conducts an affair with her daughter Elaine's (Katharine Ross) college grad love interest Benjamin Braddock (Dustin Hoffman). Who cannot erase from their minds the seductive methods in which Mrs. Robinson entices young Benjamin with her shapely legs without any regard to both her daughter or clueless husband for that matter. Soon, Benjamin would come to his senses and ditch his girlfriend's mother for a committed connection to her daughter he genuinely loves. But Mrs. Robinson is NOT having it at all and Benjamin is a hostage to her brand of sexual manipulation. Either he continues to give her continued pleasure or she will reveal something that can really damage the love and trust Elaine has invested in him. We know that scorning Mrs. Robinson was not the best move for Benjamin . . . or was it?
#1 Margaret White from "Carrie" (1976)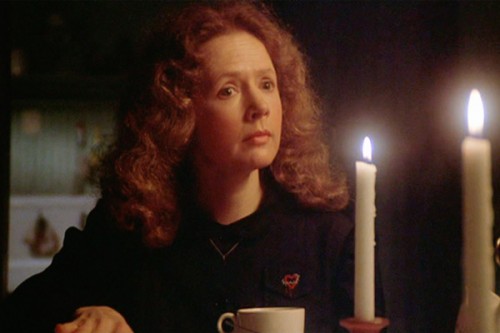 Religious fanatic Margaret White (Oscar nominee Piper Laurie) has always shielded her daughter Carrie (Sissy Spacek) from everything imaginable that was not rooted in her pious preferences. In many ways mother Margaret manipulated and stunted Carrie's growth from a normal existence among her peers. The result proved costly as Carrie was notoriously timid, clumsy, uncertain, uninformed and ignorant about what most teen girls her age knew pertaining to topics about sex, hygiene, body consciousness, boys or school-related social events. If Margaret had it her selfish and obsessive way Carrie would be secluded in her spiritual shrine of a dim household without an ounce of daylight from the outside world. Carrie's telekinetic powers would ultimately unleash a wrath of destruction for the daily tormentors that finally pushed her to the deadly brink of no return. And yes . . . manipulative mommy Margaret got a lethal taste of her daughter's pent up rage and recklessness as well. Who's ridiculing or holding back Carrie White now?