So what is in a name? Better yet, what is in a nickname? Having a nickname personalize or define you can be empowering especially if the moniker makes you stand out. Throughout the decades in cinema there had been countless movie characters donning colorful and sometimes outrageous nicknames to label them accordingly. Also, some nicknames are subtle and straight-forward.
In Top 10 Movie Nicknames (aka What's in a Name?) let's take a look at the movie nicknames that stick out for me for these cinematic characters. Perhaps you may have your own preferences in terms of a stand-out movie character nickname? Let me know below.
So in ALPHABETICAL order here are the top ten selections for movie nicknames:
#10 "Dirty Harry"
Given Name: Detective Harry Callahan
Movie: "Dirty Harry" (1971)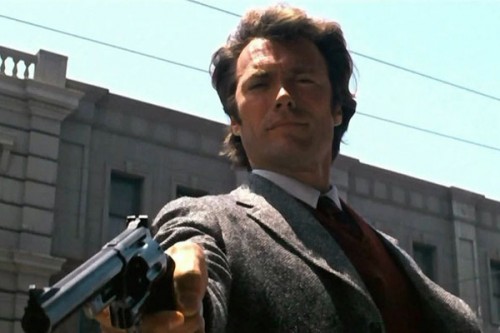 Detective "Dirty" Harry Callahan (Clint Eastwood) is one no-nonsense cop that lawbreakers would not want to tangle with in his home turf of the San Francisco streets or ANY urban street in America for that matter. Callahan packed heat, sported a dangerous squint in his ice cold eyes and came armed with some of cinema's most memorable yet deadly catchphrases to highlight this iconic law enforcing pistol-packing enigma. It is clear to see why Callahan got the rough and tumble reputation and the sinister nickname to match as he was prone to shoot first and asking questions later. Eastwood's "Dirty" Harry box office sensation would spill over into other gritty popcorn pleasers such as 1973's "Magnum Force," 1976's "The Enforcer," 1983's "Sudden Impact" and 1988's "The Dead Pool." Receptive movie audiences had a clean understanding for worshiping "Dirty" Harry's riff raff cleansing tactics off the mean streets.
#9 "The Dude"
Given Name: Jeffrey Lebowski
Movie: "The Big Lebowski" (1998)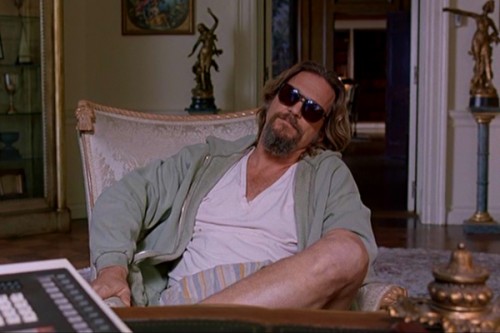 The Coen Brothers' creation of "The Dude" from "The Big Lebowski" certainly made slackers looking for compensation for a urinated rug feel so honored. Mistaken for a millionaire, a couple of thugs unfairly target the wrong Lebowski (Jeff Bridges) that causes "The Dude" to recruit his bowling buddies in pursue of obtaining a replacement rug. Typical brilliant far-fetched farce from the film-making Coens with inspired wackiness from the spaced-out Bridges whose proclaimed ownership of his "Dude" nickname is a comical pot of gold.
#8 "The Gimp"
Given Name: Unknown
Movie: "Pulp Fiction" (1994)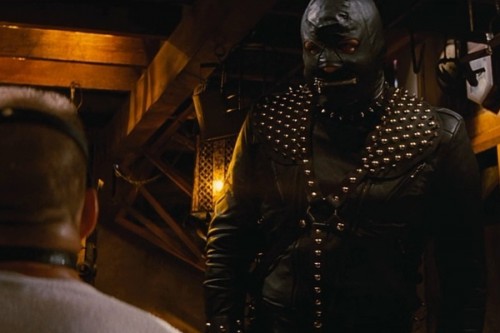 "The Gimp" emerged from the twisted yet high-spirited mindset of Quentin Tarantino's calculating and cockeyed crime caper "Pulp Fiction." Of course one could argue that The Gimp was one of the least animated characterizations in Tarantino's chaotic gangster classic from the mid 90's. Nevertheless, The Gimp still had his brand of outlandishness as a hidden away S&M torturer called upon to "violate" adversarial pawn shop prisoners Butch (Bruce Willis) and Marcellas Wallace (Ving Rhames). The bizarre leather-and-chains clad pest would soon succumb to some preventive castration procedure courtesy of a quick-thinking Butch. Maybe we should consider a new nickname for the S&M sinner such as "The Gimp-less"?
#7 "Hot Lips"
Given Name: Major Margaret Houlihan
Movie: "M*A*S*H" (1970)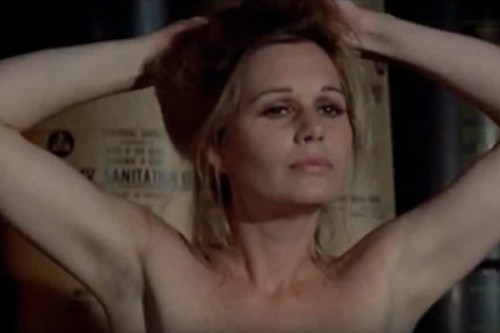 Let's face it — filmmaker Robert Altman's "M*A*S*H" was an embarrassment of riches in terms of swirling nicknames for its zany characters caught up in the midst of bloodied insanity in wartime Korea. The two leading protagonists were nicknamed Hawkeye Pierce and Trapper John McIntyre respectively. However, they were responsible for giving the unit's no-nonsense by-the-book head nurse Margaret Houlihan (Sally Kellerman) an unflattering label of "Hot Lips." So how was Margaret Houlihan's nickname arrived at? Well, the so-called disciplined diva of camp procedures had her own underground unruliness while causing others misery with her brand of straight-laced army protocol. The hypercritical Houlihan had a sneaky affair with the equally insufferable married Major Frank Burns and she was known to be rather "accommodating" behind closed tented walls to the big brass. Indeed, "Hot Lips" was an appropriate nickname to match this fervent Florence Nightingale of the war zone.
#6 "Lolita"
Given Name: Dolores Haze
Movie: "Lolita" (1962)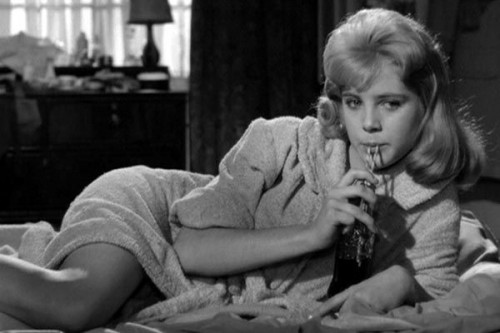 The Stanley Kubrick-directed film and Vladimir Nobokov novel "Lolita" introduced the desirable young teen tart to shocked audiences and readers with the controversial account of forbidden love between a distinguished middle-aged college professor Humbert Humbert (James Mason) and his immense attraction for a curvaceous teenager named Dolores "Lolita" Haze (Sue Lyon). The hormonal Humbert is so focused on the childish sexy siren "Lolita" that he marries her mother Charlotte (Shelley Winters) out of desperation just to get close to his stunning object of affection little sass. Obviously, the name "Lolita" is synonymous with a young sexpot (usually of an underage girl with promiscuous prowess) and Lyon's portrayal of the curvy cupcake proved authentic for Mason's sophisticated educator that could not resist the urge to idolize his unknowing teen temptress.
#5 "McLovin"
Given Name: Fogell
Movie: "Superbad" (2007)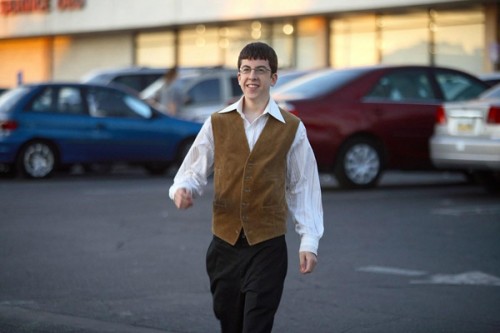 Geeky Fogell a.k.a. "McLovin" (Christopher Charles Mintz-Plasse) deservedly became the breakout star of the crafty teen sex farce "Superbad" directed by Greg Mottola (with co-writing credits from Seth Rogen and co-producing credits from Judd Apatow). In an attempt to purchase booze alongside buddies Seth and Evan (Jonah Hill and Michael Cera), Fogell produces a fake ID that showcases his bogus name as "McLovin." From there the running gag of four-eyed nerd being referred to as his new name became a permanent nickname that stuck. There was a distinctive swagger that "McLovin" owned up to with hilarious realization that his real identity Fogell failed to ignite. "McLovin" became the chic geek that chicks wanted to tame and the guys got a kick out from periodically. It is too bad that Mintz-Plasse's "McLovin" characterization could not be allowed to be fleshed out in misadventures of his own. He could have been a larger-than-life dynamic dweeb since the popular heyday of Paul Reuben's Pee Wee Herman.
#4 "McMurphy"
Given Name: Randle Patrick McMurphy
Movie: "One Flew Over the Cuckoo's Nest" (1975)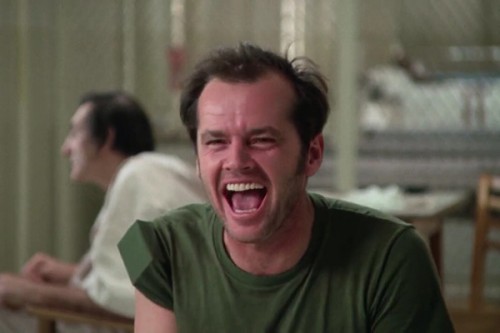 Okay, so "One Flew Over the Cuckoo's Nest" main protagonist McMurphy (Oscar-winning Jack Nicholson) did not have a nickname in the traditional sense since he was referred to constantly by his last name. Sure, his initials "R.P." could pass for a nickname, but he answered to "McMurphy" from his fellow mental patients at the institution where his indifference of facility rules would come to liberate the flawed souls that looked up to him. In particular, the rebellious McMurphy would often tangle with the iron-faced presence of restrictive disciplinarian Nurse Ratched (Oscar winner Louise Fletcher). McMurphy was the uncouth rabble-rouser that gave hope and spirit to the imprisoned broken misfits but in the final analysis the emotionless Nurse Ratched and the facility Establishment would finally silence his outrageous defiance and get in the symbolic last laugh.
#3 "Ratso"
Given Name: Rico Rizzo
Movie: "Midnight Cowboy" (1969)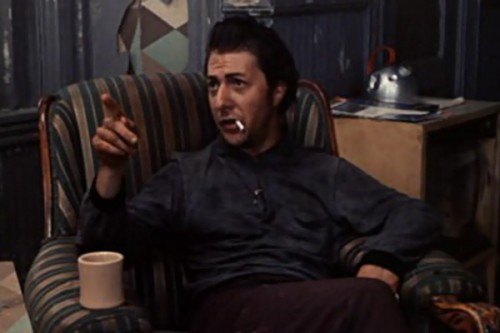 "Ratso" Rizzo was an unlikely wormy businessman in the deteriorating streets of New York City where he manages the services of golden-haired hustler cowboy stud Joe Buck (Jon Voight). For Rizzo the degrading nickname "Ratso" seemed so unnecessary and mean-spirited. When Joe and others kept calling him "Ratso" it got on Rizzo's sensitive last nerves to the point that he would correct his Casanova cowboy meal ticket by quipping, "My name is Rico!" It is easy to see why he was labeled "Ratso" as Rizzo was sleazy, disheveled, smelly, crippled and overall unctuous. He was a sickly weasel that stole and did not have any redeeming qualities whatsoever. But "Ratso" Rizzo was an urban survivor that relied on his streetwise wits and instincts. Sadly, it took a climatic bus ride to sunny Florida for Joe Buck to softly and respectfully call him Rico as his lifeless body snuggles up next to the money-making western stud-muffin.
#2 "Scout" (1962)
Given Name: Jean Louise Finch
Movie: "To Kill a Mockingbird" (1962)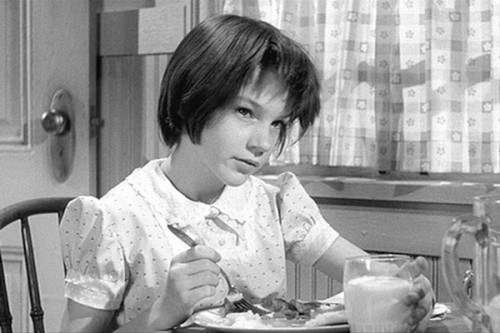 "Scout" always seemed like an innocuous nickname for an inquisitive little girl growing up in the quaint southern town of 1930's Maycomb, Alabama. Unfortunately for "Scout" (Oscar-nominated Mary Badham) and her brother Jem (Phillip Ashford) their innocence of childhood is interrupted with the harsh racial realities and inequities saturating their seemingly sleepy-eyed hamlet. Scout's idealistic attorney father Atticus Finch (Oscar winner Gregory Peck) is severely scrutinized for defending an innocent black man Tom Robinson (Brock Peters) falsely accused of raping a hysterical white woman victimized by her drunken abusive father. As Atticus is immediately shunned and the vile source of alienation and betrayal by his fellow whites is transferred to jeopardizing his kids' safety. Atticus's conviction to demonstrate legal protection for Tom spills over into the hostile town wanting to harass his children to pay for Finch's sinful mercy toward the perceived inferior black town folk. Pulitzer Prize-winning Harper Lee's novel "To Kill a Mockingbird" is a timeless lesson for generations of people perturbed and possessed by inhumanity and indecency especially when witnessed in the impressionable eyes of all the Jean "Scout" Louise Finches worldwide.
#1 "Spidey/Wall Crawler/Webhead/Web Slinger"
Given Name: Spider-Man aka Peter Parker
Movie: "Spider-Man" (2002)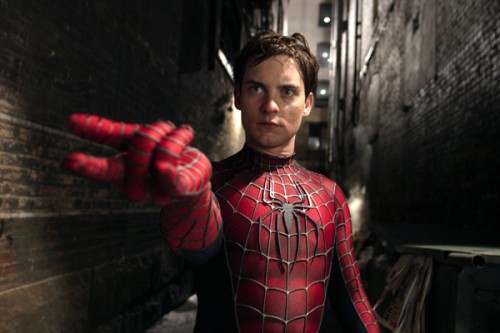 The Daily Bugle's ace photographer Peter Parker (Tobey McGuire) moonlights as the city's resident superhero Spider-Man. The masked martyr has given his life to use his superpowers to help and protect the people from sinister forces that want to complicate their lives. After all, Peter's/Spider-Man's Uncle Ben once quipped, "With great powers comes great responsibilities." Naturally, Spider-Man took this inspirational message to heart. In terms of Spider-Man's nicknamed labels these attached monikers were courtesy of Parker's infuriating newspaper boss J. Jonah Jameson (J. K. Simmons) whose ranting and raving produced such editorial nicknames as "Spidey," "Wall Crawler," "Webhead" and "Web Slinger" just to name a few.
Honorable Mention
"Psycho"
Given Name: Francis
Movie: "Stripes" (1981)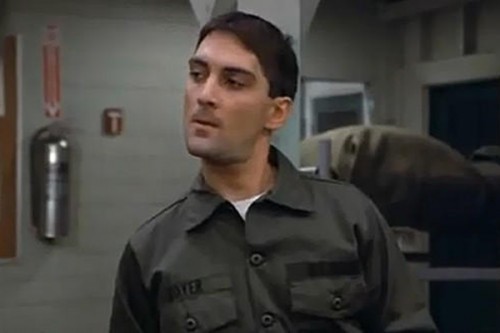 The Bill Murray/Harold Ramis military comedy "Stripes" was riotous thanks to the lunatic leads that spearheaded the service romp. However, the various supporting players were also instrumental in providing the energized outlandishness. Specifically, the memorable character that sticks out in "Stripes" is one comically edgy platoon soldier named Francis (Conrad Dunne). During an introduction session in the barracks the menacing Francis warns that his nickname is "Psycho" and that he wants no "homo" hands to touch him or his belongings. Psycho gets snickered at and rightfully so as head honcho Sgt. Hulka (Warren Oats) advises the self-proclaimed "Psycho" with these stern words: "Lighten up, Francis."