For many the sacred institution of marriage is a life-changer as it sets the standards for that individual's sense of existence, identity and the promotional promise of a loving bond meant to supposedly last for a lifetime. However, another life-changing experience is the ultimate break-up of a marriage due to unkind, unsettling and restrictive circumstances that range anywhere from falling out of love to financial frustration or just plain marital duplicity. This is one of life's most stressful and acrimonious events concerning the dissolution of a once promising vow of caring and commitment. So sad. So bad.
In general, movies have the magical momentum to reflect the psychological pain and suffering of a marital break-up regardless of its comical or corrosive overtones. In Top 10 Movie Marriages Gone Bad (aka "Marital Mess-Ups") we will examine the top contenders for films that have ventured into the deterioration of marital bliss. Perhaps maybe there are better known or deserving unsung selections that are missing in this written piece? Oh well . . . there are so many choices to choose from but we need to start somewhere to approach the discussion.
In alphabetical order here are the top ten movies dealing with messy-minded marriages:
#10 "American Beauty" (1999); featuring the married couple of Lester and Carolyn Burnham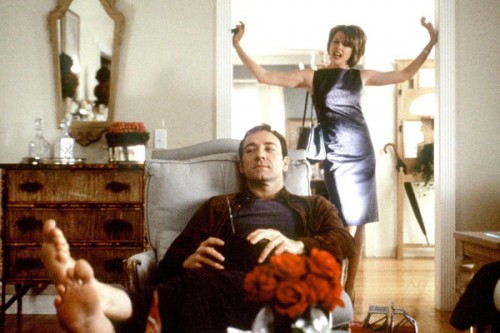 Filmmaker Sam Mendes's transfixing tale of disillusionment and forbidden desire in seemingly cozy and quaint suburbia is a deceptively dreamy look at gradual marital malaise in the eye-opening naughty "American Beauty." On the outside everything seems idyllic for Lester and Carolyn Burnham (Kevin Spacey and Annette Bening) as they seem to have the ultimate co-existence in Majestic Suburbia, USA. However, the depressed middle-aged Lester is indeed oblivious to his wife and instead wants to turn on his sexual faucet and let it pour enthusiastically on his teen daughter Jane's (Thora Birch) best friend Angela (Mena Suvari). Spacey's Lester's mid-life crisis meltdown in channeling his inappropriate promiscuous energies on a young sexy siren is revealing fodder for a doomed and dead end marriage keeping up false appearances.
#9 "Days of Wine and Roses" (1962); featuring the married couple of Joe and Kirsten Arnesen Clay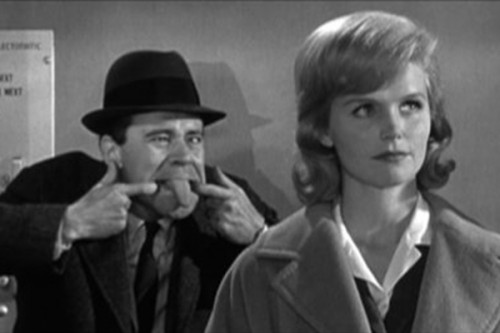 In one of director Blake Edwards' most blistering and emotionally raw melodramas, "Days of Wine and Roses" combines marital co-existence with divisive marital co-dependence with addiction as the ominous glue that ties the chaotic marrieds in one complicated knot. Specifically, alcohol is the deadly factor that threatens to undo the loving bond and trust of Joe and Kirsten Arnesen Clay (Jack Lemmon and Lee Remick). Joe is a superstar PR man for his firm and uses his social drinking as a means to seal the deal with many of his pleased clients. The main problem is that Joe is an alcoholic and cannot draw the line between casual drinking to promote his professional profile and the out-of-control affinity for him to drown his anxieties, happiness and sorrows in the bottle. Unfortunately, Joe's alcoholism hastily embraces teetotaler Kirsten therefore drawing her into a downward spiral as well. Hence, the struggles of alcoholism as the ruination for a young and upcoming couple is absorbingly compelling as "Days of Wine and Roses" is one of the most telling and toxic displays of marital dysfunction ever filmed.
#8 "Fatal Attraction" (1987); featuring the married couple of Dan and Beth Gallagher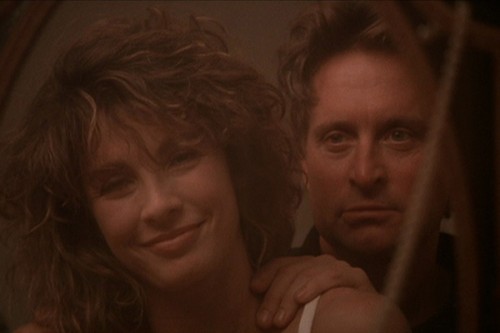 The sexual psychological thriller "Fatal Attraction" proved that if married men could not keep "it" inside their pants then they simply suffer the dire consequences. Basically, adultery was the center point in filmmaker Adrian Lyne's explosive "Fatal Attraction." Furthermore, having outside marital relations with a clingy psychotic beauty does not help matters much either. Successful attorney Dan Gallagher (Michael Douglas) had everything going for him: a lovely and nurturing wife Beth (Anne Archer) and small adorable daughter not to mention being paid as a high scale lawyer with pricey assets. Somehow, this just does not seem to satisfy the ambitious Dan. He does love his wife Beth and cherishes his minor daughter but Dan has gotten bored with success and needs a hormonal challenge to fuel what he has taken for granted in loyal and reasonable Beth. Soon, Dan's alluring curly-haired blonde vixen Alex Forrest (Glenn Close) would be his private obsession as a one night stand sparks Alex's twisted yet high expectations to hold onto her married lover. Dan soon learns that Alex cannot be dismissed as she begins her crazed plans to cripple Dan by hounding him and his family. Yikes!!
#7 "Gone Girl" (2014); featuring the married couple of Nick and Amy Dunne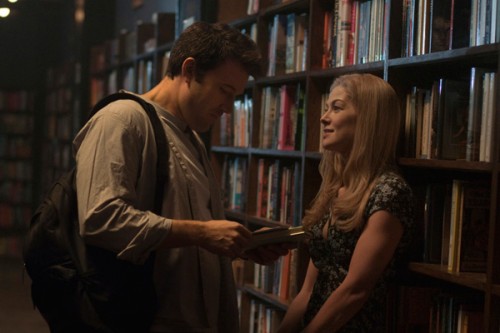 Director David Fincher's twisty and tumultuous marriage melodrama "Gone Girl" featured a delicious display of marital miscues involving abduction, cheating, damaging public perception and persecution, deceit, blackmail, mental illness, and calculating craziness. Indeed, "Gone Girl" was able to spin a tawdry tale of marital meshing that resulted in disturbing, head-scratching brilliance. Sportswriter Nick Dunne (Ben Affleck) is supposed to celebrate his fifth wedding anniversary but his lovely wife Amy (Oscar-nominated Rosamund Pike) is missing. She has disappeared out of the blue and suspicions point to the philandering Nick whose insistence of his innocence falls on a majority of deaf ears. As it turns out the so-called jeopardized Amy staged her own disappearance as a drastic measure to get back at her unfaithful husband. Consequently, Amy forces an incredulous Nick to reconcile their marriage and stay together despite the complete absence of love or lust between them. "Gone Girl" is a masterful and mysterious look at marriage as a stronghold of psychological strangulation and manipulation.
#6 "The Graduate" (1967); featuring the married couple of Mr. and Mrs. Robinson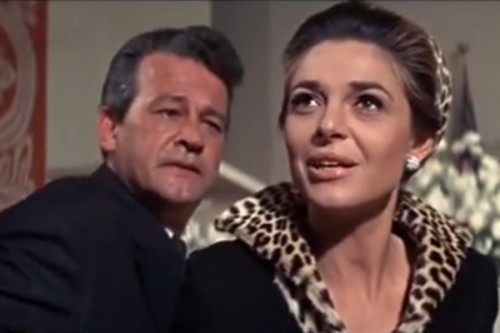 Many will recall that classic lyric in the legendary theme song for "The Graduate" by Simon and Garfunkel that goes: "Here's to you, Mrs. Robinson . . . " Oh yeah, good ole' Mrs. Robinson — the original MILF that was the generational target of a young man's fantasy ten times over. The "lucky" young man in question to draw the attention of the promiscuous cougar Mrs. Robinson (Anne Bancroft) was one college grad Benjamin Braddock (Dustin Hoffman). The problem remained that Benjamin was playing footsies with the married older woman that served as mother to his girlfriend Elaine (Katharine Ross) and wife to his father's business partner Mr. Robinson (Murray Hamilton). It is too bad that the sordid affair between Mrs. Robinson and Ben made for a sham of a so-called solid marriage for the unknowing Mr. Robinson.
#5 "Husbands and Wives" (1992); featuring the married couple of Gabe and Judy Roth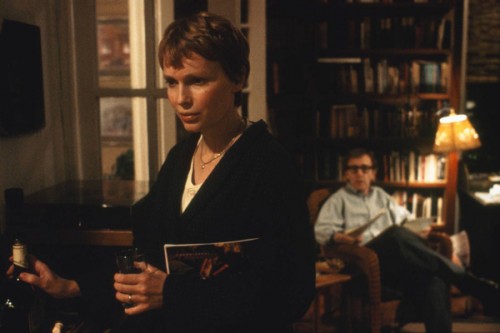 Director Woody Allen's "Husbands and Wives" examines the faltering nature of a marriage undergoing a domino effect. Two married couples (and best friends) are tested in reference to their deteriorating marital relations. When Jack and Sally (Sydney Pollack and Judy Davis) come to a mutual understanding regarding their split-up and willingness to meet other lovers their close pals in Professor Gabe Roth and Judy (Woody Allen and Mia Farrow) are stunned by their decision. However, both Gabe and Judy notice how much their own marriage is drifting apart. At least Jack and Sally know that the writing is on the wall as far as their transparent relationship is concerned. The question remains: Can Gabe and Judy overcome the inevitable flaws of their fragile union?
#4 "Kramer vs. Kramer" (1979); featuring the married couple of Ted and Joanna Kramer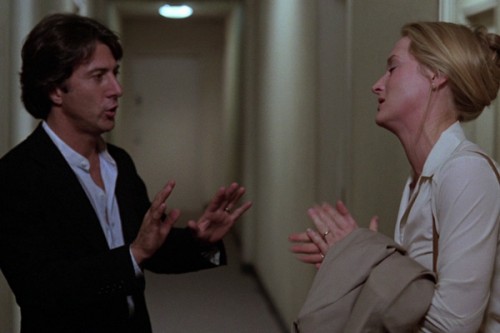 Robert Benton's "Kramer vs. Kramer" proved to be very instrumental in portraying marriage as a tug-of-war sport especially when it involves the welfare of an involved minor child. Furthermore, "Kramer vs. Kramer" bucked the traditional system of stacking the deck against the male partner in the relationship. In fact, the film was rather sympathetic to the put-upon husband as he made the sacrificial gesture to carry on after the abandonment caused by his disillusioned wife. New York ad exec Ted Kramer (Dustin Hoffman) is enjoying a professional windfall when his wife Joanna (Meryl Streep) suddenly decides she has had enough. She picks up and leaves both Ted and their young mop-top son Billy (Justin Henry) behind. Joanna's departure puts strain on Ted financially and he must re-invent himself as a single father raising Billy while giving up his career out of necessity. Soon, Ted and Billy bond without a woman's influence. It is a struggle but the father-son connection persists until Joanna comes back to claim Billy after her brief "time out." Divorce, single parenthood and a quiet dissolution of marriage has never been so poignant and profound as a character study in the observational "Kramer vs. Kramer."
#3 "The Shining" (1980); featuring the married couple of Jack and Wendy Torrance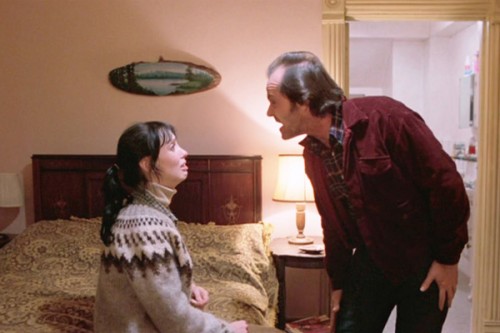 The breakdown of marriage through creepy conventions is put to the eerie ringer in Stanley Kubrick's chilling horror showcase "The Shining" (based on Stephen King's novel). Writer Jack Torrance (Jack Nicholson) is the winter caretaker at Colorado's Overlook Hotel. Tagging along with him as he conducts his caretaker duties are wife Wendy (Shelley Duvall) and young son Danny (Danny Lloyd). However, there is more than meets the eye at the Overlook Hotel as it is inhabited by ominous ghostly forces. Son Danny has psychic abilities so the ghoulish spirits channel him constantly as he echoes their sinister sentiments. Importantly, Jack (suffering from both writer's block and alcoholism) slowly declines into mental madness as the Torrances are trapped in the hotel due to a crippling snowstorm. Jack's demonic demeanor starts to fester and he soon finds himself wanting to senselessly butcher Wendy and Danny as the result of his being possessed.
#2 "War of the Roses" (1989); featuring the married couple of Oliver and Barbara Rose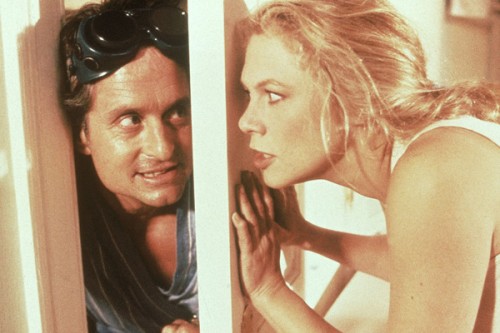 The Danny DeVito directed divorce dramedy "War of the Roses" certainly took the gradual decline of marital bliss to destructive divorce proceedings to a whole new over-the-top devilish level. Deliriously funny yet acidly revealing, "War of the Roses" featured Oliver and Barbara Rose (Michael Douglas and Kathleen Turner) approaching the end of the rope as Barbara in particular has grown bored of their marriage. Feeling restless and trapped, Barbara wants to end their struggling marriage but she learns that their biggest asset (the house) has to be shared. Barbara is not too thrilled having to continue to live under the same roof as Oliver. Remember, Barbara is disgusted by Oliver's face as she wants to "smash it in" so badly. Thus, the war rages on where the Roses try to outdo one another for the right to secure the home as their rightful turf. DeVito plays divorce attorney Gavin D'Amato, the reluctant mediator that tries to referee the deadly push-and-pull antics of the desperate divorcing Roses.
#1 "Who's Afraid of Virginia Woolf?" (1966); featuring the married couple of George and Martha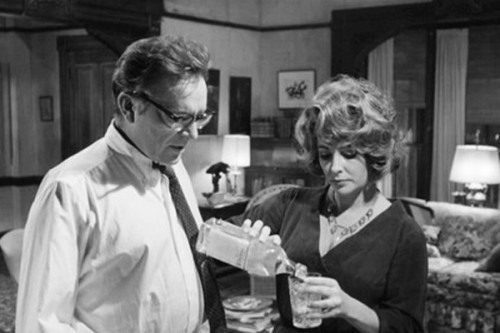 Real-life celebrity power couple Elizabeth Taylor and Richard Burton were already established train wreck talents as they were the toast of Hollywood both on the big screen and in the tabloids. So it does not come to anyone's surprise how ironically raw and authentic their marital mishap portrayals were in Mike Nichols' gut-wrenching and perceptive "Who's Afraid of Virginia Woolf?" Maturing married couple in Associate History professor George (Burton) and wife Martha (Taylor) air their dirty laundry by using verbal assaults on one another with alcohol as the truth serum to heighten the hurled emotional and psychological jabs. What is so sad is that George and Martha display their monotonous marital meltdown in front of youthful Biology professor Nick (George Segal) and his timid wife Honey (Sandy Dennis) as both couples were having a nightcap. The heavy-handed angst and underlying rage that resonated between Burton's George and Taylor's Martha made "Who's Afraid of Virginia Woolf?" such a powerful and puzzling character study in the dynamics of a vulnerable relationship bombarded by deep-seeded resentment, guilt and hopelessness.
Honorable Mentions
"The Last Married Couple in America" (1989); featuring the married couple of Jeff and Mari Thompson
"Ordinary People" (1980); featuring the married couple of Calvin and Beth Jarrett
"Ruthless People" (1986); featuring the married couple of Sam and Barbara Stone