Through the years cinema has bent over backwards to portray the good guys with badges as the symbolic warriors of law and order. On some occasions there were dedicated and determined officers that stopped at nothing to obtain their brand of justice even if it meant working outside of the boundaries of the law such as Clint Eastwood's "Dirty" Harry Callahan or Gene Hackman's Jimmy "Popeye" Doyle.
As thrilling and intriguing as capturing the heroism of real-life cops for in-depth examination of ribaldry and redemption on the big screen is, there is also a curious fascination to look at the unethical police officers who tread on the immoral side of societal norms. In Top 10 Corrupt Movie Cops we will take a look at the lost law-enforcing lambs that willingly rubbed shoulders with the dark side in order to satisfy their self-interests of destruction.
The Top 10 Corrupt Movie Cops (in ALPHABETICAL order according to film title) is as follows:
#10 "Bad Lieutenant" (1992) featuring The Lieutenant (LT)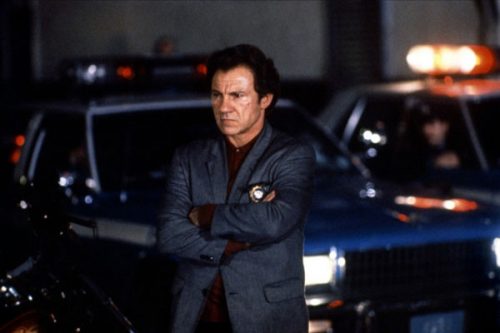 The toxicity of writer/director Abel Ferrara's tawdry crime drama "Bad Lieutenant" was certainly captured in the film's star Harvey Keitel's wildly intense and perverse performance as the sordid New York City-based police lieutenant who entertained his demented demons while investigating the rape of a young nun. Keitel's LT was a twisted tool, to say the least, as his indulgences included drug addiction, overwhelming gambling debts, frolicking with sleazy prostitutes and fancying the notion of playing up to teenage girls. LT is walking a fine line of a corruptible cretin hiding behind a badge. However, he realizes that his risky behavior and mounting vices need taming otherwise his compromised existence is destined to end with him as an unnamed stiff on a cold slab. If there ever was a crooked cop needing redemption in the worst way possible, it is Keitel's masturbating monster working his beleaguered beat on the mean streets of deterioration.
#9 "Hot Fuzz" (2007) featuring Inspector Frank Butterman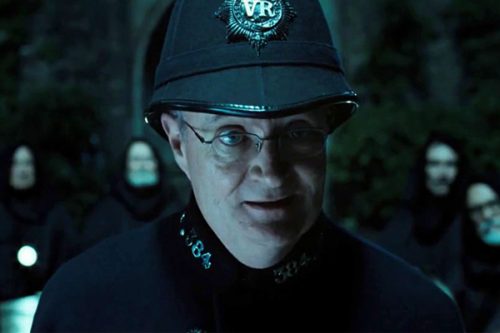 Poor Sergeant Nicholas Angel (Simon Pegg). After proving his superior policing prowess at the Metropolitan Police Service, he is transferred to the small police force in the English village of Sandford — a community known for regularly winning the Neighborhood Watch Alliance (NWA) sponsored "Village of the Year" honors — to maintain his straight-laced procedural excellence. Plus, Angel is teamed up with a buffoon of a partner in portly Police Constable Danny Butterman (Nick Frost), a fanatic of action-oriented TV cop shows. However, it is Danny's father, Inspector Frank Butterman (Jim Broadbent), that is the ultimate corruptible component behind the scenes. Already heading a lazy and transparent police force in Sandford, Inspector Butterman is instrumental in some comical deadly dealings with the notorious NWA that eradicates residents looking to tarnish the village's winning streak of the aforementioned "Village of the Year" award. Star and co-writer Pegg's "Hot Fuzz" is a hilarious hot mess of a satire and Broadbent's diabolical Inspector Frank Butterman fittingly plays into the merry-minded madness.
#8 "Internal Affairs" (1990) featuring Dennis Peck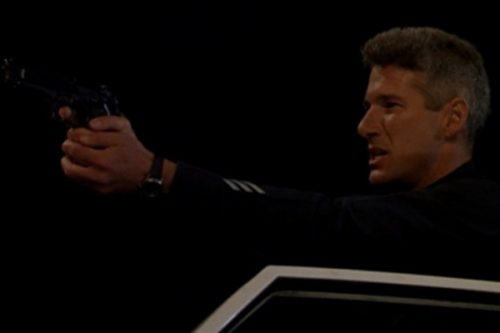 Polished sleazeball L.A. cop Dennis Peck (Richard Gere) has a lot of background criminal dealings he is concealing while posing as a civil servant sworn to protect and serve. Armed with deceptive good looks and a genuine taste for manipulation, Peck's shady activities are ripe for anybody looking to be charmed by his treacherous trickery. Director Mike Figgis's steamy and slick cop caper "Internal Affairs" pits the aforementioned Peck — a grade A womanizer and opportunistic scoundrel — against the film's young and idealistic Internal Affairs officer Raymond Avilla (Andy Garcia) and his partner Amy Wallace (Laurie Metcalf). Peck is lethal as his cat-and-mouse game with the determined Avilla comes dangerously close to home when he involves Avilla's wife Kathleen (Nancy Travis) as a pawn to disillusion his do-gooder nemesis. Dennis Peck is be a smooth operator with the ladies and a great practitioner of violating the rules and his rocky path to debauchery convincingly defines his corruptible compass.
#7 "It's a Mad, Mad, Mad, Mad World" (1963) featuring Capt. T. G. Culpepper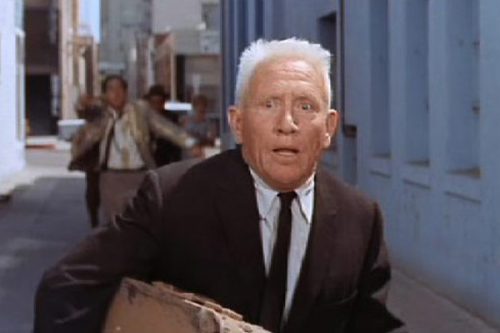 Filmmaker Stanley Kramer's all-star wacky feasting of greedy hopefuls in the cockeyed comedy "It's a Mad, Mad, Mad, Mad World" was as humorous as its surreal premise involving a dying thief's announcement that a stolen stash of $350,000 is free for the taking to a bunch of witnesses looking to collaborate to find it. This results in a mad dash for the ill-gotten windfall where a who's who of offbeat celebrities of that era (from Milton Berle to Ethel Merman) make up the mass of misfits chasing down the treasured funds. However, the money-seekers are being monitored closely by Capt. T. G. Culpepper (legendary Oscar winner Spencer Tracy) as they close in on the location of the missing money. The problem is that Culpepper is not the noble police officer statesman as originally believed, as he turns out to be just as under-handed in wanting to claim the $350,000 for himself. Thus, Culpepper sacrifices his years of respectability on the police force to engage in thievery to snatch that satchel of cash in Kramer's crazed comedic caper.
#6 "The Killer Inside Me" (1976) featuring Deputy Sheriff Lou Ford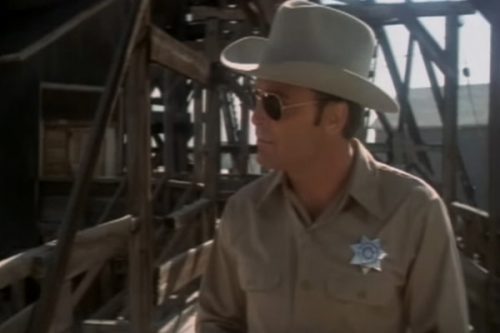 The understandable belief that Montana-based Deputy Sheriff Lou Ford (Stacy Keach) is one of the more affable, down-to-earth lawmen to serve the public is indeed a woefully misguided thought to say the least. Unfortunately, Ford is anything but what his humble reputation is imagined by his peers and people of the county. In Burt Kennedy's "The Killer Inside Me," Ford is a fascinating character study in a dangerously wounded soul whose alarming penchant for killing is masked by his good guy persona. Keach's off-balanced performance as the unlikely psychotic killing machine disguised as a normal dutiful deputy sheriff is hauntingly chilling and made all the more so by supporting roles from the likes of Susan Tyrrell's suggestive tart Joyce and Don Stroud's wide-eyed dimwit Elmer. The trigger that fuels "The Killer Inside Me" is indeed the twisted dual identity of walking contradiction Deputy Sheriff Lou Ford.
#5 "Killer Joe" (2011) featuring Joe Cooper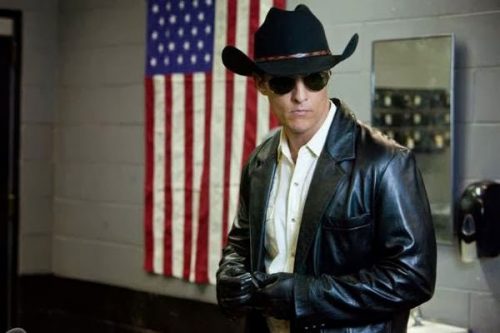 Director William Friedkin's terrorizing Texas tale of scheming rednecks, insurance fraud, and contract killing cops is all meshed together in the murder-for-hire police thriller "Killer Joe." Lone Star state police detective Joe Cooper (Matthew McConaughey) moonlights as a contract killer who is hired by a dubious drug dealer Chris Smith (Emile Hirsch) to off his mother so that the insurance money is transferred to his sister Dottie (Juno Temple). However, Killer Joe needs reassurance that his money will be forwarded to him as Chris awaits the insurance payoff, so Dottie is "loaned" to the killer cop until the arrangement of the funds are finalized. "Killer Joe" Cooper is a complex creature that crosses the fine line between a Texas good ole badge boy and a seedy assassin willing to sell his salacious services to the highest bidder. In both cases, Joe is committed to his personalized cause of accomplishing his assigned mission whether it is predicated on the decent dollar or not.
#4 "L.A. Confidential" (1997) featuring Jack Vincennes and Bud White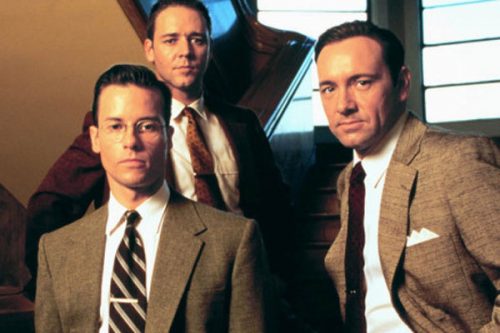 Curtis Hanson's nostalgic cop noir "L.A. Confidential" delves into the seediness of 1950's Los Angeles where corruption ran at a premium high. At the center of Hanson's Eisenhower-era sleepy cop caper are three policemen with clashing personalities but one goal in mind: To a string of grisly murders. The trio of main cops at the forefront included Guy Pearce's goody two shoes Ed Exley, Russell Crowe's explosive rule-breaker Bud White and Kevin Spacey's attention-seeking, profit-chasing slimeball Jack Vincennes. Specifically, it was Crowe's violent White and Spacey's superficial Vincennes that carried the torch as the two cops with questionable scruples that find the ability to seek out justice in a dark utopia of despair within the confines of a tainted Tinseltown. Again, crime and corruption never felt so cozy and captivating as showcased in Hanson's hedonistic Hollywood landscape of mischievousness.
#3 "Lakeview Terrace" (2008) featuring Abel Turner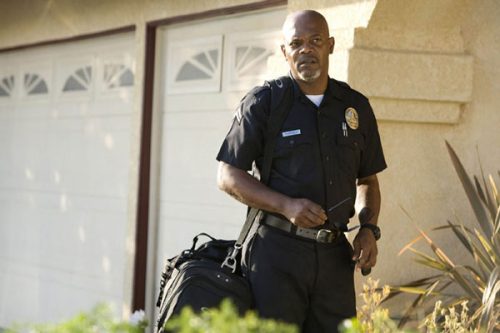 The badass LAPD officer in "Lakeview Terrace," Abel Turner (Samuel L. Jackson), took considerable exception to welcoming and tolerating his new neighbors Chris and Lisa Mattson (Patrick Wilson and Kerry Washington) in his serene, gated community. Sure, the Mattsons are young, attractive and personable so that should not be a reason to immensely dislike them, but Officer Turner could not stomach the married couple. You see . . . the Mattsons are an interracial married couple — something seen as troubling, threatening and unacceptable to the racist, intolerant African-American law enforcer. Clearly, Turner views Lisa as a sellout to her blackness and stops at nothing to settle the score with Chris, particularly though psychological and tactical harassment. Menacing and unpredictable, Turner is a corrosive man whose hellish dysfunction mixed with his authority behind his badge is a concerning factor (probably the understatement of the century).
#2 "Serpico" (1973) featuring the corruptible New York City police department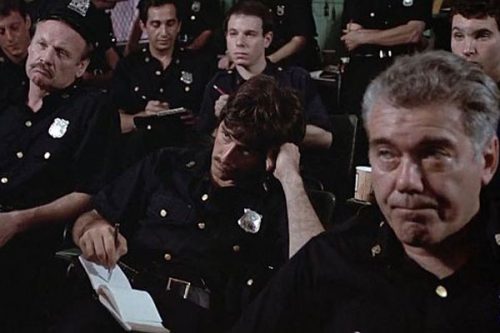 Frank Serpico (Al Pacino) was an honest loner on the corruptible NYPD force from the early 70's and his self-righteousness and dignity for his badge may have been the deal-breaker in Sidney Lumet's urban cop thriller "Serpico." The long-haired and bearded Serpico underwent constant scrutiny for refusing to mingle in the sharing of extorted drug money and other illegal gains that the other cops celebrated in so shamelessly. Officially labeled as a fingered target (read: Killjoy) the disciplined Frank Serpico was not trusted by his policing peers and had become untrustworthy for his refusal to conform with the accepted cop corruption. Because of this, none of Serpico's colleagues wanted to partner up with him or watch his back on the dangerous streets, and so he had no choice but to report the onslaught of mounting corruption to the higher-ups but to no avail. For his efforts, Pacino earned a best actor Oscar nod for his portrayal of a virtuous cop who alone stood up to the corrosive and corruptible NYPD force.
#1 "Training Day" (2001) featuring Alonzo Harris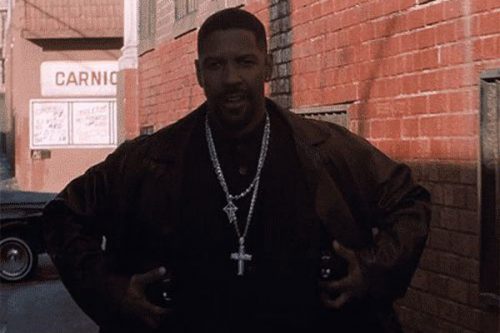 Filmmaker Antoine Fuqua directed Denzel Washington to his second Academy Award statuette in the crime thriller "Training Day," in which Washington plays the corrupt and hip LAPD narcotics officer Alonzo Harris who is tapped to train a rookie cop, Jake Hoyt (Ethan Hawke in his Oscar-nominated role), as they cruise the seedy South Central L.A. streets. However, it doesn't take long for Jake to realize just how devious Alonzo is at heart as the training day progresses. Whether coaxing Jake to take a hit of marijuana on the job, raiding a household and absconding with stolen drug money in a gang-infested neighborhood or witnessing Alonzo's infidelity through his "second" family with a sexpot Spanish mistress and their son, Alonzo was certainly unconventional in his approach to cleaning up the roguish streets. Alonzo Harris — as only the gifted Washington could pull off — was a compelling and conniving merchant on the drug-addled streets that fancied his erratic influence as both the sinister crusader for solution and opportunistic manipulator of the urban-based problem.