We need the baddies in our movie-viewing pleasure to spice up the proceedings on the big screen. By the same token we do not mind seeing these law violators get their comeuppance either — at least the ones that were actually guilty of their dirty deeds against the law. Thus, Top 10 Movie Convicts looks to spotlight those legal-bending loafers (whether incarcerated or on the run) that have become some of cinema's polarizing jailbirds in flight. No doubt that there will be omitted choices not spotlighted on this list which is an automated given. Nevertheless, the ones that have been chosen are just as worthy and proven to be formidable selections.
In ALPHABETICAL order (according to movie title) the Top 10 Movie Convicts are:
#10 Robert Franklin Stroud from "Birdman of Alcatraz" (1962)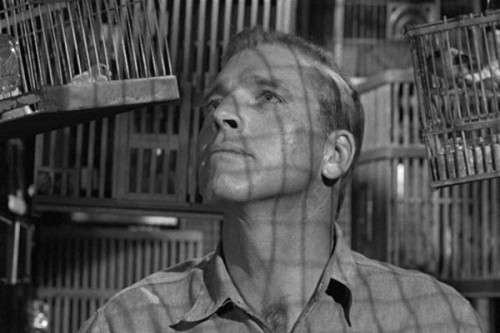 If any convict demanded redemption based on his concentrated expertise it was volatile convict Robert Stroud (Oscar winner Burt Lancaster, "Elmer Gantry") in filmmaker John Frankenheimer's "Birdman of Alcatraz." Convicted killer Stroud became a renowned ornithologist behind bars after tending to the critical needs of an injured sparrow while wallowing in solitary confinement. The interesting dynamic of the contemptible Stroud becoming a gentle and nurturing bird caretaker inside the Leavenworth Prison walls served as an uncanny inspiration for a doomed man destined to spend his life in the penal system in 1912 (Stroud was spared his life courtesy of President Woodrow Wilson's executive commuted sentencing). Lancaster nabbed an Oscar nomination for the film and his compelling portrayal as the professional married "winged" Wonder Man earned respect for those that had trouble with the murdering convict's inhumanity.
#9 Cameron Poe from "Con Air" (1997)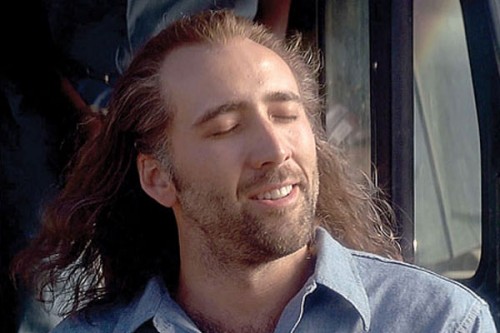 Ex-con and former U.S. Ranger Cameron Poe (Oscar winner Nicolas Cage, "Leaving Las Vegas") experienced his own personalized turbulence when traveling on a plane transporting notorious prisoners until the dangerous passengers turned the tables and took control of the aircraft in Simon West's pumped-up popcorn pleaser "Con Air." An intentional testosterone action-driven vehicle with campy undertones attached Cage's long-haired paroled Poe who desperately wants to be reunited with his wife and precious young daughter with the seized plane as the roadblock standing in his way towards realizing the anticipated reunion. Poe, disgraced previously for the killing of a drunken patron showing erratic behavior aimed at his wife in her workplace, has a second chance to revisit his decorated heroics by figuring out how to prevent the air-bound cons from carrying out their menacing mission. Cage's Poe is the ultimate bad ass in an otherwise cheesy explosive actioner that strangely works as a guilty pleasure for indiscriminate guys that appreciate jolting junk food.
#8 Matthew Poncelet from "Dead Man Walking" (1995)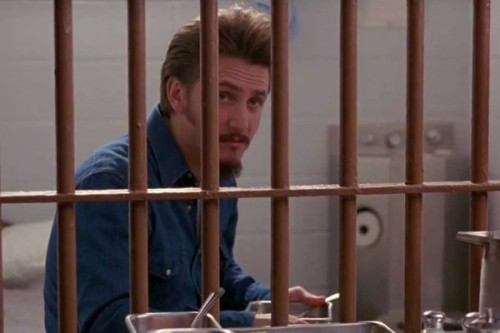 Director Tim Robbins's affecting crime drama "Dead Man Walking" featured Oscar winners Sean Penn and Susan Sarandon as the troubled tandem steeped in salvation and soul-searching mode. Penn's Matthew Poncelet is the "dead man walking" . . . a convicted murderer on Death Row awaiting his execution. Sarandon's Sister Helen Prejean is the sympathetic nun that stands by the side of both Poncelet and the families that were touched by the horrific criminal actions of the imprisoned Poncelet. Under intensified circumstances both Poncelet and Sister Prejean become close friends as the nun tries valiantly to save Poncelet's life with his scheduled execution right around the corner. Thanks to the empathetic nun's influence and compassion Poncelet is rehabilitated as the killer with a consciousness but the morality of the film still questions the fine line between not just the humanity that is seemingly vacant in Poncelet based on his heinous crimes, but also the absent humanity in the detractors that cannot bring themselves to recognize the seriously flawed Matthew Poncelet.
#7 Noah Cullen and John "Joker" Jackson from "The Defiant Ones" (1958)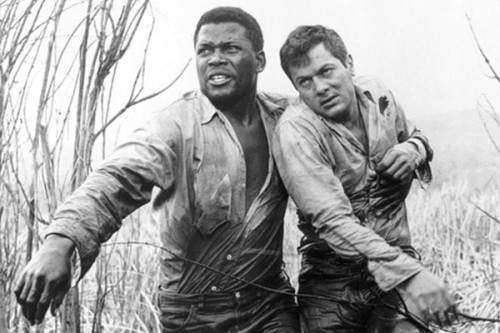 Filmmaker Stanley Kramer's late 1950's convict caper "The Defiant Ones" was raw but self-explanatory in its premise as two escaped convicts look for freedom from their captors while chained together. What complicated their restrictive on-the-run agenda was the conflicting personalities of the fleeing felons. Simply put: White racist John "Joker" Jackson (Tony Curtis) and black irascible Noah Cullen (Oscar winner Sidney Poitier) hated each other. Still, they had to endure their immense disliking of one another and learn to overcome their plight by watching each other's back. Eventually, both men will get unchained, but still be joined by the hip symbolically as an unlikely bond develops between the formally combative convicts. The salt-and-pepper predicament of Jackson and Cullen as defiant dodgers of a pursuing posse registers with noteworthy tension nearly sixty years after its initial release.
#6 Dr. Richard Kimble from "The Fugitive" (1993)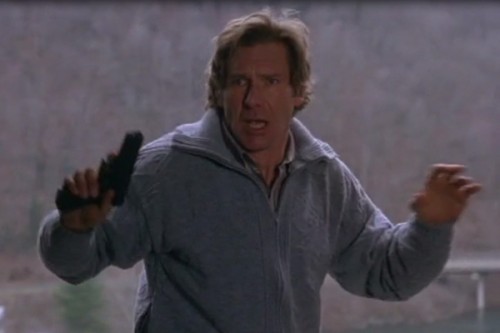 Babyboomers will recall the 1960's ABC television drama series "The Fugitive" starring the late David Janssen as falsely accused wife killer Dr. Richard Kimble on the run from Lt. Philip Gerard (Barry Morse). Well, film director Andrew Davis' early 90s big screen adaptation of the classic 60s TV show stars Harrison Ford as the targeted and convicted Kimble trying to duck and dodge the relentless manhunt of US Marshal Sam Gerard (Tommy Lee Jones in his Oscar-winning role) while trying to hunt down the one-armed man that was responsible for his late wife Helen's (Emmy winner Sela Ward) demise. Ford's Kimble was crafty, determined, caring (even taking time to check out a child's critical condition while looking over his shoulder in a packed hospital too busy to notice him), and elusive which made him an instant threat to those wrongdoers behind the conspiracy to frame the runaway physician convict. Janssen's "The Fugitive" may have been the original jeopardized sitting duck but Ford's take on the scampering doc was just as intriguing and edgy.
#5 John Coffey from "The Green Mile" (1999)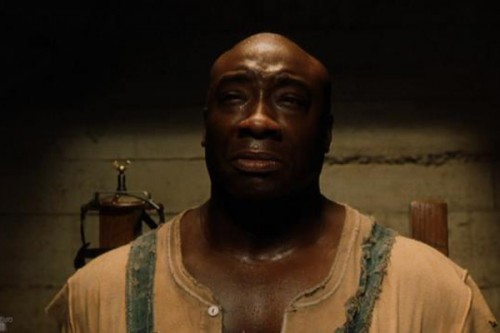 The late Michael Clarke Duncan earned an Academy Award nomination playing the towering and massive Death Row inmate John Coffey in 1930's era America where he is serving time for a child-related murder and rape. What makes Coffey an enigma of sorts is his magical powers and mysterious gifted aura that eerily fascinates the penitentiary guards — particularly one Paul Edgecomb (two-time Oscar winner Tom Hanks) whose connection with the hulking convict facing that final walk of life is nothing short of compelling and majestic. The sadness and disillusionment behind the gigantic Coffey's weary eyes tells a riveting story of an imprisoned soul whose unlikely enlightenment is a healing mechanism to those that want to condemn him, but not before taking notice of the colorful presence that radiates within this imperiled, muscled-bound "offender."
#4 Barbara Graham from "I Want to Live!" (1958)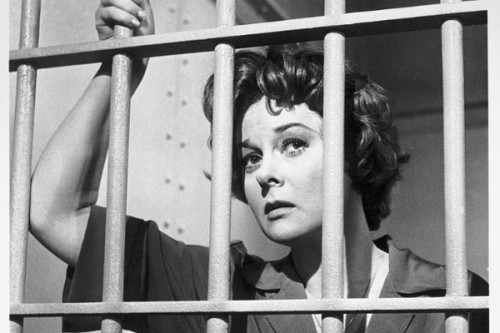 Susan Hayward's powerful and convincing performance as the gas chamber-bound Barbara Graham in director Robert Wise's "I Want to Live!" is a telling tale of feminine destitution behind bars for a lost woman on the path to self-destruction. Hayward won the Best Actress Oscar for playing the law-breaking prostitute whose string of petty crimes and seedy hangouts basically painted her as the irredeemable bad girl. When the hot-to-trot Graham is falsely fingered for the murder of an older women she is placed in the slammer and soon finds herself fighting for her life as the prison officials look to snuff out her life in exchange for the one life she is wrongly accused of taking before her incarceration. Graham constantly proclaims her innocence and shouts vehemently of her insistence for survival but her checkered reputation wins her no sympathy votes from the penal system that wants to draw the last breath out of the perceived vicious vixen. Hayward's Barbara Graham was showered with vulnerability, pathos and a shady backstory, but it is still one of the most potent performances given by the former seductive model-turned-Hollywood performer.
#3 Andy Dufresne and Ellis Boyd "Red" Redding from "The Shawshank Redemption" (1994)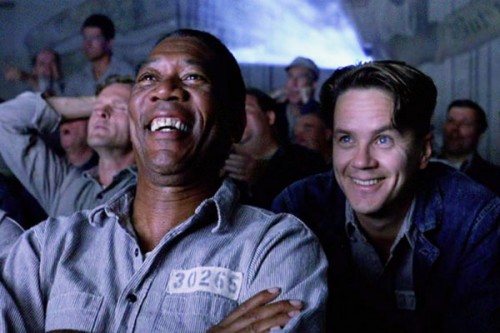 Convincingly moving and spell-binding, "The Shawshank Redemption" told the poignant and powerful account of two convicts bound by hope and friendship that face their imprisoned realities with notable introspection. Newcomer Andy Dufresne (Tim Robbins) is sentenced to hard time inside the dim and dank Shawshank facility as uncertainty surrounds him to no end. Dufresne clings to his innocence for the crime he is identified with committing but now he must cope with his new role as an imprisoned, faceless soul. When Dufresne meets and befriends the likes of long-term convict in the older and wiser Ellis Boyd "Red" Redding (Morgan Freeman) the haunting stay at Shawshank is more bearable as the trapped tandem faces years behind the suffocating prison walls while hanging on to their sanity in constructive, resourceful ways. Indeed, Dufresne's and Redding's pairing as comrades-in-constrictive-arms was the polar opposite of say the hostility originally displayed by the chained ebony-and-ivory tag team of Noah Cullen and John "Joker" Jackson from the contentious escapee convict caper "The Defiant Ones."
#2 Dr. Hannibal Lecter from "Silence of the Lambs" (1991)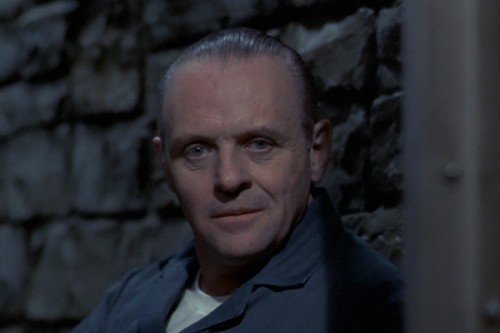 Hands down one of the most notorious yet bizarrely celebrated convicts to grace the cinema world in the last fifty or so years is the famed intellectual criminal mind in Dr. Hannibal "The Cannibal" Lecter (Sir Anthony Hopkins in his deserving Oscar-winning role) from Jonathan Demme's dynamic and deranged Academy Award-winning crime thriller "Silence of the Lambs." Lecter is the deliciously twisted locked-up psychopath adviser to FBI cadet Clarice Starling (two-time Oscar winner Jodie Foster) as she needs his psychiatric inside expertise in catching the woefully weird serial killer Jame Gumb a.k.a. "Buffalo Bill" (Ted Levine) that routinely skins his female victims. Despite Hopkins's limited time on the screen his devilish presence is what uplifted this captivating caper to the classic cult status heights it still enjoys now a quarter of a century after its original release to receptive audiences. Hannibal the Cannibal remains an appetizing (no pun intended) convict worth his villainous weight in glorified gold.
#1 Walter from "The Woodsman" (2004)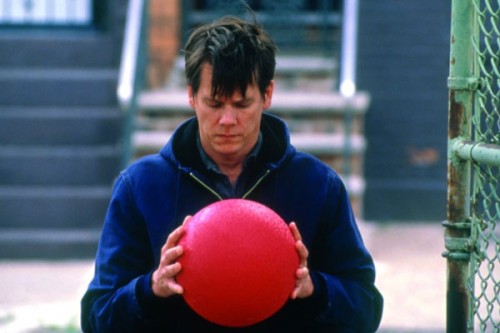 Kevin Bacon has had an amazing longevity in film to the point that the pop cultural "Six Degrees of Kevin Bacon" game was created just to demonstrate how many movies and performers were connected to the ubiquitous actor-musician. However, one of Bacon's most absorbing (and criminally underrated performances) was that of convicted child molester Walter in director Nicole Kassell's revealing and disturbing melodrama "The Woodsman." After being released following 12-years of imprisonment, Walter looks to start over after a rather dubious past. The sex offender of minors lands an apartment and secures employment but both achievements are a cause for concern. The apartment is located across the street from a grammar school crawling with kiddies. And Walter's job at the local lumberyard is stressful because he has to keep his beleaguered background a secret from his co-workers. However, low key Walter's sudden "friendship" with a little girl he met at the park may spark red flags for his resistance to revisiting the dark days of child-oriented impulsiveness. Thoroughly resonate in creepiness and redemption, Walter is the epitome of a walking wounded soul performing a balancing act of frustration and forgiveness while never really truly settling for either sentiment.
HONORABLE MENTION:
"The Hurricane" (1999) featuring Rubin "Hurricane" Carter
"I Am a Fugitive From a Chain Gang" (1932) featuring James Allen
"Thelma & Louise" (1991) featuring Thelma Dickinson and Louise Sawyer