Love and the law. Both components have their measures of boundaries, rules and expectations. Of course when both cross paths in a dubious manner then watch out because it certainly is not pretty. The ruination of love can be fatal but breaking the law while in love can make for a dangerous dichotomy.
In Top 10 Criminal Movie Couples we will take a look at tragic twosomes bound by affection but damaged by connection on the wrong side the law. Whether robbing banks, using or selling drugs, committing murder, prostitution or fraud one thing is very clear –these crime-loving couples are devoted to one another regardless of right or wrong (with the emphasis on wrong . . . naturally).
In ALPHABETICAL order of movie title, the Top 10 Criminal Movie Couples are as follows:
#10 "Badlands" (1973) featuring Kit Carruthers and Holly Sargis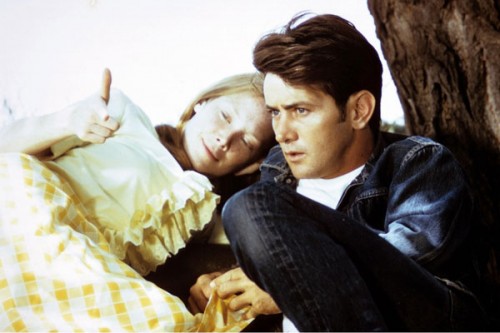 Although the scenic surroundings and omnipresent serenity of the South Dakota badlands is a given the horrific events that invade the small community of Fort Dupree are undeniably disturbing courtesy of a murderous 25-year old James Dean wannabe named Kit (Martin Sheen) and his mousy 15-year old teen lover Holly (Sissy Spacek) as they venture randomly while leaving bloodshed in their path in the 1950s. "Badlands" was the nostalgic early 70's crime drama that told of vintage youth-oriented alienation and dissatisfaction. Kit had a rebellious problem with day-to-day conflicting existence and Holly had a distant and complex relationship with her hard-to-reach blue collar father (Warren Oates). This touchy twosome's romantic involvement spelled catastrophe from the get-go as Kit eventually gunned down his teenager lover's father finally releasing the awkward Holly from her restrictive parent. Thus, the crime spree couple wallow in dead end decadence, but at least have one another to face the murky music together in colorful chaos and confusion.
#9 "Bonnie and Clyde" (1967) featuring Bonnie Parker and Clyde Barrow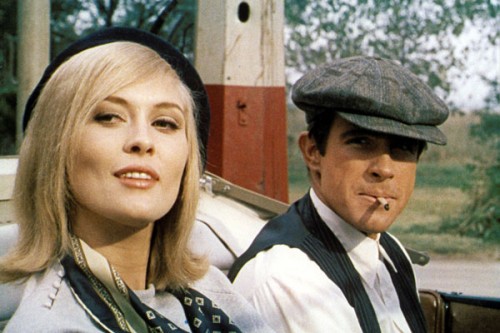 Now who doesn't know about the crime-ridden exploits of notorious bank robbing lovers Bonnie Parker and Clyde Barrow? Filmmaker Arthur Penn's late 60's biopic of the Barrow gang showcasing Faye Dunaway and Warren Beatty as the romantic robbers leading their precarious pack in knocking off banks and becoming media misfit celebrities as puzzled yet determined law enforcement officials look to capture their hunted heads on a platter. Strangely, Clyde was charismatic and street-smart while Bonnie was feisty and alluring in feminine independence. Together, Bonnie and Clyde were risk-taking hellions attached to the adrenaline of law-breaking chance. This is yet another case of a swaggering small-time bad boy charming the pants off of a disillusioned diva waiting to be rescued from her monotonous malaise. Bonnie and Clyde would finally get their deadly comeuppance, but not before making playful mincemeat out of the frustrated Authority out to cease their crime-cavorting ways.
#8 "Bully" (2001) featuring Marty Puccio and Lisa Connelly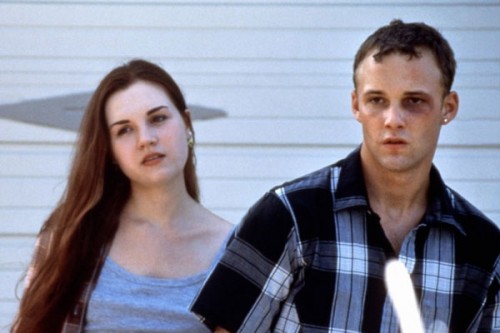 Director Larry Clark's underrated kiddie crime caper "Bully" was based on real life events involving a group of Florida-based teens subjected to the bullying antics of a wayward mutual friend named Bobby Kent (Nick Stahl) whose constant turbulent behavior had a caustic hold on the pubescent pack. With Bobby's aggressive pushiness against a more easy-going and quieted Marty Puccio (Brad Renfro) and rape of Ali Willis (Bijou Phillips), he simply had to be stopped. So Marty and his more vocal and fed-up girlfriend Lisa Connelly (Rachel Miner) had to scheme to eradicate the brutal Bobby once and for all. And so the lovey-dovey Marty and Lisa — along with the rest of the weary gang — had to construct a scandalous way to silence the menacing Bobby via a graphic nighttime multiple stabbing in the alligator-infested marsh. Both wishy-washy Marty and the strong-willed Lisa were the leading lovers that concocted the disturbing demise of the riff-raffish Bobby Kent.
#7 "Dog Day Afternoon" (1975) featuring Sonny Wortzik and Leon Shermer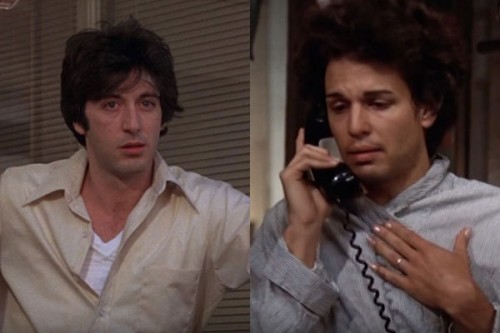 Gay bank robber Sonny Wortzik (Al Pacino) decided to rob a Brooklyn bank in the middle of a hazy summer day for the purpose of financially paying for a sex change operation for his male lover Leon Shermer (Chris Sarandon). Sonny, along with his accomplice Sal (the late great character actor John Cazale), stumbled upon some complications while holding up the bank with most of the cash transferred for the day. Desperate and concerned, Sonny has no choice but to consider taking hostages in an effort to secure some safety for himself and Sal if they were to hatch a getaway without police interference. Based on a true story, "Dog Day Afternoon" was shockingly audacious as Pacino and Sarandon (both blessed with Oscar nominations for their roles) were the unconventional homosexual tandem tied in passion and punishment concerning their law-breaking deeds. Sidney Lumet's bizarre crime potboiler is just as edgy and compelling as it was when first presented on the big screen some four decades ago.
#6 "Double Indemnity" (1944) featuring Walter Neff and Phyllis Dietrichson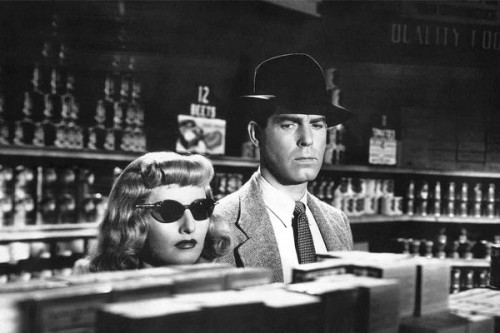 Director Billy Wilder's cunning and crafty film noir "Double Indemnity" weaved some terrific display of intrigue, shadiness and murder. The film's leads in Fred MacMurray and Barbara Stanwyck were masterful as the cohorts in secretive love and murder/insurance scams. Pacific Risk All Insurance Company agent Walter Neff (MacMurray) teams up with his client's seductive and sinister wife Phyllis Dietrichson (Stanwyck) as they carry on an affair and plot to terminate Phyllis' hubby to take advantage of an accidental double indemnity insurance clause that pays double the payout. However, the sudden death of Mr. Dietrichson adds further finger-pointing suspense as Neff's insurance colleague Barton Keyes (Edward G. Robinson) becomes rather cynical and does not believe that Dietrichson's demise is what it appears to be in actuality. Naturally this causes some anxious moments for the opportunistic law-breaking lovebirds as the insurance fraud premise is becoming more sketchy by the movement. The spell-binding bumps and the Neff-Dietrichson love-and-larceny angle is what drives the twisted beauty and balance of the classic "Double Indemnity."
#5 "Monster" (2003) featuring Aileen Wuornos and Selby Wall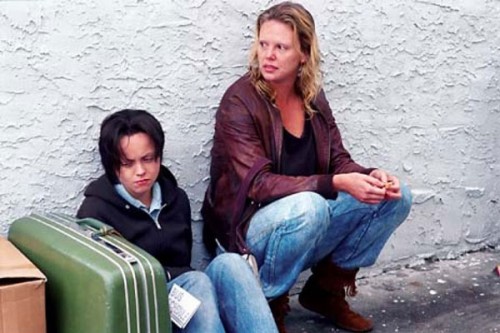 Florida-based prostitute Aileen Wuornos (Charlize Theron in her Oscar-winning role) has had her share of deepened demons long before her decision to turn tricks and possess an itchy trigger responsible for killing shady johns after (or before) servicing them. The haunting Aileen would soon become somewhat grounded when she meets the youngish and diminutive Selby Wall (Christina Ricci) at a local bar. The two women form an intimate bond as Selby "softens" up the psychotic Aileen by giving her some security of affection. Aileen learns to loosen up as she and Selby enjoy bowling, drinking, visiting the amusement park, etc. Aileen even tries to straighten up her act and get a job — an unrealistic attempt but still a tribute to Selby's positive influence. Unfortunately, Aileen would instinctively gravitate back to the sure thing of sexually entertaining johns and snuffing out their lives in an attempt to survive financially and keep her relationship afloat. Director Patty Jenkins' real-life inspired law-breaking lesbian love story laced with crime and casualties is one of the most unsettling character studies in recent cinema memories.
#4 "Natural Born Killers" (1994) featuring Mickey Knox and Mallory Wilson Knox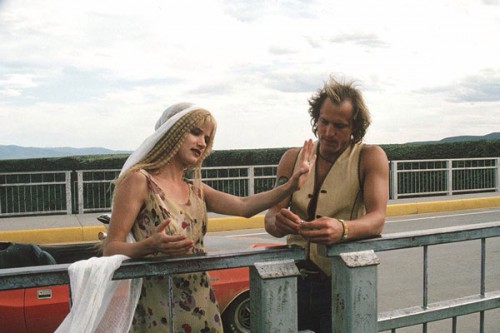 Director Oliver Stone's R-rated raucous and over-the-top crime caper "Natural Born Killers" was an overly kinetic and brutal bloodbath that dared to offer explosive commentary on the sensationalism of circus-oriented media and journalism obnoxiousness. Stone's two poisonous protagonists are the weirdly engaging and impish married couple Mickey and Mallory Knox (Woody Harrelson and Juliette Lewis) that first became lovers with one common bond in mind — they were definite victims of tumultuous childhoods. So naturally Mickey and Mallory would unleash their bad ass aggression on an unsuspecting world as blood-thirsty, carefree serial killers. In the process, they would become renowned renegades of tabloid-based television where their inexplicable celebrity status is insidious but infectious to the approving masses. Soon, Mickey and Mallory would get their last laugh on media vultures such as the annoying and exploitative Wayne Gale (Robert Downey Jr.) — a spoofed Geraldo Rivera-type talking head — will soon learn of the Knoxes' predictable wrath that he enjoyed covering as a ratings ploy for his selfish entertainment gains.
#3 "The People vs. Larry Flynt" (1996) featuring Larry Flynt and Althea Leasure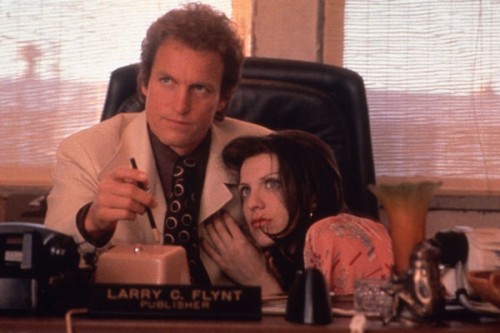 Famed pornographer and Hustler Magazine publisher Larry Flynt (the Oscar-nominated Woody Harrelson) and his drug-addled stripper girlfriend Althea Leasure (Courtney Love) were the scrutinized subjects of controversy and disdain involving their crusade for first amendment rights in the pursuit for free speech and expression regarding their distribution of smut-related material. Flynt violated decency laws in the eyes of his detractors while galpal Althea engaged in chronic substance abuse that would later claim her life. Incidentally, Larry Flynt nearly lost his life thanks to an angry assassin shooting him over his supposed entitlement to maintain his money-making means by promoting titillating adult entertainment.
#2 "Sid and Nancy" (1986) featuring Sid Vicious and Nancy Spungen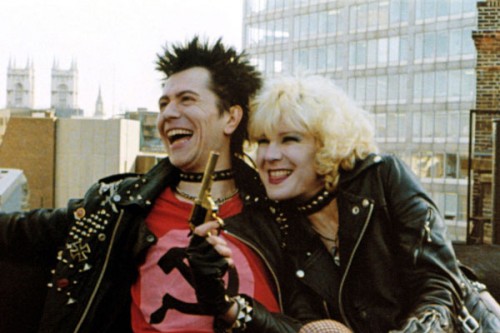 The troubled twosome of British punk rock, bassist Sid Vicious (Gary Oldman) from the dubious anarchy band The Sex Pistols and his girlfriend Nancy Spungen (Chloe Webb) were chronicled in director Alex Cox's biting biopic "Sid and Nancy." The real life tragedy of heroin-addicted Sid being fingered for the murder of the stabbed-to-death Nancy was both compelling and hideously mysterious at the same time. As a solo artist, Vicious found his down-spiraling drug habits escalating even more out of control in the aftermath of The Sex Pistols break-up. Both Sid and Nancy could be passionate in lusty excess, but their volatile existences were also eye-opening revelations as well. Cox's frenzied and foggy-minded "Sid and Nancy" was brilliantly realized in nostalgic naughtiness as it carries out a hellish haze of rebellious artistry mixed with a toxic romanticism that reflected the rough-and-tumble movement of the 70's English punk rock scene.
#1 "Super Fly" (1972) featuring Youngblood Priest and Georgia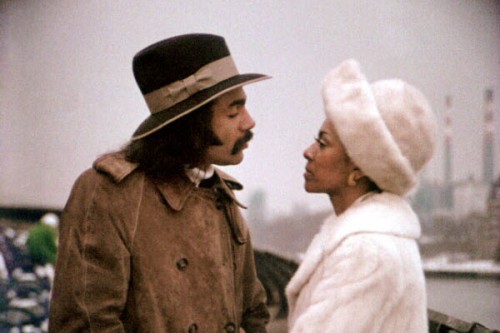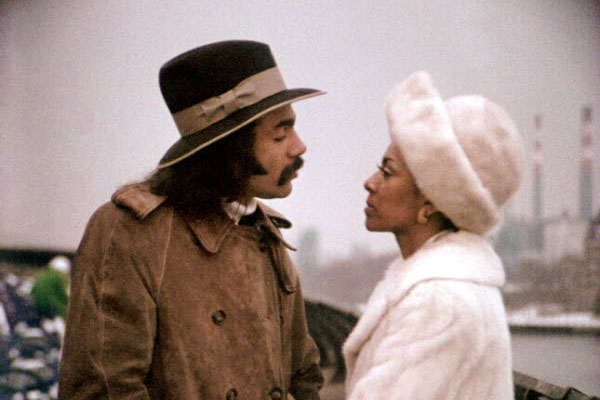 Perhaps after the big screen success of "Shaft" that gave a considerable push to the blaxploitation genre, the second most popular urban black-themed film to fill the bill was the shifty "Super Fly" armed with an energetic and thought-provoking Curtis Mayfield soundtrack. Director Gordon Parks Jr. (whose father incidentally directed the aforementioned "Shaft") featured cocaine drug pusher Priest (Ron O'Neal) looking to retire from selling junk on the streets for the Mafia. Basically, Priest wants to make one more big score before finally hanging up his hat as the seedy street provider for the junkie's powdered candy fix. Priest had his share of women that he could bed down easily without complaint, but his main squeeze was the desirable Georgia (Sheila Frazier) that stood beside her man's side despite his illegal "profession" of distributing smack to the weak-minded.