Sex hustlers in the cinema. The world's oldest profession on the big screen has never been more titillating or scandalous than the selections we have listed in the Top 10 Movie Prostitutes. Okay . . . perhaps there are other provocative choices that could also be featured so prominently in this column documenting the salacious "sexual pleasure-makers" out for the big score both personally and professionally. (Tell me in the comments!)
So let's examine the lost "sex for sale" soul-searchers whose complexities are much deeper than the art of simply turning tricks for a seemingly lucrative buck. Whatever moral ground that one stands on cannot deny the impact that these roguish movie characters had on the cinematic psyche.
In ALPHABETICAL order according to movie title here are the Top 10 Movie Prostitutes:
#10 Julian Kaye from "American Gigolo" (1980)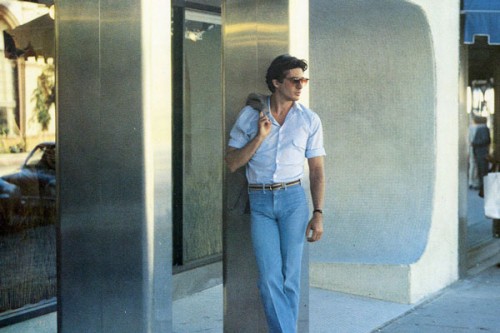 Los Angeles-based male escort Julian Kaye (Richard Gere) provides his pricey sexual services to an older female clientele. The nature of Julian's business is catering to the fantasies of his mature lady clients but soon realizes that his seductive bedroom dalliances include carrying on an affair with a politician's wife named Michelle (Lauren Hutton) and getting falsely pinned with a murder rap regarding one of his paying customers is now taking its explosive toll. Director Paul Schrader's "American Gigolo" is a provocative potboiler as it helped cement the already hot-and-heavy hormonal regard for what a majority of movie-going women harbored toward the charming Gere especially as the desirable stud-for-hire Julian Kaye in this early 80's cunning crime drama.
#9 Lulu Bains from "Elmer Gantry" (1960)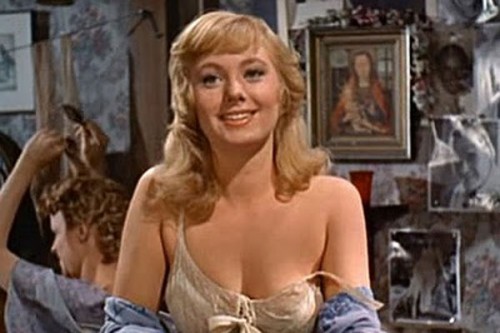 Actress/songstress Shirley Jones won her Best Supporting Actress Oscar for playing the vengeance-seeking prostitute Lulu Bains in the transfixing religious redemption drama "Elmer Gantry." Jones, known mostly for her participation in various elaborate movie musicals not to mention the pop cultural family-singing TV classic sitcom "The Partridge Family," uncharacteristically resonated as the paid bed-hopping beauty Bains whose very presence causes quite the stir for a shady and garrulous traveling salesman-turned-scheming preacher Elmer Gantry (played by the Oscar-winning Burt Lancaster) who in return is enamored and inspired by evangelist Sister Sharon Falconer (Jean Simmons). In any event, Lulu is a vital reminder of current Bible-thumping Gantry's notorious past as she threatens to expose the religious roadshow cad for what it is worth.
#8 Barbara Graham from "I Want to Live!" (1958)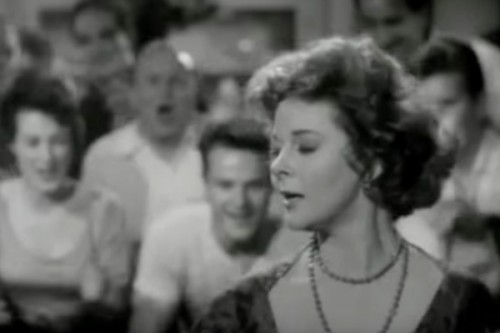 Petty criminal and bar-hopping prostitute Barbara Graham (Susan Hayward in her Oscar-winning role) finds herself vulnerable when falsely being charged (according to her word anyway) for the murder of an old women based upon the misleading testimony of a couple of duplicitous associates she once mingle with in her sordid circles. As a result the doomed diva Graham is headed for the gas chamber as she leaves a tainted trail behind filled with turning tricks, demonstrating her womanly wildness and revealing a messy arrangement with her lacking morality in general. Despite Graham's inevitable doom behind her cell door she proclaims her innocence for a killing she was not supposedly responsible for at all. Graham's fast-lane lifestyle in prostitution and minor illegal activity deems her one of the most sorry and misunderstood women in cinema to warrant immediate redemption.
#7 Irma La Douce from "Irma La Douce" (1963)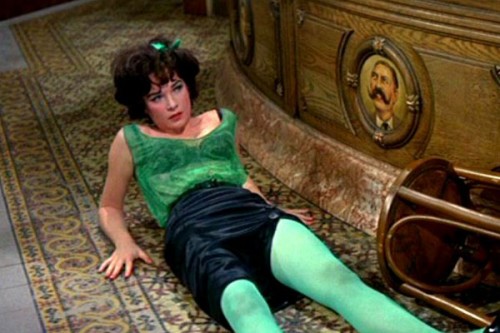 Parisian prostitute Irma La Douce (Shirley MacLaine) happens to be the object of affection for ex-cop Nestor Patou (Jack Lemmon) formerly assigned to the Red Light district. Nestor is not too thrilled that the woman he desires is a widely popular "working woman" whose professional services are up for grabs to whatever john that can pay for her sexual time and attention. Indeed, Nestor is possessive of Irma and needs to find a way to claim her all to himself in order to establish a steady relationship with the French streetwalker. Thus, Nestor decides to pay for Irma's "companionship" exclusively therefore guaranteeing her undivided devotion. Heralded filmmaker Billy Wilder is responsible for the film adaptation (from the stage musical) of MacLaine's highly-spirited Irma in this off-kilter early sixties sex farce.
#6 Bree Daniel from "Klute" (1971)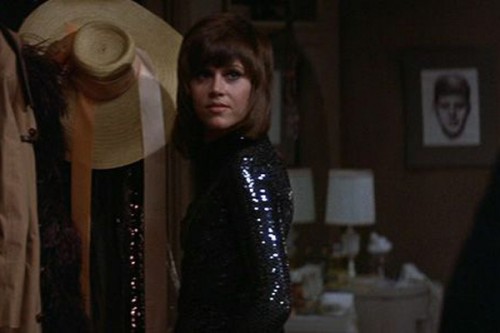 Director Alan J. Pakula's stimulating urban crime drama "Klute" tells the tale of high-priced New York-based prostitute Bree Daniel (two-time Academy Award winner Jane Fonda in her first Oscar-winning role) who is the main link to solving the case of a missing Pennsylvania businessman investigated by Detective John Klute (Donald Sutherland) — the absent man's best friend. Klute engages in a psychological tug-of-war with the hypnotic call girl Bree whose provocative past with the disappearing businessman may come into play as the investigation delves into curious territory. The agonizing obstacle is that Bree cannot recall crossing paths with Klute's missing buddy with only the connection being that he had previously written R-rated correspondences to the Manhattan sometime actress/expensive active hooker. Naturally, Klute is eventually drawn to the mysterious Bree as he gets caught up in her sultry web of sexual tricks that threatens to compromise his assigned duties in following up on his business buddy's whereabouts.
#5 Sera from "Leaving Las Vegas" (1995)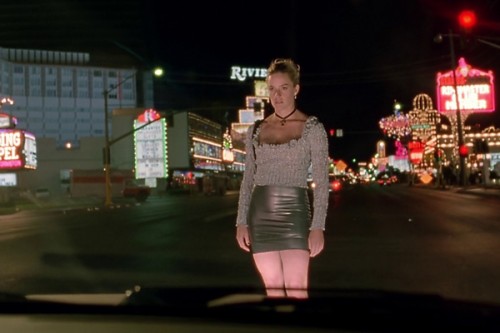 Director Mike Figgis' disturbing drama "Leaving Las Vegas" presents the trials and tribulations of Las Vegas prostitute Sera (Oscar-nominated actress Elisabeth Shue) with her own colorful baggage that hooks up with majorly conflicted alcoholic Hollywood screenwriter Ben Sanderson (Nicolas Cage's Oscar-winning role) out to drink himself to death amid the constant flashing neon lights in the City of Sin. Sanderson seeks out the sexual attention of Sera in his countdown to drinking himself to numbness. His stipulation, however, is that Sera is not to preach about his looking for salvation or any other interference that involves addressing his stabilized demons. Together, Sera and Ben co-exist in never-ending chaos and confusion as self-destruction is their key to an unfinished, down-spiral malaise that connects them at the hip.
#4 Joe Buck from "Midnight Cowboy" (1969)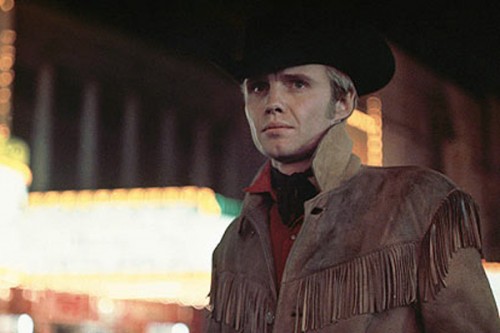 Joe Buck (Oscar-winner Jon Voight, "Coming Home") once quipped that he was a slick cowboy who is "one hell of a stud." The blonde-haired buckaroo arrived in gritty New York City leaving behind haunting memories where he hailed from to seek new horizons in the Big Apple. A chance meeting with a sleazy, crippled opportunistic street hustler named Rico "Ratso" Rizzo (Dustin Hoffman) would make for an unusual business arrangement/gradual friendship as the duo form a partnership of "financial opportunity." Specifically, Ratso would make fast cash lending out handsome hotshot Joe as an egotistical male escort to wealthy women willing to pay for his so-called adventurous sexual services. Joe, a declared countrified carnal commodity for the ladies (and sometimes for awkward, desperate males), would learn to appreciate his good fortune making money while satisfying his paying conquests. Soon, Joe Buck's personalized demons and the failing health of the sickly Ratso Rizzo would lead to spoiling his profitable sexual sessions in the big city.
#3 Aileen Wuornos from "Monster" (2003)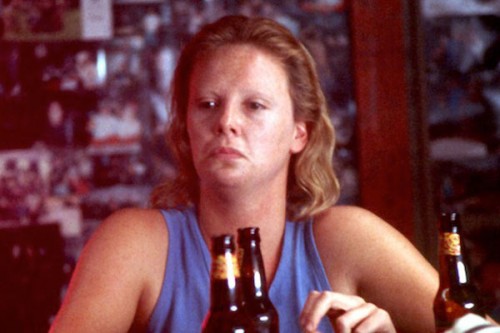 Real-life notorious serial killer prostitute Aileen Wuornos was the biographical subject matter for writer-director Patty Jenkins' crime drama "Monster." Wuornos (in an Oscar-winning turn by former model/actress Charlize Theron) was the heavily detached and destructive Daytona Beach prostitute that randomly executed her shady johns for two-bit cash and cars, found lesbian love and comfort with the privileged diminutive Selby (Christina Ricci) and tried to clumsily look for legitimate employment to escape her doomed lifestyle. The reality, however, seemed set in stone as the abrasively wounded Wuornos could never recover from her salacious and aimless existence in the streets. Obviously psychologically impaired and mentally tortured, the lost Wuornos made cheapened money from lust-craved men demanding her sexual services only to end up being the unpredictable casket sideshow at their own funeral services.
#2 Nola from "Nola and the Clones" (2016)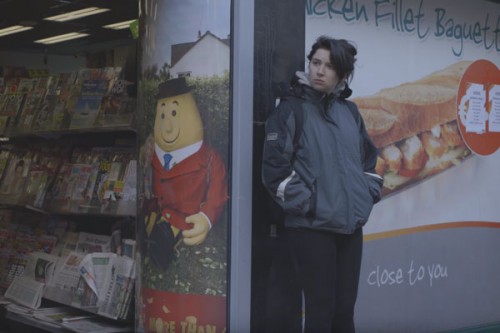 Irish filmmaker Graham Jones' indie drama "Nola and the Clones" presents a reflective and raw look at young feminine desperation and destitution in the form of Dublin-based homeless prostitute Nola (Caoimhe Cassidy) whose previous disillusionment at home led her to runaway and eventually survive on the streets as a hooker in search of elusive stability. In surreal fashion Nola manages to exchange sexual transactions with various "clones" (all played by Joseph Lydon) — men that seem to resemble one another despite different appearances, attitudes and seedy motivations. Furthermore, Nola's inherent distrust of men makes for the inner turmoil she feels when she surrenders her body to the very male species that have stained her psyche emotionally. Nola is caustic, confusing and compelling as a character study of lost female-oriented alienation.
#1 Iris Steensma from "Taxi Driver" (1976)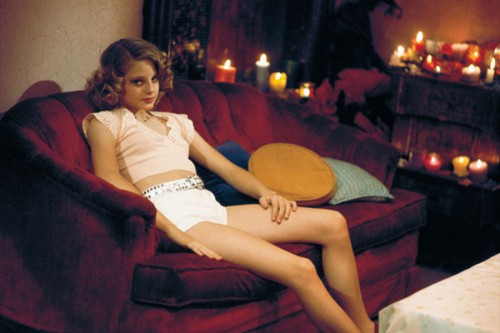 The very thought of witnessing an underage prostitute turning tricks for the deplorable middle-aged johns in the New York City mean streets is quite disturbing in filmmaker Martin Scorsese's telling crime drama "Taxi Driver." The pre-teen hooker in question is one Iris Steensma (played by two-time Oscar winner Jodie Foster) and she would be the beneficiary of rescuing from loner Travis Bickle (Robert De Niro), an unstable ex-Vietnam vet whose indignant and intolerant views for the societal deterioration that surrounds him in the urban jungle is too much to handle. Bickle, who is exposed to the sleazy decadence while driving a taxi at nighttime, is determined to save the welfare of the sex-selling minor and become young Iris' protector against the scumbags (as well as her pimp) that want to violate this precocious yet provocative misguided child. Kiddie seductress Iris is the breaking point for the unbalanced insomniac Bickle that is determined to unrealistically tackle the corrosive and unsavory environment that haunts his erratic soul . . . and the teeny tart is Bickle's pet project to confront the ruination of mankind's warped vision.