The movies enthusiastically embrace the cinema oddballs for our entertaining (and curious) purposes. Film freaks have always been the weird wonderment of big screen scrutiny and sometimes celebration. Who in this lifetime has not felt like an outsider at one time or another? The definition of being freaky can cover any spectrum or degree of being considered erratically different in appearance and/or psychological behavior. So there is a free opportunity to define your comprehension of a "film freak."
Perhaps a film freak can come in the form of classic movie monsters that range from early cinema's Frankenstein, over-the-top superhero villains, deformed souls or the likes of 60's TV miscasts such as the ghoulish greatness of "The Munsters" from the 1966 film "Munsters Go Home!" After all, being freaky is up to interpretation in one movie-goer's mindset.
In Top 10 Film Freaks we will examine a selection of misfits — menacing or comical or a combination of both — and examine the importance of their so-called freak-ridden status. The Top 10 Film Freaks in ALPHABETICAL order (according to movie title) are as follows:
#10 "The Addams Family" (1991) featuring The Addams Family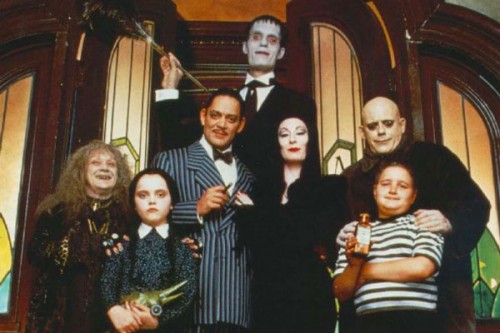 The theme song to the popular 60's sitcom "The Addams Family" included the lyric: "They're creepy and they're kooky, mysterious and spooky, they're altogether ooky, The Addams Family." Well, that little ditty of a lyric certainly described one of pop culture's well-known comics and television freaky families as they morphed into a 1991 feature film in director Barry Sonnenfeld's "The Addams Family." Yes, the creepy clan of Gomez, Morticia, Uncle Fester, Granny, Pugsley, Wednesday and even Lurch and Thing returned to ignite the nostalgic flames for babyboomers to reminisce. The film was headed up by the late Raul Julia and Anjelica Huston as the head of the Addams' haunted household. The big screen version of "The Addams Family" was so well-received that it spawned the sequel, "Addams Family Values." Simple familial freakiness at its best.
#9 "American Psycho" (2000) featuring Patrick Bateman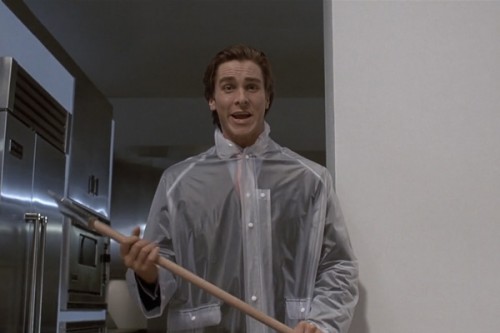 Handsome and hedonistic Patrick Bateman (played by Oscar winner Christian Bale) was the caustic creation from "American Psycho" novelist Bret Easton Ellis. The movie adaptation was directed by Mary Harron as it featured the New York City-based narcissistic Bateman as the deviant investment banker basking in glorious affluence during the excess of 80's materialistic decadence. Behind Bateman's facade as a wealthy financier with a polished existence lies a psychotic serial killer with a hankering for musical tastes that include smooth tunes from Phil Collins to Whitney Houston. Bateman was devilishly delusional and a dangerous freak with a calming exterior that can be interpreted as dashing and daring. Naturally, the twisted Bateman's terrorizing true colors showed from belittling and killing a homeless man to slaughtering a pair of adventurous call girls with blood-thirsty, bizarre rage. Bale's cool, colorful and cold-heart approach to the shocking shenanigans of his quietly wicked, off-kilter rampage made "American Psycho" a demented delight among critical circles.
#8 "Beetlejuice" (1988) featuring Betelgeuse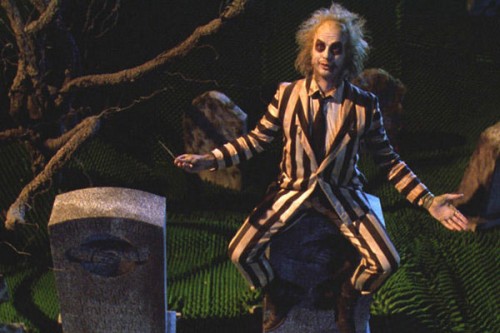 Filmmaker Tim Burton has always been an unconventional movie mastermind behind some of Hollywood's most eccentric, off-base freaky film characterizations and his offering of the bombastic bio-exorcist hired to rid a pesky family from the beloved home of former deceased owners-turned-ghosts in the Maitlands (Alec Baldwin and Oscar winner Geena Davis) is chronicled in the pronounced wacky "Beetlejuice." Michael Keaton played the wildly inspired irritant Betelgeuse whose garrulous and gory persona was erratically spunky and freakishly menacing behind the pomposity and nervous tics. However, Betelgeuse's questionable methods in terrorizing the Deetz family had the Maitlands regretting that they asked for the eerie showboating services of the unpredictable fuzzy-haired, powder-faced ghoul especially when the spirit couple befriended the Gothic and gloomy teen daughter Lydia (Winona Ryder). Soon, the Maitlands would need to figure out how to protect Lydia and her folks from the edgy crackpot. Indeed, Keaton's Betelgeuse was the nutty nuisance that aptly represented the late 80's foray into surreal, fright fantasy joy at the movies.
#7 "The Dark Knight" (2008) featuring The Joker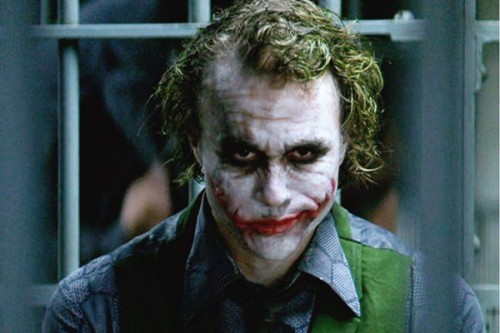 There is no doubt that filmmaker Christopher Nolan may have delivered one the best and challenging psychological superhero movies ever made. Certainly Nolan has been responsible for overseeing one of the most freakish and chilly psychopaths in modern cinema in the form of Batman nemesis The Joker. The late two-time Oscar-nominated Heath Ledger was creatively raw and disturbing as the demonic crime lord causing the Dark Knight's haunting psychological uncertainty. Ledger's off-the-chart intensity and warped weirdness was so convincingly gripping and hypnotic that the deceased actor was posthumously awarded the Academy Award for his brilliantly unhinged performance as the sinister Prince of Pranks. The unnerving and calculating chaos that Ledger's Joker engineered majorly contributed to the stimulating appeal and eerie aura of "The Dark Knight" as his skillful interpretation of The Joker will continue to launch long-term nightmarish amazement in Cinema Land.
#6 "Edward Scissorhands" (1990) featuring Edward Scissorhands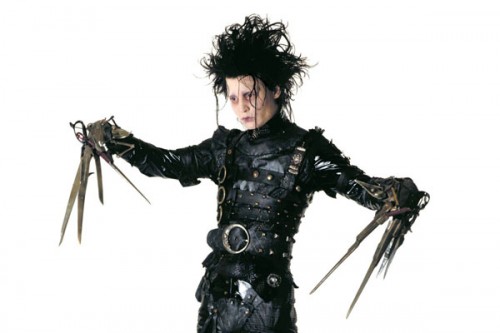 It is no surprise that the directorial handler behind the delightfully off-beat dramatic fantasy romancer "Edward Scissorhands" is none other than Tim Burton whose specialty in bringing freaky and eccentric characterizations to the big screen is almost second nature. Johnny Depp, a veteran of portraying off-the-cuff oddballs in several Burton-oriented ditties, plays the stoic and sedate Edward Scissorhands whose introduction into a new environment after his inventor dies and leaves him alone and incomplete as a pet project. Edward has to assume using long-lengthy scissors as his hands and an invitation by a well-meaning woman bringing the gentle metal-handed misfit into the suburban setting soon reveals some daunting revelations for the community that learned to accept the spike-haired, scissor-fingered freak. "Edward Scissorhands" firmly stands as one of Burton's favored peculiar protagonists worth basking in his subtle, warped wonderment.
#5 "The Elephant Man" (1980) featuring John Merrick (a.k.a "The Elephant Man")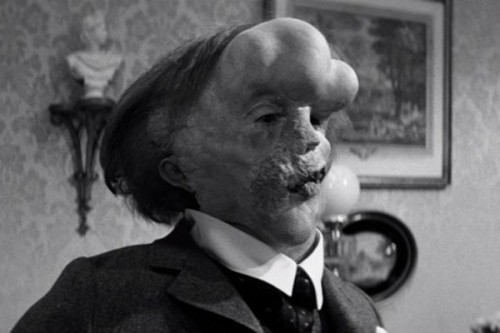 David Lynch's absorbing biopic, "The Elephant Man," exposed the humanity and brilliance of a complex man trapped behind a hideous deformity. John Merrick (John Hurt) earned a living as a side-show freak working the circuit in Victorian England. Because of his disfigurement Merrick was not able to reveal his true nature as an intelligent and affable soul. Instead, Merrick is mocked and chastised by the societal English detractors that routinely ostracized his disabling existence as an elephant-like shape faced creature forced to publicly humiliate himself as a walking anomaly for the judgmental people's amusement. It would take the medical attention of Dr. Frederick Treves (Oscar winner Anthony Hopkins) to instill some hope and humanistic promise in the wounded psyche of the friendly, but fatigued Merrick.
#4 "The Hunchback of Notre Dame" (1939) featuring Hunchback Quasimodo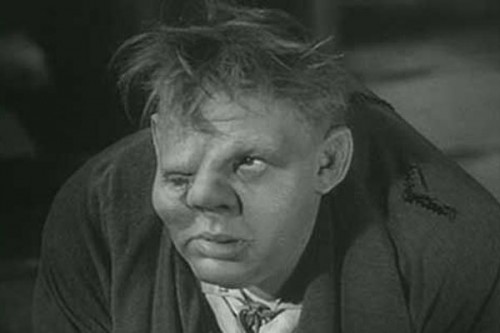 Director William Dieterle's vintage melodramatic romancer, "The Hunchback of Notre Dame," showcases the trials and tribulations of French Notre Dame Cathedral hunchbacked bellringer Quasimodo (Charles Laughton) and his connection with vulnerable Esmeralda (Maureen O'Hara) who is being set up on a murder charge by Chief Justice Frollo (Cedric Hardwicke) who fancies the jeopardized gypsy girl. It would take the bent over, freakish Quasimodo (whom Esmeralda previously aided when he was briefly imprisoned) and Esmeralda's hubby Clopin (Thomas Mitchell) to try and save her from a dreadful hanging. In any event, Quasimodo is the quintessential freak with a lovable sense of loyalty and longing although one can clearly see the bouts with alienation and misunderstanding from the deformed outsider.
#3 "Mask" (1985) featuring Roy "Rocky" Dennis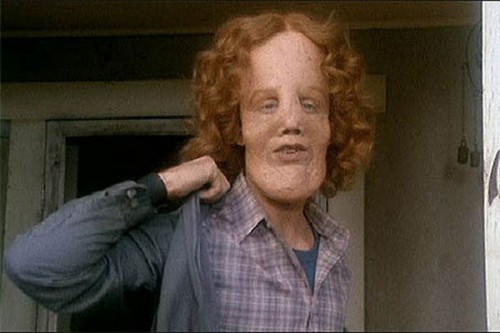 It is very malicious putting the label "freak" on an individual especially one that is gentle, good-natured and an all-around likable soul. But this did not stop an element of society from verbally and mentally torturing Roy "Rocky" Dennis (Eric Stoltz), the sensible teenager cursed with a deformed skull and seriously flawed facial reconstruction in director Peter Bogdanovich's poignant and uplifting character study, "Mask." While poor Rocky had the unconditional love and support of his biker chick mother Florence "Rusty" Dennis (Oscar winner Cher) and her fellow biker lover Gar (Sam Elliott) and his crew, there were relentless ignorant and insensitive folks out to crucify this poor kid for being perceived a freaky-looking red-headed side show act with the hardened, funny shaped massive noggin. Rusty, a substance abusing and hard drinking woman, stood by her endearing offspring and tried to protect her smart and accepting son from the cruelties and mean-spirited indifference that Rocky routinely faced every time he stepped out into the harsh world. In hindsight Rocky was never the targeted freak that he was made out to be due to a physical limitation. If anything it was the disgusting detractors of Rocky's that were the genuine cowardly and intolerable freaks of nature.
#2 "The Spy Who Loved Me" (1977) and "Moonraker" (1979) featuring Jaws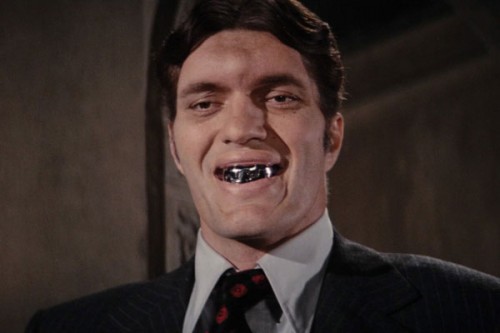 At seven feet two inches, James Bond villain Jaws (played by the late towering actor Richard Kiel) was an obvious intimidating freaky force with his skyscraper height, metal-plated mouth and brute strength. In fact, Jaws was so effectively indestructible and monstrous that the opportunistic producers were enthusiastic in displaying him not in just one Agent 007 film but two . . . in 1977's "The Spy Who Loved Me" and 1979's "Moonraker." In "The Spy Who Loved Me," Jaws was a no nonsense beast intent on breaking Bond into a million pieces, but a couple of years later in "Moonraker" would see the metal toothed titan as comic relief, turning him into a last-minute head-scratching ally with his former foe in James Bond. Overall, Jaws was a distinctive standout in many ways that other Bond villains and henchmen pale in comparison (okay . . . maybe not as high on the Bond food chain as Oddball, Ernst Stavro Blofeld, Dr. Julius No or Auric Goldfinger).
#1 "Young Frankenstein" (1974) featuring Igor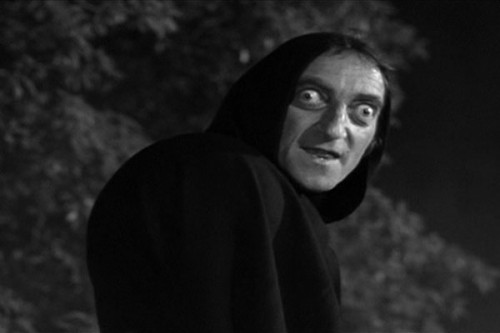 Well take your pick . . . almost anybody from the insane Mel Brooks's infectiously hysterical monster mash comedy "Young Frankenstein" could qualify for the ticklish honors of being the top dog freak in the flock. Perhaps it is Peter Boyle's Frankenstein monster or his creator in Gene Wilder's Dr. Frankenstein for that matter? Maybe the feminine pair of pretty but odd lab assistant Inga (Teri Garr) or the resident housekeeper in frumpy Frau Blücher (Oscar and Emmy winner Cloris Leachman) would suffice? Actually, the misfit mantle would be dutifully turned over the creepy cross-eyed wonder in Dr. Frankenstein sidekick Igor (played uproariously by the late brilliant comedian Marty Feldman). Feldman's Igor was the bug-eyed, hunchbacked huckster that presided over the creation of the monosyllabic, flat-headed Frankie as his mentor Dr. Frankenstein put the final touches on his ghoulish experimentation gone hilariously haywire. Igor's constant mugging with wide-eyed weirdness is a thing of bizarre beauty in Brooks's off-kilter satire of nostalgic cheesy monster movies. Feldman's underrated freak Igor is something of a measured masterpiece put into perfected parodied mode in the zany world of the aforementioned Mel Brooks.
HONORABLE MENTION:
"Ed Wood" (1994) featuring Ed Wood
"The Goonies" (1985) featuring Sloth
"Little Children" (2006) featuring Ronnie J. McGorvey
"The Silence of the Lambs" (1991) featuring Jame Gumb (a.k.a. "Buffalo Bill")
"Star Wars: Episode VI – Return of the Jedi" (1983) featuring Jabba the Hutt