Addiction is an ugly condition of the human psyche. As individuals we all have our forbidden vices that get the best of us as psychological barriers. Addictions vary but one of cinema's most consistent depictions involves the bottle. Yes, alcoholism is among the top reigning addictive subject matters that have been explored on the big screen in grandiose fashion. Whether portrayed as a destructive character study of alienation as in 1945's "The Lost Weekend," celebratory fratboy foolishness as in 1978's "National Lampoon's Animal House" or comical nuttiness as in 1981's "Arthur" alcoholism has always made for a compelling, complex or kooky umbrella of cinematic characterizations. Regardless of being raunchy or reflective, the alcoholic lost soul has always been the definitive enigma of a larger-than-life personality in film's past and present.
Granted we have been subjected to the male alcoholic on the screen more times than we can count. Western whinos, in particular, are sometimes guaranteed Oscar gold (just ask Academy Award winners such as John Wayne's Rooster Cogburn in "True Grit" or Lee Marvin's Kid Shelleen from "Cat Ballou" for that matter). What about the estrogen counterparts that have an alcohol dependency as well? In our Top 10 Alcoholic Female Movie Characters we will take a look at a selective choice of lady lushes whose struggles with the bottle are as dramatically realized as their male competitors.
Hence, in ALPHABETICAL order according to film title the Top 10 Alcoholic Female Movie Characters are as follows:
#10 "Barfly" (1987) featuring Wanda Wilcox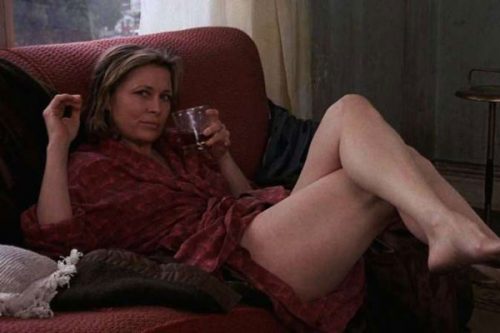 The "Barfly" bunch would not be complete if it were not for the inclusion of one Wanda Wilcox (Faye Dunaway), the maturing beautiful boozehound who hooks up with destitute and drunken poet/writer/laborer Henry Chinasky (Mickey Rourke) as they collaborate in misery and chronic intoxication at their favorite local drinking dive. As with Henry, Wanda is lonely and listless while existing on the natural highs of the bottle. She is a "kept woman" with another man, but that does not stop Wanda from living with the lost and sullen Henry as the chugging twosome drift along while drowning their sorrow in alcohol hoping the numbness will give them meaning in their constant emptiness and despair. Wanda drinks in excess and gives a critical piece of herself to Henry and her other guy but the main squeeze in her life is the unassuming attractiveness of that other intriguing man called Jack Daniels — the "liquid lad" that softens her complicated heart and soul.
#9 "Days of Wine and Roses" (1962) featuring Kirsten Arnesen Clay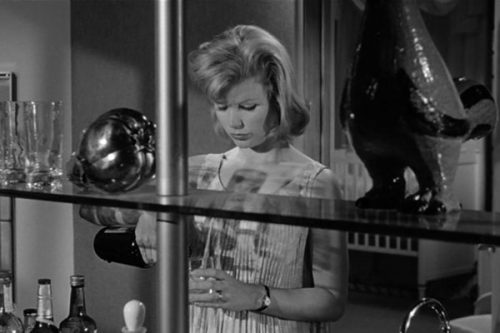 What is so sad about the allure of addiction is its tricky talent to transfer from one susceptible soul to another without announced warning. In the case of Kirsten Arnesen Clay (Lee Remick), she happened to be the straight-laced spouse of rising star PR man Joe Clay (Jack Lemmon) until her alcoholic husband gradually "turned" her into a destructive drinker as a means of connecting better as marital partners. Joe, who crafted his high-energy social drinking into an art form while catering to his clients, had become hooked in alcoholism without really realizing how sick and dependent both he and his wife Kirsten have settled on the "dangerous drink" as an emotional and psychological crutch. Thus, Kirsten joins in the unassuming downward spiral into drinking binges that dares to destroy this young, vibrant woman whose only worrisome vice was her innocent addiction to chocolate. Remick is absolutely convincing as the once innocent lamb out for slaughter in unknowingly succumbing to "the sauce."
#8 "House of Sand and Fog" (2003) featuring Kathy Nicolo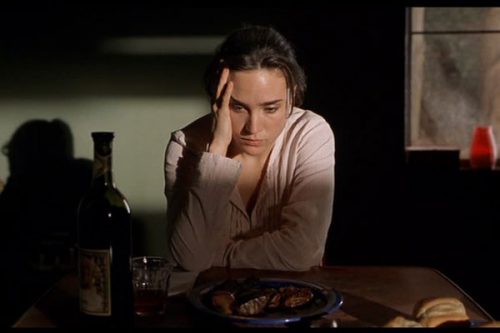 The desperate and determined Kathy Nicolo (Oscar winner Jennifer Connelly, "A Beautiful Mind"), with the aid of her unhappily married lover Sheriff Deputy Lester (Ron Eldard), is out to claim her repossessed house from the new owners of an Iranian family led by ex-military figurehead Behrani (Oscar winner Ben Kingsley, "Ghandi"). The liquored-up Kathy, feeling wounded and victimized by the system that left her homeless after an unfair misunderstanding is understandably distraught and her drinking and dazed wrong-doing in trying to retaliate against the obstinate owners that refuse to give up their new home to her results in mounting tragedy and regrets for everyone involved. Connelly is compelling as the booze babe Kathy crusading for her lost property although she is not necessarily adversarial toward the Behrani brood more so than her just wanting to correct a personal wrong that was done to her domestic livelihood.
#7 "I'll Cry Tomorrow" (1965) featuring Lillian Roth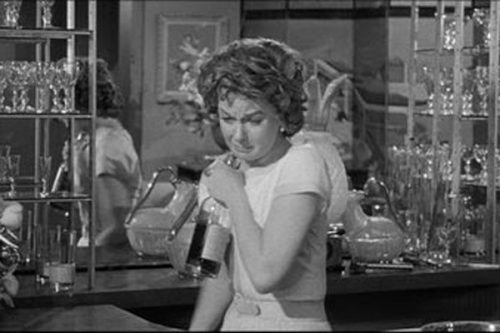 The harrowing biopic "I'll Cry Tomorrow" features an outstanding performance by Oscar winner Susan Hayward ("I Want to Live!") as Broadway star Lillian Roth battling personal demons both past and present which resulted in her turning to the bottle for escapism. Despite Lillian's rise to the celebrated stage her constant baggage has been an everlasting strain since childhood courtesy of her demanding and critical stage mother Katie (Oscar winner Jo Van Fleet, "East of Eden"). From a talented youngster to an incredible adult performer, Lillian was never able to shake the professional constraints of the overbearing Katie who is still calling the shots and directing the career decisions of a flustered Lillian. But the madness does not stop there as Lillian also has to endure the private and public pain of losing her beloved romantic companion David (Ray Danton) to death. With a difficult and domineering mother and the loss of her love of life David, it is a forgone conclusion that Lillian uses alcohol as the crutch that gives her false strength. Soon, Lillian's destructive drinking leads to a hasty marriage landing nowhere and the contemplation of sacrificing a family for the rigors of show business, etc. The routine of drowning in booze and latching on to various men for convenient comfort finds the aimless Lillian Roth going through drinking withdrawals until she finally finds some solace at AA meetings on the road to elusive recovery.
#6 "The Morning After" (1986) featuring Alex Sternbergen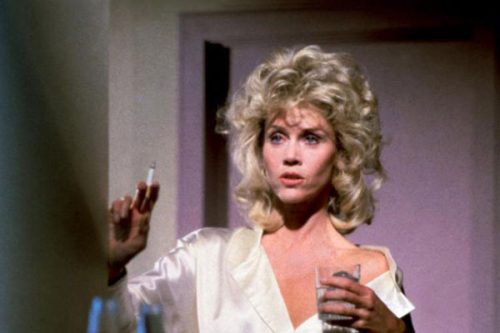 When one experiences a massive hangover to the point of waking up in a bed that features a murdered man sleeping next to you really makes you wonder what kind of drinking session you were involved in so sensationally. This was certainly the case for Alex Sternbergen (two-time Oscar winner Jane Fonda, "Klute," "Coming Home") in director Sidney Lumet's crime/mystery romancer "The Morning After." Naturally, the head-scratching circumstances regarding Alex's discovery of her lifeless bedmate serves as a commentary regarding her deadly intoxication and recurring mental lapses. So the question remains: Did Alex commit the murder under drunken duress or was another source responsible for the man's bed-ridden demise? A frightened Alex runs away on immediate instinct not knowing whether her occasional blackouts will be a telling sign as to whether her violent actions triggered the alcohol-fueled murder or not.
#5 "Rachel Getting Married" (2008) featuring Kym Buchman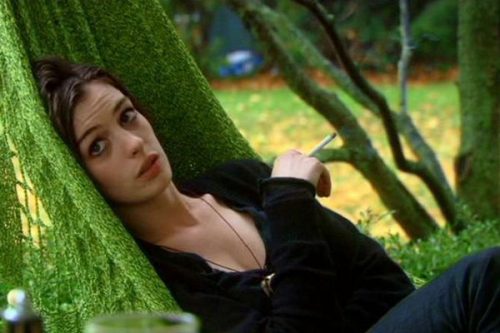 Actress Anne Hathaway (Oscar winner for 2012's "Les Misérables") scored an Academy Award nomination for 2008's drama "Rachel Getting Married" as the drug-addicted, alcoholic Kym Buchman whose anticipated presence at her sister Rachel's (Rosemarie DeWitt's) upcoming wedding causes some understandable and anxious doubts and concerns. Kym is released from her drug rehab in order to become part of her sister's celebratory nuptials. The cloud of reservations merely stem from wondering if the troubled Kym will relapse and find temptation in the festivities that possibly could trigger her urges for substance abuse and drinking. Kym's family worry about her vulnerabilities and unsteadiness given her controversial past and unpredictable present. However, Kym resents her family and friends' paranoia about her possible shakiness and becomes quite defensive about the order of things. The tension between sisters Rachel and Kym show signs of underlying explosiveness especially when Rachel senses that Kym's toxic backstory is taking away attention from her special wedding day. Kym's major misguided action, among many, include her deadly drunk driving incident that resulted in the drowning death of the siblings' younger brother Ethan. Hathaway's probing and penetrating portrayal of a broken young woman with drug-addled and drinking demons etched inside her saturated psyche is what drives this poignant and profound family dysfunction drama to its revealing core.
#4 "28 Days" (2000) featuring Gwen Cummings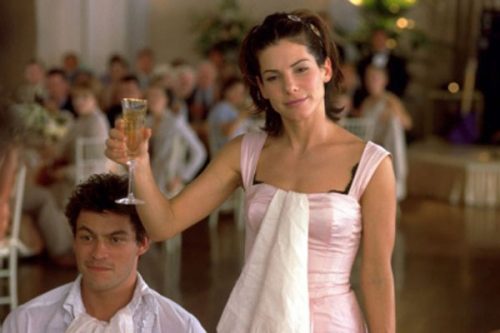 Oscar winner Sandra Bullock ("The Blind Side") has always carried that clichéd label "America's Sweetheart" on her shoulders throughout the years on the big screen. Whether in lightweight comedies or romantic dramas Bullock has tried to tap into varying genres to keep her screen relevance fresh and flexible. In "28 Days," Bullock takes on the dramatic role of Gwen Cummings, a notable newspaper columnist whose drunken car crash on the day of her sister's wedding lands her in considerable trouble. Gwen has a choice to either face jail time or enter drug rehab. Naturally, Gwen opts for the more "lenient" stint in rehab while harboring the silly notion that she does not have a drinking problem. In short, Gwen is in denial about her treatment at the center, but as time passes she starts to realize that her alcoholic symptoms are not as trivial as she first imagined. Director Betty Thomas' (from the 80's TV cop classic "Hill Street Blues") manipulative melodrama was not well-received as expected, but Bullock displayed a sobering turn (no pun intended) as the drunken diva in need of a reality check.
#3 "The Upside of Anger" (2005) featuring Terry Ann Wolfmeyer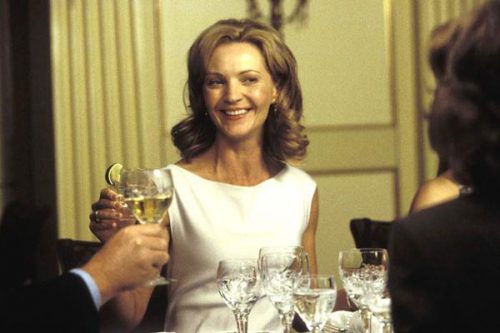 The always artistically resourceful Joan Allen portrayed beleaguered housewife Terry Ann Wolfmeyer in writer-director Mike Binder's middle-aged romancer "The Upside of Anger." A disillusioned Terry, the suburbanite wife and mother, is left behind as her husband suddenly disappears and never returns. Thus, the confused Terry is left by herself while mothering her four obstinate daughters. Feeling incomplete and lost Terry dabbles in domestic uncertainty as she is left unprepared to balance her offspring's everyday issues not to mention the challenging task of being single and unsure. Coping methods include reaching for the occasional drink that is more than a gambling gesture as she wallows in silent frustration. Complications become more evident when Terry gets romantically involved with the neighboring Denny (Kevin Costner), a former baseball-star-turned-radio personality. Hence, the mounting pressure of Terry's relationship with Denny leaves her girls feeling like outsiders looking in.
#2 "When a Man Loves a Woman" (1994) featuring Alice Green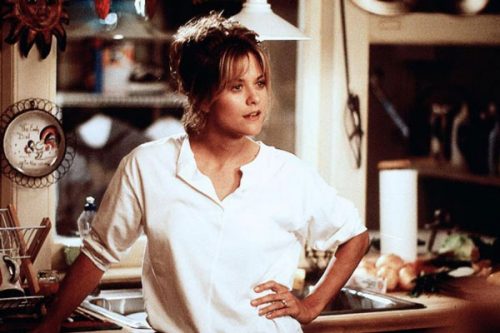 Alcoholism and motherhood is just not an ideal mixture if you are one Alice Green (Meg Ryan). The married Alice has a major drinking problem that threatens her career as a school counselor and more importantly her domestic life. Her airline pilot husband Michael (Andy Garcia) is inconvenienced by his wife's chronic alcoholism as it is ruining his career not to mention upsetting the balance of his family's welfare that includes their two young daughters. Alice is sick and the bottle is her true source of disjointed comfort and joy. One major incident chronicling Alice's nasty fall in the shower hospitalizes the wasted woman after one of her children finds her knocked out cold on the floor. Stupor-induced tempers and violent slaps against her frightened girls are a serious wake up call for both Alice and the concerned Michael to consider her seeking out professional help for her alcohol dependency. Ryan sheds her cinematic good girl image to show some raw and flawed chops in the absorbing melodrama "When a Man Loves a Woman" (aptly named after the 1966 soul/R & B hit single by recording artist Percy Sledge).
#1 "Who's Afraid of Virginia Woolf?" (1966) featuring Martha
Hostility, internal familial frustration and alcoholism is what triggered the combative compulsions describing the marital acrimony between associate History professor George (Richard Burton) and his wife Martha (two-time Oscar-winner Elizabeth Taylor, "Who's Afraid of Virginia Woolf?," "BUtterfield 8") in the classic Mike Nichols directed drama, "Who's Afraid of Virginia Woolf?" As the vitriolic half of the wound-up inebriated married couple in verbal destructive mode, Martha is the middle-aged, haggard-looking spark plug that participates in the voiced anguish sharply aimed at her scholarly hubby. The barbs come full force while entertaining a young couple — Nick (George Segal) and his timid wife Honey (Sandy Dennis) — at a private social gathering in which both George and Martha decide to air their dirty laundry of soured put-downs in front of the wide-eyed and nervous pair trapped in the middle of the garrulous, alcoholic-driven storm. Taylor won her second Academy Award as the animated tipsy Martha whose booze-bashing meltdown on screen defined the very essence of irreconcilable differences for the cinematic ages.