Rodents, both real and fictional, can be quite celebrated or shocking depending on your tolerance for these four-legged, fuzzy varmints capable of making both women and men eek out loud while searching for the tallest chair to climb on for safety. Still, in cinema regardless of acceptance or fear the variety of mice, rats, gophers, squirrels or other perceived bothersome critters, we understand that their presence on the big screen was meant for entertainment value for our escapist pleasure.
With that said let us consider the selections in Top 10 Movie Rodents. In ALPHABETICAL order (according to movie title) here are the choices as follows:
#10 "Ben" (1972) featuring Ben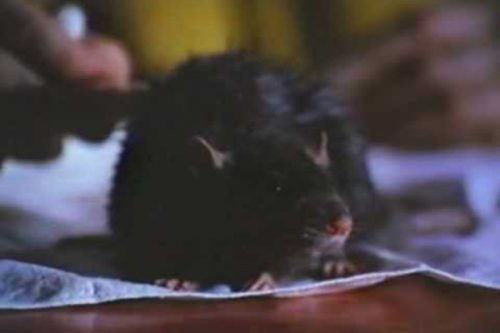 Sure, we often relate to the story about a boy and his dog . . . you know . . . man's best friend? However, a boy and his pet rat? This was such the case with the early 70's horror flick "Ben." In fact, "Ben" was the sequel to 1971's film "Willard." In any event, the film would also be memorable for its Oscar-nominated slow ballad titular theme song performed by Michael Jackson (then the pint-sized frontman of the Motown musical act, The Jackson 5). The sickly and lonely Danny Garrison (Lee Montgomery) becomes the best of buddies with Ben, the leader of a swarm of deadly rats that wreak havoc, especially when it comes to protecting Danny's interests. The feeling according to Danny (and Michael in his hit single) is that Ben was woefully misunderstood and misjudged. One thing is for sure . . . Ben was the trusty sidekick for a disillusioned little boy, but a little treacherous creature for the rest of us.
#9 "Caddyshack" (1980) featuring "The Dancing Gopher"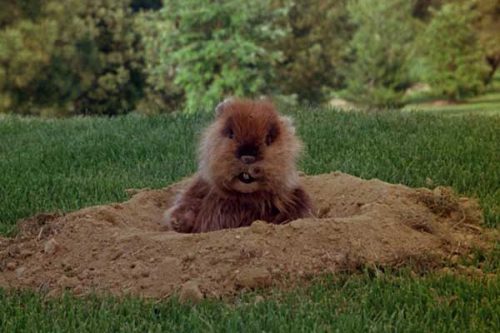 The Bushwood Golf Country Club was never the same with its mischievous pair in clueless groundskeeper Carl Spackler (Bill Murray) and that adorable yet pesky "Dancing Gopher" from the hilarious sporting romp "Caddyshack." Many can point to the various riotous subplots (most notably the late Rodney Dangerfield's uncouth and obnoxious golf club member Al Czervik constantly pestering the late Ted Knight's uptight and pompous Judge Elihu Smails). Nevertheless, the "Tom and Jerry" antics of Murray's twisted lipped Spackler and the cunning and roguish Dancing Gopher undeniably stole the show. The inclusion of singer Kenny Loggins' infectious hit "I'm Alright" as the gifted gopher dances to the bouncy tune adds to the delightfully cartoonish mayhem that persists. "The Dancing Gopher" is among the most treasured and talented rodents to ever bless cinema in all his fun-loving, fur-ball fury and funniness.
#8 "The Green Mile" (1999) featuring Mr. Jingles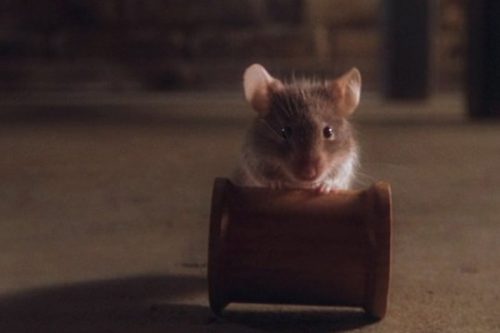 Mr. Jingles was the fortunate mouse to be cared and cuddled for by abused inmate, Eduard "Del" Delacroix (Michael Jeter) in the drama "The Green Mile." Unfortunately, Mr. Jingles was just as victimized inside that claustrophobic jailhouse as his human guardian "Del" and the rest of the imprisoned souls. Basically, Mr. Jingles serves as a comforting companion where hope and spirit was understandable lacking. We would eventually learn that Mr. Jingles would have tremendous staying power as his longevity proved to be quite incredible . . . at least according to the film's 108-year old protagonist prison guard, Paul Edgecomb (Tom Hanks), whose age is also a miracle to behold in wonderment. To pull it off, it was reported that various mice (as well as CGI-produced) all stepped in the shoes of the resilient "senior citizen" rodent Mr. Jingles.
#7 "Mousehunt" (1997) featuring "Mouse"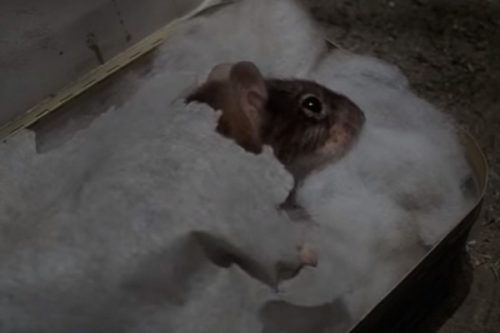 Somehow old dwellings and rodent squatters go together instinctively such as peanut butter and jelly. Well, the 1997 slapstick family comedy, "Mousehunt," proved such a theory as the sentiment of the plot was as familiar as the sun rising up in the sky. Naturally, an elusive and impish cute little mouse refuses to leave the vintage inherited property of a couple of klutzy owners Ernie and Lars Smuntz (Nathan Lane and Lee Evans) whose eviction methods go awry in eliminating the tiny tailed terror. Predictably, the movie was compared to the comical cat-and-mouse chaos of "Home Alone" except with a clever rodent out-smarting the hapless humans. Although cute and cozy as a rodent-oriented romp for the kiddies, "Mousehunt" is an innocuous and gimmicky gem that would most likely make some of its adult viewers have the urge to reach for a box of rat poison to eradicate any unwanted, fuzzy fugitives on the run in their own homes.
#6 "Rat" (2000) featuring Hubert Flynn/Rat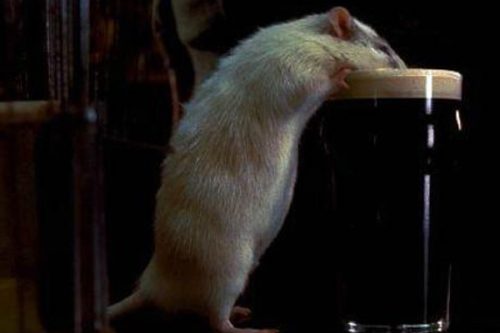 The Irish dramedy "Rat" is definitely surreal for a lack of a better word. Surprisingly, it boasts some foreign noteworthy performers (that most American moviegoers are somewhat familiar with) like Pete Postlethwaite, Imelda Staunton and Frank Kelly. Dublin drunkard Hubert Flynn (Postlethwaite) spends some considerable time at the local bar numbing himself with cautionary "feel good" juice. However, when Hubert returns home he transforms into a white rat right before the very eyes of his frustrated, blabbing wife Conchita (Staunton). Thus, Hubert's bodily form as a pot-bellied rodent leaves much to be desired around the household and many are disturbed by his habits and soon Hubert the rat is dismissed by his family for their own convenience. "Rat" is undeniably bizarre, but subtly clever in its Irish quirkiness and matter-of-fact commentary on ruffled, blue collar domestic life. Weird, off-the-wall and strangely compelling, "Rat" is a cynical, head-scratching fantasy that is far from being considered . . . er, over-rat-ed.
#5 "Ratatouille" (2007) featuring Remy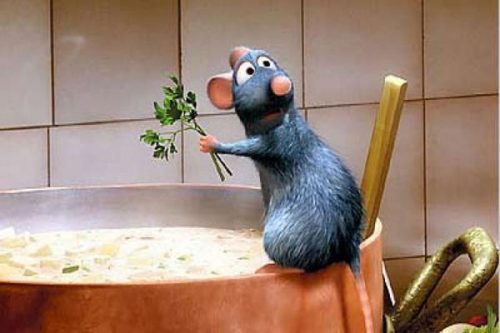 What others deemed a Parisian pest may have been a little hasty to judge poor Remy the rat (voiced by comedian-actor Patton Oswalt). In "Ratatouille" the very talented Remy has a lofty dream — he wants to apply his skills as a French chef. Realistically, Remy's species as a sewer rat would not sit well with both the restaurant management and the dining patrons. It is a shame because Remy conveniently lives below the foundation of his idolized culinary hero, Auguste Gusteau's (voiced by Brad Garrett) highly rated restaurant. In any event, when given the chance, French cuisine has never been tastier, trying or tricky with the harried Remy wearing the famed chef's white hat.
#4 "Steamboat Willie" (1928) featuring Mickey Mouse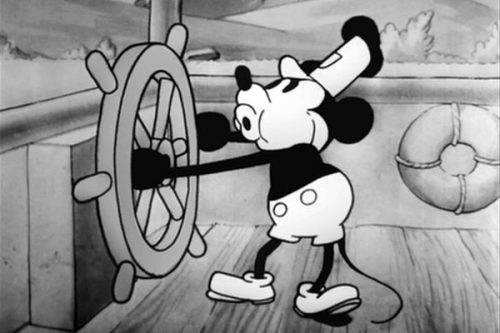 Never mind that Mickey Mouse is Walt Disney's most globally famous animated rodent, he is also the most heralded (and marketed) cartoon mouse in the world. Mickey Mouse's popularity escalated when he was showcased in 1928's "Steamboat Willie," an animated short feature with distinction. First, it was the very first Mickey Mouse cartoon. Secondly, Mickey Mouse had a different beginning "look" as he is not the iconic modern-day Mickey Mouse we we have come to associate with his physical appearance. Thirdly, "Steamboat Willie" was the first cartoon using sound while ironically Mickey Mouse does not speak a single word. In fact, good ole whistling Mickey is a music-maker of sorts as he appreciates the tune "Turkey in the Straw" that he routinely plays during its 8-minute runtime. It is a nostalgic joy watching Mickey Mouse's humble origins in "Steamboat Willie" as Disney's beloved critter creation continues to charm audiences generation after generation.
#3 "Stuart Little" (1999) featuring Stuart Little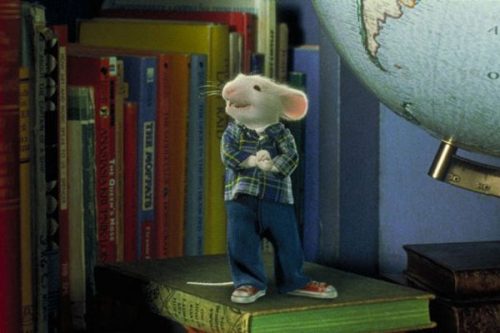 The impish little white mouse Stuart Little came from the creative mind of novelist E.B. White (who was responsible for another classic children-oriented read in 1952's "Charlotte Web"), Much like the aforementioned "Charlotte's Web," "Stuart Little" amassed a huge following among the kiddie crowd in print and finally on the big screen when director Rob Minkoff brought the literary mouse to life 44 years after he was created in White's pages in the mid-40's. Heading into the millennial year Stuart (voiced by Emmy-winning actor Michael J. Fox) was packaged in a live-action/CGI-animated presentation where he becomes adopted by Eleanor and Fredrick Little (Oscar-winner Geena Davis and Hugh Laurie). The purpose for making Stuart their adopted "child" was merely to provide their son George (Jonathan Lipnicki) with a younger brother. Unfortunately, George is not too keen on having a rodent for a sibling. Also not too thrilled with Stuart's entry into the Little family is the dastardly pet cat Snowbell (voiced by Nathan Lane) who is determined not to be upstaged by the furry four-legged intruder whom he would have to answer to along with George. "Stuart Little" was the feel-good fable for millennial kids and earned the treasured movie mouse several sequels.
#2 "Whatever Happened to Baby Jane?" (1962) featuring "The dead rat served on a silver platter"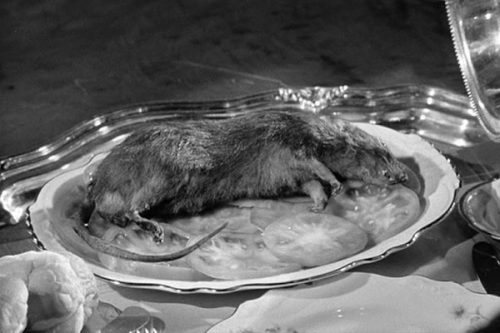 Clearly sibling rivalry was at its chilliest when real-life Hollywood Oscar-winning rivals Bette Davis and Joan Crawford clashed on screen as former bitter Tinsel Town showbiz sisters in Robert Aldrich's off-kilter campy classic psychological thriller, "Whatever Happened to Baby Jane?" Crawford's wheel-chair bound Blanche Hudson was dependent upon her deadly delusional sis Jane, a once-praised child movie star in her heyday. Baby Jane rejoiced in tormenting her crippled sibling Blanche in the ancient mansion that they shared together. One of the most shocking sequences of the film involved the deranged Baby Jane serving up a dead rat on a covered silver platter to the highly hysterical Blanche who understandably screams her lungs out (wouldn't you do the same?). One could not tell what was more disgusting — the vile lifeless rat carcass that lay spread out on the silver platter for fiendish shock value or the demented Baby Jane who had the sinister nerve to serve the repugnant rodent to a horrified Blanche? Personally, both the deceased rat and powered-face Baby Jane Hudson are equally unappetizing to say the least.
#1 "Willard" (1971) featuring Ben and Socrates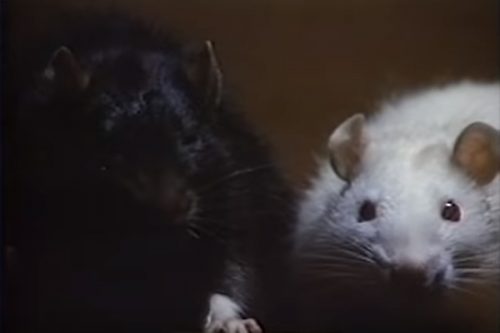 Willard Stiles (Bruce Davison), man who called two rats — Ben and Socrates — his friends, felt alienated at his job and eventually was forced out of the company originated by his late father. It is never a great idea to alienate a social misfit at the workplace, especially one who happens to have at his disposal an army of deadly rats as his backup buddies ready to create mayhem at a moment's notice. Things get ugly when Socrates perishes at the hands of surly boss man, Al Martin (Oscar winner Ernest Borgnine) and both Willard and Ben seek revenge. But soon Willard would get his comeuppance when he dares to turn his back on Ben and the massive pack of rats in favor of concentrating his affections on pretty co-worker Joan (Sondra Locke). Ben is not a happy camper as he sees Willard abandoning him and his fellow raging rodents and soon, Willard and Joan experience the unsettling wrath of a dejected Ben. A worthwhile note: "Willard" would spawn the 1972 sequel "Ben" (number 10 on this list) where the rejected rodent would develop a much softer affinity for a lonely young boy in need of non-judgmental companionship.
HONORABLE MENTION:
"An American Tail" (1986) featuring Fievel Mousekewitz and his family