The divas of dictation in the movies. Secretaries from all walks of life are called upon to please their bosses without hesitation. Sometimes it is a thankless job, but the duty never seems to end in terms of keeping thinking running smoothly for her/his superior as well as the other patrons they serve for the company. Whether glamorous or gloomy the secretaries in cinema seem to have more flavor and adventure in their professional lives than some of their real-life counterparts. Or perhaps not? Whatever the case is, our sole goal is to review some of the most engaging, noteworthy desk-bound darlings to perform their secretarial tasks within or away from the workplace.
The Top 10 Movie Secretaries (in ALPHABETICAL order according to movie title) are as follows:
#10 "Batman Returns" (1992) featuring Selina Kyle (a.k.a Catwoman)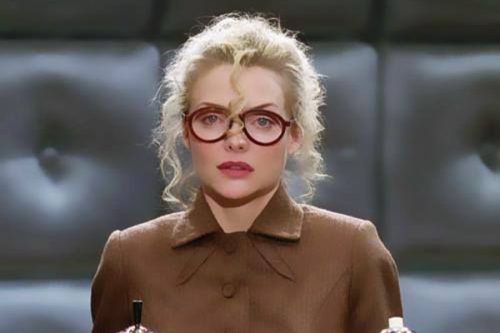 The average secretary, it is safe to assume, does not moonlight as a curvaceous, yet calculating, feline foe much like the timid-turned-treacherous temptress Selina Kyle (Michelle Pfeiffer) from Tim Burton's superhero sage follow-up "Batman Returns." Poor Selina. Her transformation into the notoriously cunning Catwoman battling Batman (Michael Keaton) while romancing his alter ego Bruce Wayne is complicated further as she toils for her unscrupulous employer in corrupt businessman Max Shreck (Christopher Walken). To make matters worst her boss Shreck is affiliated with another Batman criminal nemesis in the shady Penguin (Danny DeVito). At one point Selina/Catwoman cites that the wrong men had led to her ruination. If this is the case then certainly the wicked and wily secretary Selina Kyle (and her villainous Catwoman) knew how to tame the cockeyed cads that repeatedly disappointed her.
#9 "The Beverly Hillbillies" (1993) featuring Miss Jane Hathaway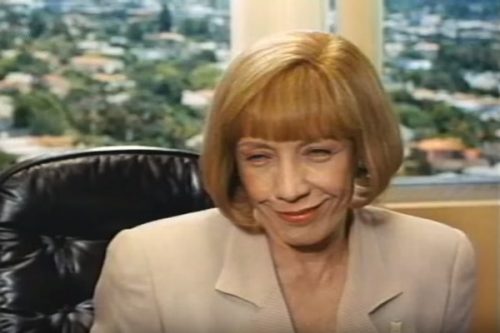 Devoted and sophisticated Beverly Hills Commerce Bank secretary Jane Hathaway first came into the pop cultural circles on the highly popular CBS landmark rural 60's sitcom "The Beverly Hillbillies." Miss Jane (played dutifully by the late Emmy-nominated Nancy Kulp) was always at the mercy of her ruthless and opportunistic penny-pinching boss in banker Milburn Drysdale. In 1993, Miss Jane (now played by legendary actress/comedienne Lily Tomlin) had the golden chance to reappear in director Penelope Spheeris' film adaptation of the heralded hayseed comedy series. Whether on the boob tube in endless reruns or being featured in countless DVDs and cable night showings the presence of the sensible spinster Jane Hathaway will always remain as one of the medium's top secretarial prospects for generations to endure with the Clampetts and dastardly Drysdale by her side in comical chaos.
#8 "Bridget Jones's Diary" (2001) featuring Bridget Jones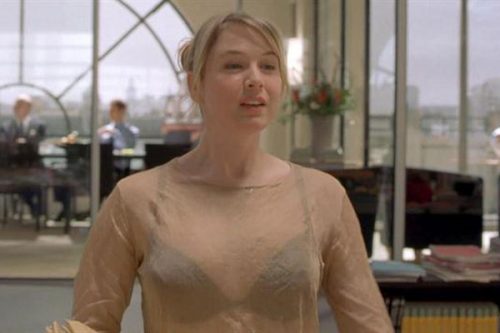 British woman Bridget Jones (played by Oscar winner Renée Zellweger) is a working stiff stuck in a secretarial rut as she strives to better her self-worth and especially find love when she feels so flawed physically and emotionally. Hence, Bridget decides to maintain a diary as she jots down continuously her struggles to better her seemingly dreary existence. Zellweger, a native Texan, convincingly carries off her Brit accent as if she was actually born in a London-based hospital. Bridget will eventually hit the jackpot of sorts when her boss expresses his affectionate interest in her not to mention Bridget trying to shake off her hormonal curiosity about a particular fellow she keeps bumping into randomly. The giddy thirst for "Bridget Jones's Diary" in 2001 would lead to the sequel "Bridget Jones: The Edge of Reason" in 2004 and the arrival of "Bridget Jones's Baby" in 2016.
#7 "The Devil Wears Prada" (2006) featuring Emily Charlton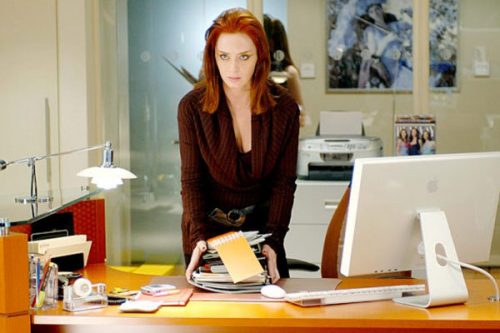 Okay, perhaps we are playing semantics here because Emily Charlton (played by Emily Blunt) in "The Devil Wears Prada" is actually classified as a "senior assistant" more so than the title of secretary. In any event, the glib Emily is the top aide to the demanding and difficult Editor-in-Chief Miranda Priestly (multi-Oscar winner Meryl Streep) from the profitable Runway fashion magazine. Thus, Emily is the convenient source for Miranda's manufactured wrath. Although the reigning ice queen Miranda is a superior threat to Emily's job security she is not too thrilled when recent Northwestern University journalism grad Andrea "Andy" Sachs (Oscar winner Anne Hathaway) arrives on the scene and miraculously ends up taming the incorrigible Miranda (to the point of actually liking her) and leapfrogging Emily in hierarchy. As Emily Charlton, Blunt is off-kilter and smugly witty as the secretary . . . uh, "senior assistant" that is the downtrodden punching bag for the intimidating Miranda Priestly.
#6 "Ghostbusters" (1984) featuring Janine Melnitz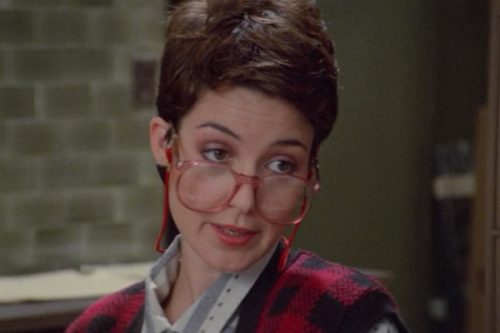 The nerdy yet adorable Ghostbuster secretary Janine Melnitz (as played by future "Designing Women" co-star Annie Potts) was the office organizer for the cinema's favorite klutzy paranormal scientists out to secure the city from the dangerously pesky and spooky nuisances out to cause constant havoc from the unknown dimensions beyond. In any event, Janine would not only serve as the secretarial force for Dr. Peter Venkman (Bill Murray) and cohorts but would also serve as the lovey-dovey companion for Dr. Egon Spengler (played by the late Harold Ramis) as well. As the dorky doll behind the Ghostbusters' enterprise, Potts' Janine Melnitz was simply another off-the-wall main ingredient that contributed effectively to this riotous 80's supernatural comedy that has understandably become a zany cult classic to the movie masses worldwide.
#5 The James Bond movie series (1962-present) featuring Miss Moneypenny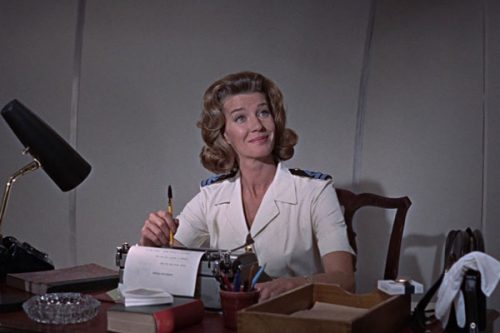 Many voluptuous women were able to conquer the carnal quests of dashing and daring British spy James Bond for better or for worse. The one woman whose arm-length passion for Agent 007 was never quite realized was that in top secret secretarial executive, Miss Moneypenny. In the five-plus decades since Ian Fleming's literary "licensed to kill" Lothario had hit the big screen, Miss Moneypenny has always harbored her intimate feelings for the adventurous Bond. Most women, both on screen and off, had fantasized about Agent 007's lustful touch and Miss Moneypenny was no exception. However, being Bond's comrade at the workplace despite occasional flirtations with the resilient operative has kept Miss Moneypenny from "sealing the deal" behind closed doors as she wished that the suave global gunslinger was "the spy that loved me." As the private secretary for M (the head of the MI6 organization), Miss Moneypenny's love for the jet-setting James Bond was never quite realized and her role in the film franchise seemed regrettably limited.  From actresses Lois Maxwell to Naomie Harris there had been a string of lovely ladies that embodied the mysterious and masterful Miss Moneypenny who longed for the attention of "the man with the golden gun."
#4 "Nine to Five" (1980) featuring Doralee Rhodes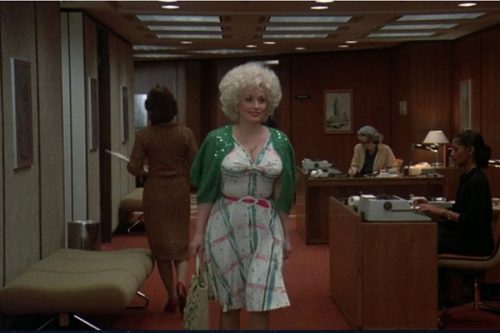 The early 1980's office comedy "Nine to Five" told the exploits of bigoted and sexist Consolidated Companies head honcho Franklin Hart Jr. (Dabney Coleman) and his comical yet complicated entanglement with a trio of feminine forces looking to apply the redemptive screws to their insufferable, dirty-minded boss. In particular, buxom beauty secretary Doralee Rhodes (treasured country crooner icon Dolly Parton) has the unfair reputation for playing up to the slimy Hart according to misleading rumors around the water cooler. The unkind hearsay of Doralee's dalliance with Hart is solidly untrue, but it does not stop the hideous Hart from perpetrating such nonsense as well as chasing the stacked country cutie Doralee around the office in a feeble attempt to satisfy his cheap sexual thrills with her. Thankfully, Doralee finds solace and solidarity with upstart secretary Judy Bernly (two-time Oscar winner Jane Fonda) and senior office supervisor Violet Newstead (Lily Tomlin) to take down the intolerable Hart once and for all. Not only is Parton's secretarial prey Doralee Rhodes the lovable "Annie Oakley of the office pool" but her infectious theme song "9 to 5" pretty much lends a spirited sentiment to this classic workplace romp.
#3 "Psycho" (1960) featuring Marion Crane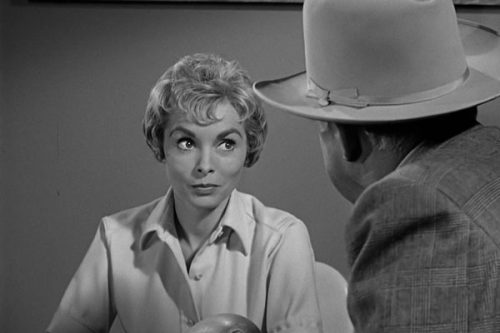 It is one thing as a secretary to steal a few pens, some notepads or perhaps fill up on a bunch of paper clips. But for "Psycho" secretarial blonde bandit Marion Crane (Janet Leigh), she did more than just snatch meaningless office stationery. In fact, Marion was guilty of stealing some serious cash from her employer and eventually went on the run in the aftermath of such an ill-advised deed. Ultimately, Marion ends up at the isolated Bates Motel after absconding with the workplace funds and she has the unfortunate pleasure of encountering the establishment's disturbed manager Norman Bates (Anthony Perkins) whose deadly Mommy-related issues and other mental deficiencies would lead the felonious secretary to a bloody stabbing while showering. Naturally, Marion's big screen demise would result in heavy paranoia possible when the movie masses were afraid to take showers especially in seedy motels. Leigh, along with her "Psycho" director Alfred Hitchcock, would earn an Academy Award nomination in this highly-touted and vintage psychological horror thriller for the ages.
#2 "Secretary" (2002) featuring Lee Holloway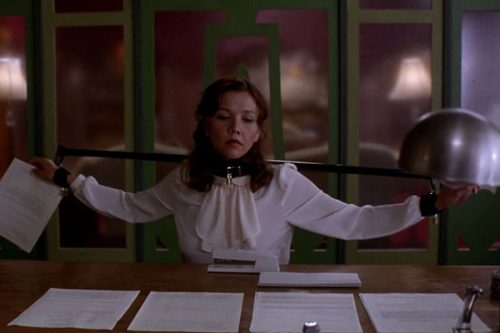 Former mental patient Lee Holloway (Maggie Gyllenhaal) is recently released from the institution and eventually ends up landing a secretarial job in director Steven Shainberg's sadomasochistic romancer "Secretary." Indeed, Lee is a broken person constantly looking for solutions in being accepted and cherished. Being a lost product from a dysfunctional home one can see why poor Lee was easily manipulated, especially when succumbing to the twisted sexual practices of her boss Mr. Grey (Emmy winner James Spader). Grey, a stoic and bizarre lawyer, engages a willing Lee in S & M foreplay at a moment's notice, but maintains an indifference toward his secretarial plaything after their sessions of sexual experimentation are ceased. Professionally, Lee is terrific at her duties as a secretary for Grey, but she develops an unlikely love and loyalty for the critical boss that gets his kicks out of enacting his offbeat sexual tendencies on the psychologically empty secretary.
#1 "Working Girl" (1988) featuring Tess McGill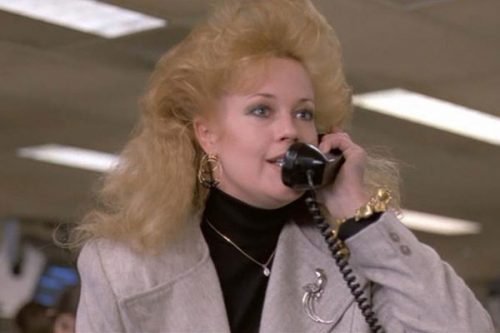 Melanie Griffith scored an Oscar nomination for best actress portraying Tess McGill, a frustrated and underrated New York-based secretary whose constant clashing with her conniving boss Katharine Parker (Sigourney Weaver) ends up in everlasting torment until Tess schemes to get even with her bitchy superior. Specifically, the opportunistic Katherine has stolen some brilliant ideas from her "mere secretary" Tess and as a result has profited profoundly. Now Tess looks to strike back and take advantage of Katherine's ski accident absence by teaming up with handsome investment broker Jack Trainer (Harrison Ford) and reclaiming the foundation of her corporate concepts that should have been credited to her in the first place. "Working Girl" is a late 80's feminine workplace dramedy that resonates because of Griffith's feisty and alluring underdog Tess McGill demonstrating talent and tenacity beyond her secretarial boundaries.
HONORABLE MENTION:
"Heartbreakers" (2001) featuring Page Conners