The old adage that employs the sentiment "be kind and respectful to your elders" would certainly apply to the cinematic senior citizens featured in the Top 10 Ominous Oldsters in the Movies. Age many be just a state of mind to many, but underestimating the potential for the combative mature masses in cinema (or society for that matter) is inexcusable. It is always a colorful insight to look into the callous and/or comedic mindset of big screen oldies but goodies that act cold, raw, indifferent or demanding. The definition of being "ominous" can run the gamut of being anything from stubborn and disagreeable to downright sinister and destructive.
The range involving threatening vibes for the movie-oriented aged mentioned in this particular top 10 list certainly have their degrees of major issues and deep-seeded strife. Nevertheless, these so-called ominous oldsters have the creepy clout to resonate to all the movie-going demographics that enjoy their sense of off-balance mischievousness. Perhaps there are stronger and more convincing candidates that may have been overlooked. Still, the crop of calculating coots cited is not exactly pushovers by any stretch of the imagination.
The Top 10 Ominous Oldsters in the Movies (in ALPHABETICAL order according to movie title) are as followed:
#10 "Arsenic and Old Lace" (1944) featuring Abby and Martha Brewster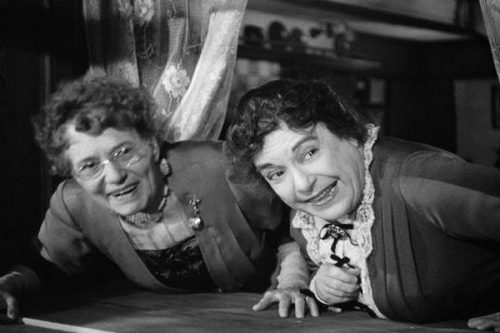 Filmmaker Frank Capra is known for his whimsical style of film-making, but in 1944's vintage black comedy "Arsenic and Old Lace" Capra playfully combined the whimsy with breezy weirdness pertaining to a couple of mischievous elderly sisters with a treacherous taste for homicidal tendencies. The insane tandem of the Brewster sisters, Abby and Martha (played by Josephine Hull and Jean Adair), is finally realized by their newly married drama critic nephew Mortimer Brewster (Cary Grant) who fears that the murderous misconduct of his seemingly sweet older maiden aunts may be something for concern. Mortimer, an ardent pessimist when spouting views on the virtues of marriage, discovers the hedonistic hobby of his twisted aunts that engage in knocking off old coots and burying them in their basement. Just imagine rejecting a piece of apple pie from these two maturing deadly dames if you are a wealthy geezer with a decent pension at stake. The "Arsenic and Old Lace" Brewster sisters are truly delightful and disturbing in simultaneous, familial ribaldry.
#9 "A Christmas Carol" (1938) featuring Ebenezer Scrooge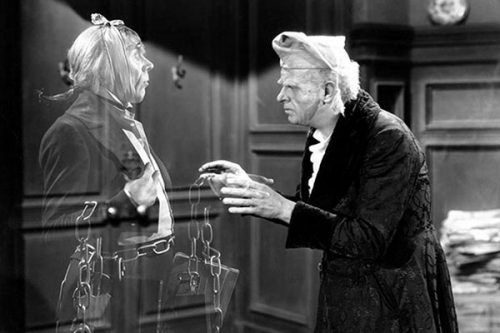 Christmas-hating coot Ebenezer Scrooge (Reginald Owen) is the seasonal epitome of an ostracized wet blanket in Charles Dickens' literary classic "A Christmas Carol." Owen's "humbug hoot" is famously known as the money miser that has no consideration for the Yuletide sentimentality. Just go and ask Scrooge "victims" such as devoted and loyal employee Bob Cratchit (Gene Lockhart), an upbeat family man (and father of sympathetic poster boy Tiny Tim) that holds to heart the positive vibes of the Christmas spirit. Despite Scrooge's insufferable presence and professional mistreatment of his employee, Cratchit still finds some humanity in his uncaring, bombastic boss whose rejection of Christmas unity, love and joy is about as inspiring as staring at an unwanted anemic-looking Christmas tree without decorations. Ebenezer Scrooge was devilishly cantankerous, cynical, cold-hearted and caustic. Thank goodness it took the Ghosts of Christmas Past, Present and Future to snap Scrooge out of his anti-Christmas stance. Let's face it . . . Ebenezer Scrooge is one of the most polarizing oldsters to wreak havoc both in print and cinema.
#8 "Driving Miss Daisy" (1989) featuring Daisy Werthan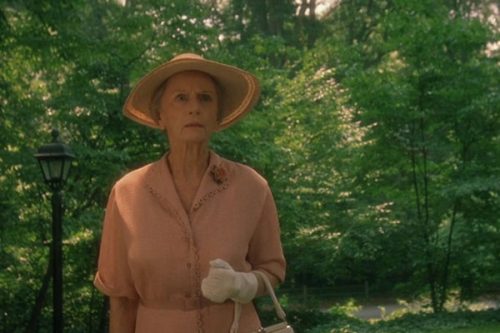 Daisy Werthan's (Jessica Tandy in her Oscar-winning role) ominous nature strictly comes from her feisty and obstinate persona. Miss Daisy is simply set in her ways. As a Jewish elderly widow living in the South (Atlanta) pre-Civil Rights Movement in the 1950's, Miss Daisy wants to cling to her guarded independence especially when it comes to driving. Despite being difficult and demanding, Miss Daisy submits to her son Boolie's (Academy Award nominee Dan Aykroyd) arrangement to hire black chauffeur Hoke Colburn (Academy Award winner Morgan Freeman, "Million Dollar Baby") to escort his aging mother about town. Daisy Werthan is not exactly an easy person to relate to under her cemented exterior. Nevertheless, the affable Hoke manages to gradually break Miss Daisy's icy disposition as they end up forming a special bond in their soon-to-be two decade-old friendship solidified under the tension-filled times in the racial strife-ridden South. Crusty and critical, Miss Daisy at one time could scare the spots off a sleeping leopard, but reformed with the assistance of a humble black man whose vulnerability and indignities would convincingly overshadow any internalized complexity imaginable in this pampered senior Southern belle.
#7 "The Godfather" (1972) featuring Vito Corleone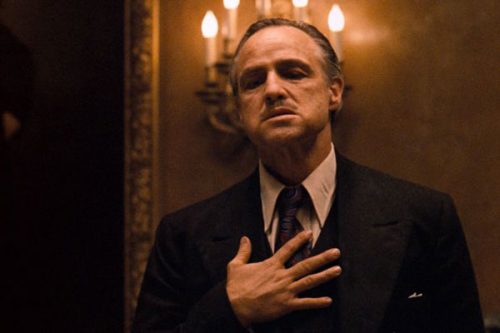 The epic crime family drama in Francis Ford Coppola's compelling cinematic masterpiece "The Godfather" introduced movie audiences to one of the most feared and ferocious aging patriarchs in film history . . . the iconic mafia figurehead Don Vito Corleone a.k.a. "The Godfather" (Marlon Brando in his Oscar-winning role). Strangely, Vito Corleone was honorable in what he wanted to strive toward in ensuring that the attainment of the family business was maintained in the unconventional boundaries of achieving the so-called American dream. Although principled in the arena of immorality, decadence, inhumanity and brutality Vito Corleone was the meticulous CEO of mob-related mayhem and wanted to transfer his "empire" grounded in both triumph and tragedy to his loyal sons in order to continue on the traditions of familial power, privilege and prominence. As "The Godfather," Brando's intoxicating and immense performance is steeped in penetrating brilliance. Soon, natural causes would silence the frightening mob mastermind behind the Corleone legacy, but while in his prime, Don Vito Corleone was one sinister senior citizen whose offer would not be refused.
#6 "The Karate Kid" (1984) featuring Mr. Miyagi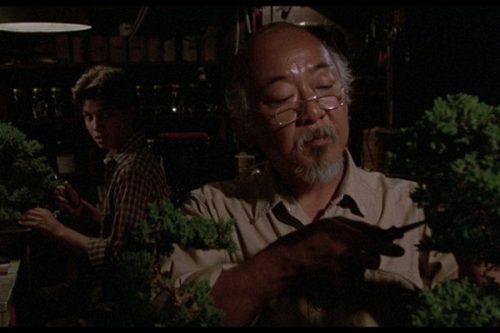 Character actor Noriyuki "Pat" Morita was a familiar fixture on 1970's TV sitcoms such as "Sanford and Son," "M*A*S*H" and even had his own short-lived television series called "Mr. T and Tina." Of course the majority of TV couch potatoes may know him as restaurant owner Arnold from the classic 50's-based sitcom "Happy Days." However, Morita created another pop cultural character in that of Mr. Miyagi from the coming-of-age family action drama "The Karate Kid." Morita scored an Oscar nomination portraying the mild-mannered martial arts handyman that mentors a bullied kid named Daniel (Ralph Macchio from "My Cousin Vinny") in the fighting art of karate. Mr. Miyagi was philosophical and soft-spoken, but when pushed this skilled oldster could kick some serious butt on a dime's notice. Mr. Miyagi was silent and deadly and there were some that wanted to test this mature martial artist's combative fortitude but certainly to no avail. Although patient and passive, Mr. Miyagi was not one to mess with indeed.
#5 "Rosemary's Baby" (1968) featuring Minnie Castevet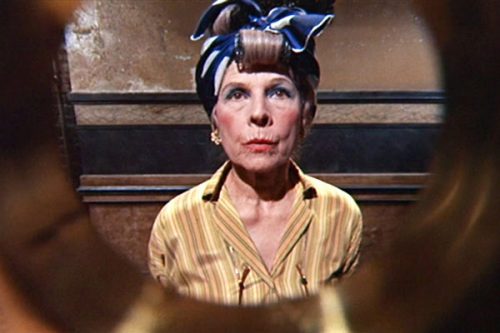 Writer-director Roman Polanski's psychological/horror drama "Rosemary's Baby" produced one of the most bizarre cinematic oldsters in late sixty-something Minnie Castevet (Ruth Gordon), the married neighbor to the film's central character — the impregnated Rosemary Woodhouse (Mia Farrow). Both Minnie and her husband Roman (Sidney Blackmer) are childless and find themselves joined at the hip with the expecting Rosemary and her spouse Guy (John Cassavetes). The landlord had issued a warning about the Manhattan apartment complex that the Woodhouses moved into since the building has had a shady reputation. Indeed, the questionable Minnie and her fellow aging neighbors seem to have some sort of hypnotic hold on the hallucinating Rosemary who has been experiencing stressful dreams, hearing weird and threatening noises and being surrounded by sudden deaths, etc. Minnie, a known agnostic and leader of her cultish cohorts, seem to have an attentive interest in Rosemary's unborn child. Soon, the Castevets (Minnie in particular) have become hardcore observers of Rosemary and her "bundle of joy" to the point of disturbing consequences. Is Minnie Castevet an aging occultist whose concentration on Rosemary's baby complete her twisted agenda for indoctrination? The truth was in the proverbial pudding.
#4 "Star Wars" (1977) featuring Ben Obi-Wan Kenobi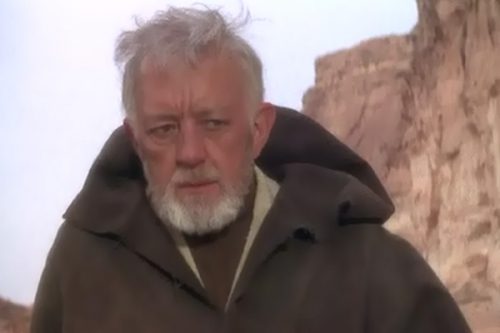 There has been countless movie mentors throughout the history of cinema. When filmmaker George Lucas' box office bonanza "Star Wars" arrived on the scene to global sensationalism in 1977 there was one fictional noble wise old man that would become part of science fiction folklore when he uttered the iconic phrase, "May the Force Be With You." Hence, Ben Obi-Wan Kenobi (Oscar-nominated Sir Alec Guinness) would become the vital source of inspiration and disciplined trainer for Tatooine-based Jedi-in-the-making Luke Skywalker (Mark Hamill). Obi-Wan was a threatening presence to the Empire and specifically to the evil-minded Death Star tyrant Darth Vader (a.k.a. Anakin Skywalker, Luke's "old man"). Obi-Wan needed Luke's youthful energy and drive to help the Rebellion defeat the galactic evil-doers. Just teaching the young Skywalker to embrace The Force and develop the will and ability to conquer all odds made the old timer Obi-Wan Kenobi a special kind of ominous force to deal with.
#3 "True Grit" (1969) featuring Reuben "Rooster" Cogburn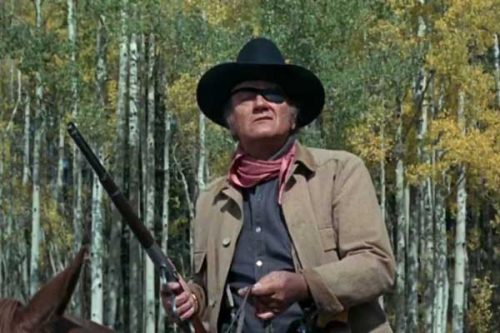 Indeed, Reuben "Rooster" Cogburn was the badass badge that could get the job done. In John Wayne's Oscar-winning turn as the boozehound lawmen for hire in "True Grit," The Duke's Rooster Cogburn proved to be a tough old bird for the young tomboyish client Mattie Ross (Kim Darby) that chose him to go after the murderer of her father in order to seek revenge. Mattie knew of Cogburn's touted reputation as a gung-ho U.S. Marshal known for tracking his law-breaking culprits. Unfortunately, the aging Cogburn lost a step or two and his drinking binges often got the best of him. It does not help that Cogburn and his teenage traveling companion have to trek through hostile Indian territory to go after the killer. Thankfully, Cogburn would be accompanied by a Texas Ranger named La Boeuf (singer/actor Glen Campbell) to assist in going after the elusive villain Tom Chaney (Jeff Corey). Still, Cogburn's advanced age and drunken demeanor would not stop the pursuit of his gun-toting target as he tries to redeem the honor of the teen Mattie relying on his "true grit" to get the job done while restoring his faith in the badge.
#2 "Unforgiven" (1992) featuring William Munny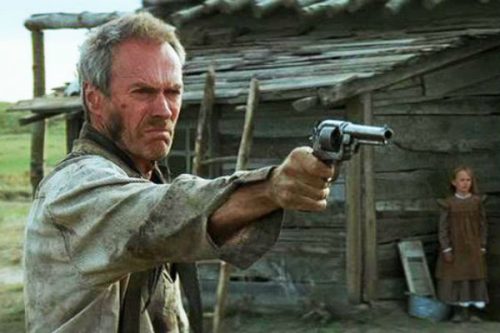 One-time gunslinger William Munny (Clint Eastwood) was notorious for his legendary gun. Now retired and certainly up in age Munny is determined to toil on his farm and raise his offspring despite the absence of his young wife who previously convinced him to give up the gun-play. Munny is bored and financially strapped for cash. However, he is convinced to come out of retirement when a band of Big Whiskey town prostitutes put out a robust bounty for the cowboys that cut up one of their bed-hopping colleagues. Meanwhile, Big Whiskey's Sheriff Little Bill Daggett (Gene Hackman in his Oscar-winning role) is an iron-fisted law enforcer whose indifference and ruthlessness is not lost on the townspeople. The determined Munny would end up recruiting his old partner Ned Logan (Oscar-winner Morgan Freeman) and the self-proclaimed "Schofield Kid" (Jaimz Woolvett). Soon, the clashing between Munny and sadistic Little Bill would turn into the showdown for the ages.
#1 "Whatever Happened to Baby Jane?" (1962) featuring Baby Jane Hudson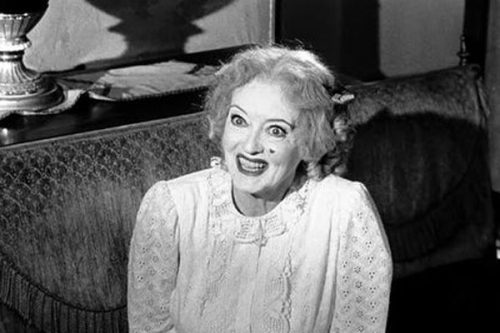 The mature spinster Hudson sisters in Robert Aldrich's early sixties psychological drama "Whatever Happened to Baby Jane?" is a defining contrast in personalities. Blanche Hudson (Oscar-winner Joan Crawford) is the paraplegic sibling who seems quite sympathetic, down-to-earth and sensible despite her wheelchair-bound status. As for Baby Jane Hudson (two-time Oscar-winner Bette Davis), she is the fringe lunatic with the child-like inner madness for tormenting the disabled Blanche. Once a child star in Vaudeville and the movies, Jane's delusional and twisted motives for testing Blanche's sanity may be rooted in the showbiz sibling rivalry that both women shared as working actresses. By far Blanche was the most respected and successful actress while the calculating and loopy-minded Jane was nothing more than a novelty act at best. This may explain Baby Jane's constant cruelty and jealousy towards the crippled Blanche as they share their Hollywood mansion. From locking Blanche in her bedroom, intercepting her fan mail and cutting her off from the outside world to serving her a nasty dead rat on a silver platter as random amusement, Baby Jane Hudson remains one of cinema's most disturbed and dysfunctional oldsters ever to grace the big screen with playful, poisonous deception.