Ah, to be young, feminine and fiendish en route to womanhood on the big screen. The movies have had its share of little devilish darlings in the movies that have caused havoc through instances of seduction, spirit possession, the supernatural or just plain evil-minded deeds. In the Top 10 Little Devilish Darlings in the Movies we will take a look at the cinematic selections that embody the mischievousness of these missy minors that are seemingly sweet in nature (well, some of them anyway) but underneath lies a streak of unassuming destruction.
The Top 10 Little Devilish Darlings in the Movies (in ALPHABETICAL order according to movie title) is as follows:
#10 "The Bad Seed" (1956) featuring Rhoda Penmark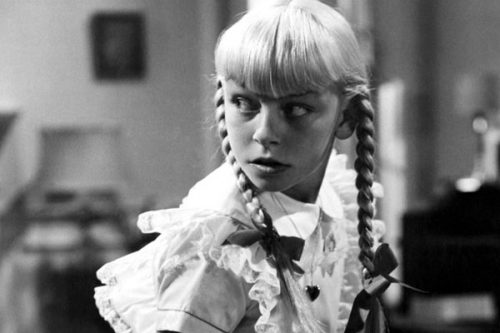 Poisonous pig-tailed terror Rhoda Penmark (Patty McCormack in her Oscar-nominated role) was an eight-year old delicious devil in disguise as she brought convincing twisted tension to director Mervyn LeRoy's psychological/horror showcase "The Bad Seed." On the surface the ribald Rhoda appeared to be her father Col. Kenneth Penmark's (William Hopper) prized twinkle in his eye — she could do no wrong. But for her concerned mother Christine (Nancy Kelly) the reality that her seemingly delightful darling daughter with the idyllic life was in fact a murderous mini monster with a shady and shocking profile of manipulation. Rhoda fooled a majority of those taken by her golden locks and deceptive innocence, but those that were unfortunate enough to perish at the hideous hands of this privileged demon (including a fellow classmate and Henry Jones' alcoholic handyman Leroy Jessup) knew what the real Rhoda was in reality . . . a deadly diva with more coldness in her than the bottom of a polar bear's snowy foot. Indeed, Rhoda Penmark is one of early cinema's calculating kiddies to make an insidious impact.
#9 "Carrie" (1976) Featuring Carrie White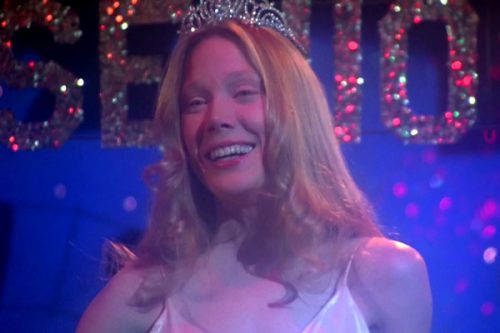 To be fair the very thought of labeling the 17-year old meek and mild freckled face Carrie White (Sissy Spacek in her Oscar-nominated role) from director Brian De Palma's supernatural/horror melodrama "Carrie" as a "devilish darling" is slightly deceiving. After all, poor Carrie was a withdrawn high schooler with a problematic domestic and academic existence. On one hand there was Carrie's controlling and overbearing mother Margaret (Piper Laurie) with the freakish religious fanaticism. On the other hand there was the cruelty and ostracized treatment from spiteful classmates and faculty that made Carrie feel even more transparent and troubled. The real deviousness of Carrie's motivation derived from the immense alienation and frustration that pushed the disillusioned telekinetic teen to the brink of insanity. An embarrassing and degrading prom prank (the old pig blood in the bucket gag) that highlighted Carrie's public humiliation finally was the corrosive catalyst for unleashing the wickedness that resulted in eye-popping mayhem. Carrie White was the unshakable if not sympathetic "temptress of turmoil," but one can hardly blame her scathing wrath given the hostile environment that created such devastation in the spirit of celebrated novelist Stephen King's ghoulish imagination.
#8 "The Craft" (1996) featuring Nancy Downs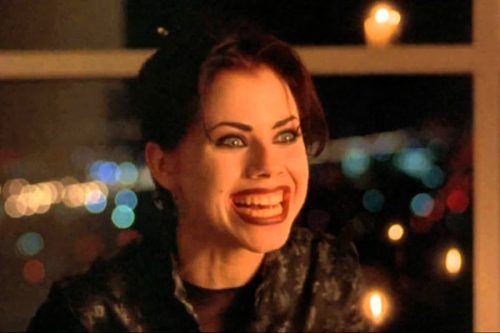 For the goth-looking and animated high schooler Nancy Downs (Fairuza Balk) being an obvious outsider within school grounds did not deter the leather-and-chains femme fatale and her cohorts Bonnie and Rochelle (Neve Campbell and Rachel True) from practicing witchcraft and parading around with an indestructible sense of majestic empowerment. The very thought of having the mystic abilities to concoct spell-binding curses to those that dare to alienate them was truly something to take notice. Newcomer Sarah Bailey (Robin Tunney) saw first hand how ominous Nancy and her two sidekicks could be with the bewitching impulsiveness. Joining leader Nancy in exploring the occult was at first quite liberating for the new girl on the block to feel a connection for belonging and sisterhood. Unfortunately, she soon found that Nancy was deeply cynical, unpredictable, manipulative and moody. Balk's scorned Wiccan Nancy Downs was a dark thrill-seeker whose mesmerizing mischief and mundane naughtiness captured the off-kilter spirit of the film's adventurous, darkened realm.
#7 "The Exorcist" (1973) featuring Regan MacNeil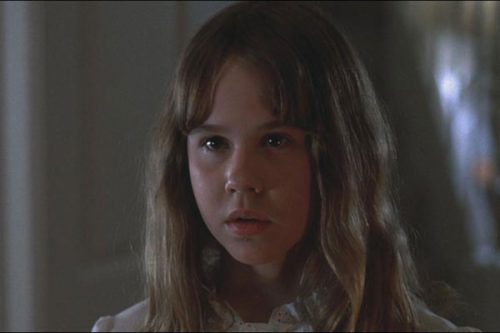 Filmmaker William Friedkin's haunting and hypnotic "The Exorcist" (the movie adaptation based on William Peter Blatty's chilling novel of the same name) introduced one of the most creepy kiddies in cinema courtesy of Linda Blair's Oscar-nominated performance as the demon-possessed pre-teen Regan MacNeil in the classic early 70's horror flick that defined the macabre genre on a whole new level of blistering showmanship. Chris MacNeil (Ellen Burstyn) is panicked and concerned because her daughter Regan's body and soul is being taken over by an unknown devilish force. Chris decides to cleanse the bed-ridden Regan's body hosting the sinister entity by enlisting the aid of a couple of priests in the aging Father Lancaster Merrin (Max von Sydow) and the young and guilt-ridden Father Karras (Jason Miller). Enthralling, boldly eerie and transfixing, Blair's Regan inspired a whole new appreciation for the compromised and complex little darling demonstrating the evil-minded deed that both reinforces and hinders religious ideologies and philosophies. Certainly Regan MacNeil made the common cuisine of pea soup a not-so appetizing treat to behold after a tense viewing of "The Exorcist."
#6 "Kill Bill Vol. 1" (2003) featuring Gogo Yubari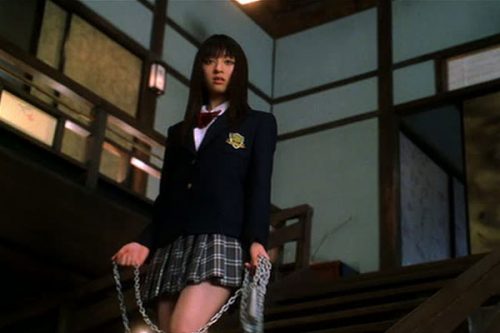 There are not too many deadly 17-year old Asian schoolgirls that are capable of splitting your skull in half thanks to extensive martial arts combat. Well, not unless you are the skilled siren of slaughter in Gogo Yubari (Chiaki Kuriyama) from "Kill Bill Vol. 1." Specifically, Gogo was the treacherous teenage bodyguard for O-Ren Ishii (Lucy Liu) whose devotion to her boss (and the immense fondness for killing) proved to be solid and secured. Just ask Beatrix Kiddo (Uma Thurman), Bill's ex-lover and former assassin, about how lethal and resourceful the blood-thirsty waif Gogo was. Extremely pretty yet pernicious, Gogo was an oddity in that she was not the typically perceived submissive Asian flower ready for a polite bow and steam bath massage. Gogo was ruthless, cutthroat and crafty all wrapped up in that chaotic existence of her mere seventeen years of living. In the long run our heroine would get the best of young Gogo ensuring that she would never reach her eighteenth birthday and continue to perfect her spontaneous death sentences on unlucky recipients. Still, one would probably prefer a gang-style beating from the Crazy 88 crew than face the titillating tart Gogo Yubari in a one-on-one bloody showdown.
#5 "Lolita" (1962) featuring Dolores "Lolita" Haze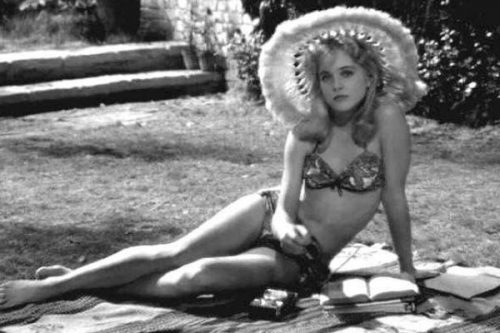 Cinematic nymphet Dolores "Lolita" Haze (Sue Lyon) undoubtedly had the appropriate surname because she certainly placed middle-aged British college professor Humbert Humbert (James Mason) in a provocative haze in the Stanley Kubrick-directed taboo melodrama "Lolita." Lolita Haze was the under-aged curvaceous cutie that was the lusty foundation of Humbert's forbidden fascination for the 14-year old teen aroused the educator's uncontrollable desires. The minor Lolita should not be demonized totally for her ability to sexually attract maturing predators such as Humbert as she could not help being the titillating target for one grown man's unfathomable fantasy. However, Lolita is responsible for her flirtatious nature to a certain extent as her charms not only set off carnal signals in Humbert, but in another older man in Clare Quilty (Peter Sellers), a shady mentor who whisked Lolita away for so-called ventures into his produced plays and movies. Lolita, much to Humbert's dismay, would end up in a strained marriage while pregnant and struggling with financial crisis. Being a young sexpot to older suitors-in-waiting is not exactly ideal preparation for lady-like behavior entering womanhood. Nevertheless, the tarnished image of a teen nympho never comes out smelling good in the circle of redemption for all involved.
#4 "Mean Girls" (2004) featuring Regina George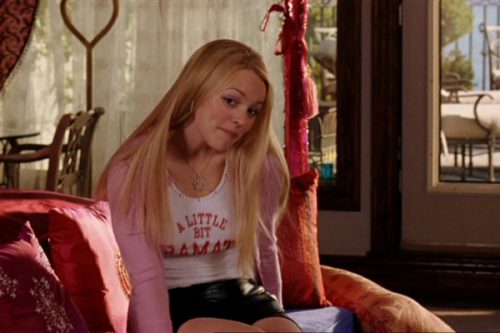 Let's face it . . . there is a Regina George prototype in every high school throughout the country. These superficial hotshot honeys are cruel, catty and self-centered. The Regina Georges of the world could make an insecure cheerleader eat pints of ice cream non-stop based on guilt and intimidation without breaking a sweat. In "Mean Girls" Regina (Rachel McAdams) is the leader of the high school girlie clique known as "The Plastics" who parade around like entitled little princesses of the hallways. Regina and her prissy cohorts welcome newcomer Cady Heron (Lindsay Lohan) into their exclusive fold as she showed potential to be among their "elite ranks." But Cady ended up doing the unthinkable by being cozy with Regina's ex-boyfriend. Soon, this perceived betrayal would strike the rabid Regina the wrong way as Cady would now be considered the sworn thorn of "The Plastics." McAdams' portrayal of devilish darling Regina is rooted in off-balanced hilarity in part to co-star/screenwriter Tina Fey's truthful and relentlessly ticklish script. Basically, the film's tile "Mean Girls" pretty much says it all, right?
#3 "Poison Ivy" (1992) featuring Ivy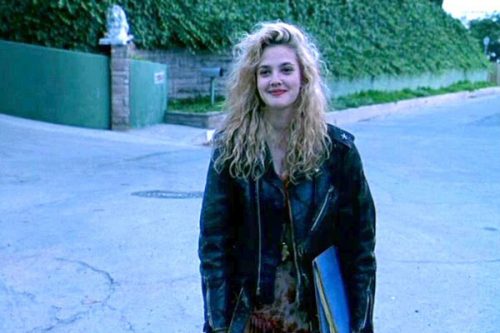 Indeed, Katt Shea's teen temptress tale "Poison Ivy" could have very well been an updated 90's generic version of Stanley Kubrick's classic "Lolita" released thirty years previously. The theme is somewhat familiar with the exception of some instrumental players woven into the tawdry mix. Sexy teen siren Ivy (Drew Barrymore) ends up befriending an awkward and introverted Sylvie Cooper (Sara Gilbert) to the point where both girls form a durable bond despite opposite personalities and a contrasting outlook. However, the motive for the young seductive Ivy making a connection with the brooding Sylvie may rest in the fact that Ivy envied and wanted Sylvie's privileged and pampered existence. It did not hurt that Ivy established a sexual relationship with Sylvie's disillusioned father Darryl (Tom Skerritt) whose bed-ridden and sickly wife Georgie (Cheryl Ladd) served as an inactive wife and lover. Ivy proved to be a toxic presence within the Cooper clan as her bad influence consumed Darryl's mid-life crisis lust, Sylvie's social cynicism and silenced her romantic rival in the ailing Georgie. In short, Barrymore's tempting teen tease Ivy made Sue Lyons' Lolita look like a girl scout selling cookies in the afternoon.
#2 "Problem Child 2" (1991) featuring Trixie Young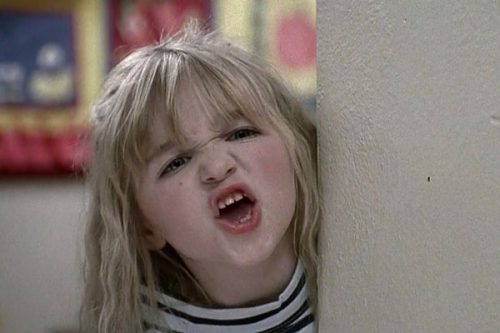 "Problem Child" punk Junior Healy (Michael Oliver) was a mop top terror that caused all sorts of havoc for his adoptive father Ben (John Ritter) not to mention the poor schmucks that were unlucky to get in the way of Junior's destructive path. However, it would take "Problem Child 2" for us to realize that there was another little dangerous dynamo waiting to burst out in menacing fashion. Trixie Young (Ivyann Schwan) was Junior's chaotic classmate and the daughter of the school's nurse Annie (Amy Yasbeck) — the true love for Ben to pursue. In fact, Trixie was more devilish and devious to the point where Junior thought that this pint-sized pariah made him look like an unruly rookie in comparison. Trixie, much like Junior, does not want to see her single parent date for fear that she will be left on the back burner for her mother's affections. Thus, Trixie and Junior team up in diabolical goofy-minded madness to serve as the Romper Room avengers against rich witch Lawanda Dumore (Laraine Newman) looking to sink her marital claws into Ben Healy. Trixie Young is the little hedonistic hoot to say the least.
#1 "Thirteen" (2003) featuring Tracy Freeland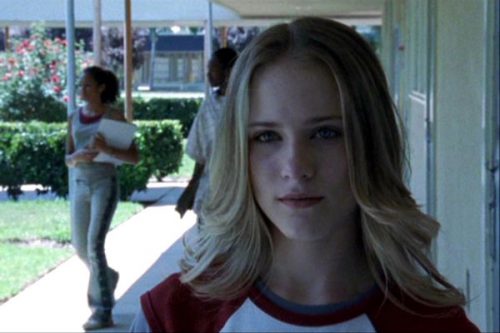 Catherine Hardwicke's hardcore teen drama "Thirteen" shed a hostile spotlight on the peer pressure of teens and the makeup of mother-daughter relationships that define such complicated and angst-ridden tension. Tracy Freeland (Evan Rachel Wood in an Oscar-nominated performance) is a 13-year old put on the edge when she meets and mirrors the erratic behavior of her new best friend Evie Zamora (Nikki Reed). Evie appears free-spirited and raw — something that Tracy finds quite liberating and exciting. Both young girls delve into the wayward world of drugs, petty criminal mischief and random sex. Clearly, Tracy is hungry for debauchery much to the dismay of her working class mother Melanie Freeland (Oscar winner Holly Hunter). Evan Wood is totally riveting as the honor student gone to the dark side based on the emotional detachment regarding her hectic home life and the need to express the ominous vices that obviously numb the personalized pain in a young girl searching to quiet her damaging despair.