So you say that you are not feeling well? There is a solution to your medical problems . . . simply contact your local nurse and she will treat you with all the TLC you need to address your ailments. Of course, it helps that you get taken care of by the right kind of nurse. Remember, not all of your nurses are what you call considerate healing honeybuns.
In the Top 10 Nefarious Movie Nurses we will take a look at some of the frightening Florence Nightingales in cinema that one should not trust with a stethoscope in their heinous hands. It would not be advisable to get sickly around these deadly maidens of medicine because there is no cure when a deranged diva in white stockings walks the corridors with malice in mind. After all . . . these nefarious nurses have one thing in common: A sure-fire prescription for torture.
The Top 10 Nefarious Movie Nurses (in ALPHABETICAL order according to movie title) are as follows:
#10 "Candy Stripe Nurses" (1974) featuring Sandy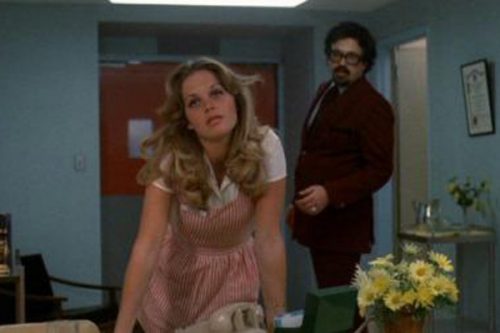 By shining the spotlight on a trio of naughty nurses, writer-director Alan Holleb certainly shows he knows how to exploit the perverse fantasies of every sickly man's dreams. In the titillating mid 70s volunteering nurse comedy "Candy Stripe Nurses," he introduces viewers to three curvaceous cuties, all with a sordid agenda in mind as they make their reckless rounds at the hospital. Specifically, candy striper Sandy (Candice Rialsonn) who accepts her health facility role in order to be close with her hotshot physician boyfriend. However, this does not stop the sex-starved Sandy from making the temperatures rise in the male patients she services courtesy of her sex addiction. Hmmm . . . sexpot Sandy provides a whole new meaning to setting up a "layaway plan." Perhaps her sexual services will ease her pampered patients into willingly accepting their astronomical medical bills in the mail.
#9 "High Anxiety" (1977) featuring Charlotte Diesel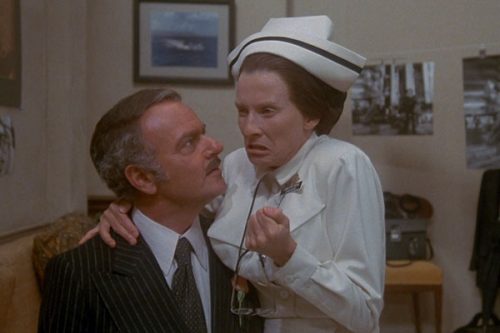 One can see the active wacky mind of Mel Brooks at work in the wicked psychiatric nurse Charlotte Diesel in "High Anxiety," Brooks' homage to filmmaker Alfred Hitchcock. Nurse Diesel is indeed a treacherous tool to say the least. When she is not engaging in BDSM sexual practices behind closed doors, she — along with sinister cohort (and bizarre bedmate) Dr. Charles Montague (Harvey Korman) — is plotting the demise of high strung Richard H. Thorndyke (Brooks). Leachman's Nurse Diesel is a comically tragic figure and definitely contributed to the medical mayhem of Brooks's twisted salute to Hitchcock's psychological suspense thriller hedonism.
#8 "Kill Bill Vol. 1" (2003) featuring Elle Driver (posing as a nurse)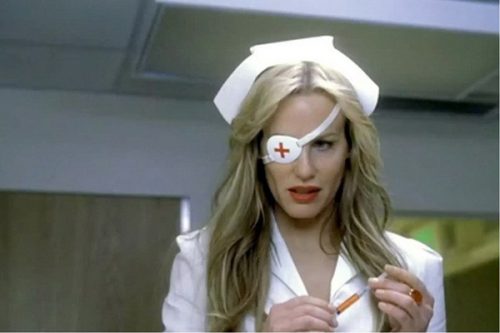 Okay, so technically "Kill Bill Vol. 1" headstrong heroine Beatrix Kiddo a.k.a. The Bride's (Uma Thurman) rival Deadly Viper Assassination Squad member Elle Driver (Daryl Hannah) was not a registered nurse, but she assumed this deceiving identity in order to get close to and eradicate her feisty nemesis while Beatrix was trying to recover in the hospital. Elle was indeed quite a fetching specimen of sexiness, but she was also instinctively ruthless, blood-thirsty and would carry out any sinister orders handed to her from current lover and superior Bill (David Carradine) who, naturally, was Beatrix's former lover and the father of her missing daughter. The immense jealousy of Beatrix's past intimacy with Bill has driven the dangerous Driver to destroy the gifted martial arts maiden, but, unfortunately for her, slyly donning a nursing uniform was not enough to take out Beatrix, who went on to exact her furious revenge in Quentin Tarantino's fight-to-the-death frenzied fable of redemption.
#7 "M*A*S*H" (1970) featuring Major Margaret "Hot Lips" Houlihan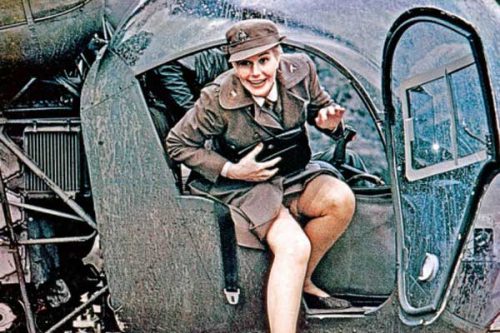 Actress Sally Kellerman scored an Academy Award nomination for Best Supporting Actress playing the uptight, by-the-book US Army head nurse Major Margaret "Hot Lips" Houlihan in Robert Altman's irreverent military comedy "M*A*S*H." Hot Lips was a procedural pest that played by the army's rules and she found herself at odds with her disillusioned comrades-in-arms, particularly with the medical 4077 unit's top two talented surgeons, Benjamin "Hawkeye" Pierce and Trapper John MacIntyre (Donald Sutherland and Elliott Gould). While Major Houlihan played the disciplinarian diva as she teamed up with equally gung ho, yet medically inept and married Major Frank Burns (Robert Duvall), they were hypocritical in their private actions as they carried on an affair at the camp that everybody knew about. "Hot Lips" was a complicated creature, both vile and vulnerable, and served as the poster girl for self-righteousness in a war zone where the relief from the pressured surroundings of death and destruction was to partake in offbeat craziness. Although not one to admit this revelation, Kellerman's "Hot Lips" Houlihan was just as broken inside psychologically as her weary colleagues and the countless wounded whose spilled blood they all traipsed through in marathon hours at the operating table.
#6 "Misery" (1990) featuring Annie Wilkes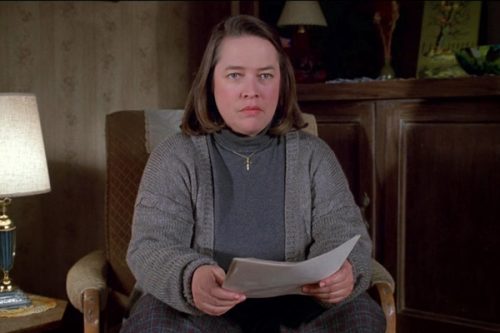 It should not be to anybody's surprise that Kathy Bates walked away with the Best Actress Oscar for her role as the delusional, overbearing and psychotic former nurse Annie Wilkes in Stephen King's creative written work-turned-movie adaptation "Misery." Annie, who is a disturbingly ardent admirer of injured novelist Paul Sheldon's writing and especially of his fictional literary leading lady Misery Chastain, stops at nothing to manipulate her recovering guest's thoughts about her cherished printed page heroine. The problem is that Sheldon is at the mercy of this hefty-sized caretaker whose mood swings change with the wind. Annie is child-like and playful one moment ("Paul, you have been a dirty birdy") then menacing and argumentative the next. Consequently, Bates's brilliant performance as the nutjob nurse living in rural isolation who proclaims her undying love as a "Number 1" fan for her weakened author and his "Misery" protagonist is nothing short of unsettling and masterful. Clearly, Annie Wilkes is the most silently sadistic nurse since Nurse Ratched (who also makes an appearance on this list) in "One Flew Over the Cuckoo's Nest."
#5 "Nurse 3D" (2013) featuring Abby Russell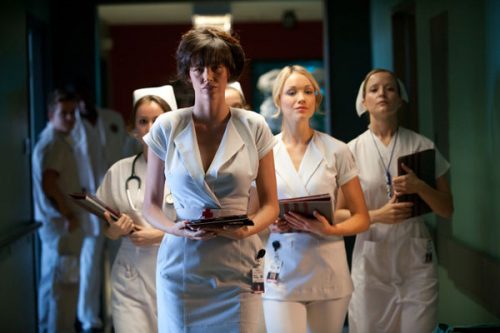 Perhaps writer-director Douglas Aarniokoski's "Nurse 3D" is the first tawdry feminist nurse thriller with a deadly twist? You know . . . featuring a hospital hussy falsely catering to unsuspecting cheating guys with siren-inspired sexiness then whammo . . . disposing of these sleazy cretins as repayment for their philandering? This was the case for Nurse Abby Russell (Paz de la Huerta), a health care professional during her working hours where she is devoted to her patients and their treatment. But when she is away from the workplace it is a different story for the calculating Abby as she lives a dramatically alternative nightlife. Abby has the terrorizing tendencies to use her alluring body to ambush the unfaithful guys blinded by her provocative charms — her way of teaching them a critical (and deadly) lesson in sexual deception. However, it will take a young nurse (Katrina Bowden) to get in Abby's path of destruction and change its course, undoubtedly saving many others from Abbys twisted, sexual justice.
#4 "The Nurse" (1997) featuring Laura Harriman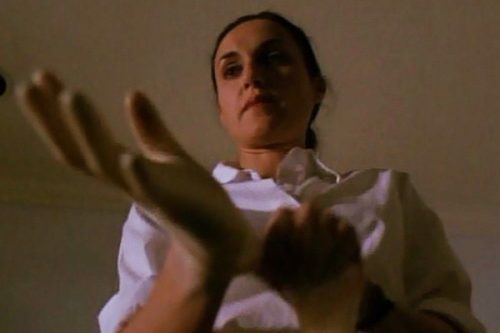 For Nurse Laura Harriman (Lisa Zane) payback will be so sweet although for her victimized targets it would be a sour undertaking. In director Robert Malenfant's "The Nurse" we find a very desperate nurse out for revenge as she believes a catatonic businessman is the sole reason that her father killed himself. So Laura goes to work as she deviously schemes to infiltrate the stroke-stricken man's family as a private nurse while plotting to off his family members one by one in retaliation for her late father's legal humiliation leading up to him taking his own life. Laura is uncontrollable in her taste for getting even as her random killings justify her descent into utter madness. There is nothing original about the premise for "The Nurse" in terms of witnessing yet another pretty vixen go unhinged and take toxic matters into her own horrific hands, but one cannot deny the fact that Laura Harriman is a perfect fit in the category of nefarious nurses with off-kilter intentions.
#3 "Nurse Betty" (2000) featuring Betty Sizemore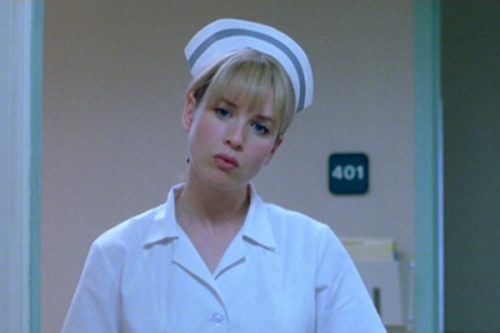 Waitress Betty Sizemore (Oscar winner Renée Zellweger) is one traumatized cookie. It is bad enough that she saw the murder of her car salesman husband, but now Betty is convinced that her calling to leave Kansas City and become a nurse is a sound decision — all in the name of getting the chance to meet her heartthrob, TV soap opera physician Dr. David Ravell (Greg Kinnear). Betty's mental shock has her convinced that she was and still can be Dr. Ravell's one and only main love. It does not help matters any that Betty Sizemore does not realize that both her treasured Dr. Ravell and the daytime drama he appears on is all fantasy entertainment, but it does not stop her from donning a nursing uniform and traveling to L.A. to rub shoulders with the fictional cardiologist. Betty's troubles in believing her post-traumatic obsession with a handsome television doctor is just the beginning as her late husband's murderers (Morgan Freeman and Chris Rock) are on her trail to recover the illegal belongings her spouse stored in her vehicle.
#2 "One Flew Over the Cuckoo's Nest" (1975) featuring Nurse Ratched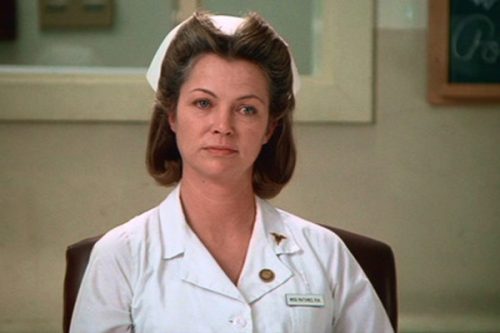 Louise Fletcher's iconic role as the icy and manipulative Nurse Ratched in Milos Forman's absorbing mental institution drama rightfully earned her a Best Actress Oscar and perhaps made her the most notorious nurse in cinematic history. Nurse Ratched was a no-nonsense and unfeeling shrew that commanded obedience from her delusional patients too afraid and unaware to challenge her authority. The only constant thorn in the side for the humorless nurse was the free-wheeling rebel Randle Patrick McMurphy (Jack Nicholson in one of his Oscar-winning performances) whose unconventional and off-the-cuff craziness helped empower and encourage his fellow mental patients to loosen up as a way of challenging the restrictive Ratched. Sadly, Nurse Ratched would have the final say by silencing both her rival McMurphy (via a forced lobotomy), and McMurphy protégé Billy Bibbit (Oscar-nominated Brad Dourif) whose suicide is the result of Ratched's dirty-minded psychological tactics. Indeed, Fletcher — long before fellow Oscar-winning actress Kathy Bates won her gold statuette for playing a negligent nurse in "Misery" — was the original nursing nightmare mired in quiet, tactical torture of the mind and soul.
#1 "Silent Hill" (2006) featuring Corpse Nurses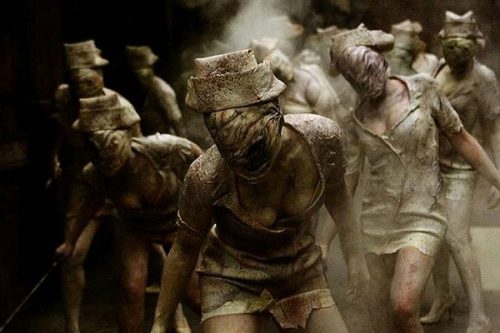 There is nothing more terrifying than the faceless, zombie-looking nurses that make up the bizarre universe in Christophe Gans' horror/mystery vehicle "Silent Hill." Ominous and staggering, these scary-looking nurses parade around in grimy uniforms as they roam aimlessly in the foggy terrain of eerie Silent Hill where a panicked Rose Da Silva (Radha Mitchell) frantically searches for her adopted daughter. Here is hoping that Rose's missing child is not receiving any medical care from the caustic corpse nurses from the Silent Hill medical facility. Imagine receiving an IV injection from these ghoulish gals with severely scarred noggins? YIKES!