Ever want to know what it takes to be in an elite club crawling with some of the cinema's most awkward movie characters and their nerdy tendencies? Well in Top 10 Movie Nerds we will take a look at some of film's geekiest go-getters who were either pushed around in defeat or ended up getting the last laugh with an unexpected achievement or a combination of both instances. Sure, there are perhaps tons of other nerdy selections that one can add to the mix and if so then fine . . . go ahead and knock yourself out in doing so. Just be sure to tell me who I've missed and why . . .
The Top 10 Movie Nerds (in ALPHABETICAL order according to film title) are as follows:
#10 "Back to the Future" (1985) featuring George McFly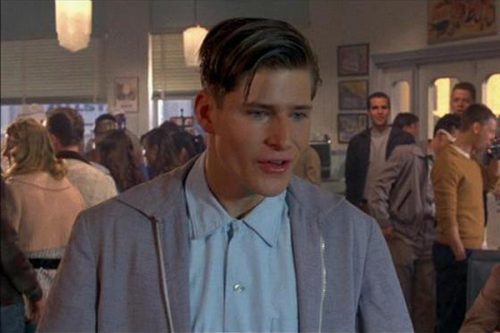 Actor Crispin Glover, the off-kilter performer who became America's favorite nerdy patriarch in the mid 80's box office sci-fi hit "Back to the Future," reportedly has never come to grips with his pushover papa George McFly role that has made him a movie nerd icon for the ages. However, for movie audiences, then and now, the goofy and whiny demeanor of traveling hero Marty McFly's (multi-Emmy winner Michael J. Fox) doofus daddy was a winning yet sympathetic fatherly figurehead who was not only at the mercy of bombastic bullies such as badass Biff Howard Tannen (Thomas F. Wilson) but also a doormat for the game of life in general. Nevertheless, even the George McFlys of the world deserve to catch a break and deliver the comeuppance to their oppressors at some point. And for that we embrace the character George McFly with giddy enthusiasm.
#9 "Election" (1999) featuring Tracy Flick
Some may not see Reese Witherspoon's biting portrayal of high school overachiever Tracy Enid Flick from filmmaker Alexander Payne's smartly written 1999 comedy "Election" as a member of the nerd brigade necessarily. After all Tracy was ambitious, conscientious, focused, determined and intelligent. But she was also opportunistic, sneaky, slightly vindictive and annoying — a side to her that government teacher Jim McAllister (Matthew Broderick) noticed and decided to serve some comical just deserts. In any event, Tracy was the high-achieving nerd that rubbed her fellow classmates the wrong way as her over-reaching expectations and academic arrogance made her nothing more than a spoiled brat with garrulous grand-standing in the classroom. Whether she's considered an applauded nerd, scheming scholastic superstar or grating-on-the-nerves go-getter, cinema's Tracy Flick is one of the most celebrated polarizing high schoolers to grace the big screen in modern movies.
#8 "The Incredible Mr. Limpet" (1964) featuring Henry Limpet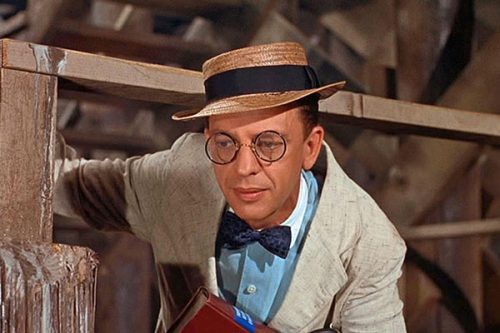 Multi-Emmy Award winner Don Knotts, who famously became a TV icon courtesy of his classic characterization of fidgety Deputy Barney Fife on "The Andy Griffith Show," cut his teeth perfecting the overwhelmed wiry nerd in a string of now nostalgic slapstick comedies such as delightful ditties: "The Ghost and Mr. Chicken," "The Reluctant Astronaut," "The Shakiest Gun in the West" and of course "The Incredible Mr. Limpet." In fact, Knotts' Henry Limpet was an endearing nerd that taught us all a lesson in life — that dreams in wanting to be somebody more than you are can happen no matter how the odds are stacked up against you. The whimsical and silly-minded film introduced us to Henry (Knotts), a meek-minded bookkeeper whose strong affinity for the Navy is shattered when he is determined physically unfit to join the service he cherishes so dearly. Nevertheless, a freakish event while falling in the water transforms the nerdy bookkeeper into a fish — something that rejuvenates his sense of purpose and spirit. Now as a fish Mr. Henry Limpet can assist the Navy on its mission to locate and disarm Nazi U-boats. Indeed, "The Incredible Mr. Limpet" is a babyboomer's childhood fantasy worth a reminiscing dip in the deep end of swimming pool memories.
#7 "Little Shop of Horrors" (1986) featuring Seymour Krelborn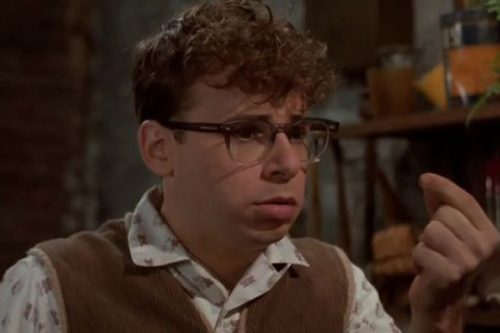 Okay folks, there is no slight intended in omitting the original 1960 release of "Little Shop of Horrors" directed by sexploitation gore-meister Roger Corman. However, movie audiences will probably recall more readily Frank Oz's 1986 remake featuring the well-known former "SCTV" cast member, the nebbish Rick Moranis in the role of clumsy florist Seymour Krelborn whose friendship with a blood-thirsty, man-eating giant plant (voiced by the late legendary Four Tops' lead singer Levi Stubbs) and nervous affection for co-worker Audrey Fulquad (Ellen Greene) at their flower shop workplace ended up in comedic chaos. Naturally, there is no bias towards Jonathan Haze's Seymour in Corman's version of the movie, but Moranis has made an art out portraying nerdy souls in fare such as "Ghostbusters," "Honey, I Shrunk the Kids," "Parenthood" and "Little Giants" just to name a few. Thus, common sense dictates that Moranis' Seymour gets the head up in recognition as being the put-upon plant-boy with the winning nerdish touch.
#6 "Napoleon Dynamite" (2004) featuring Napoleon Dynamite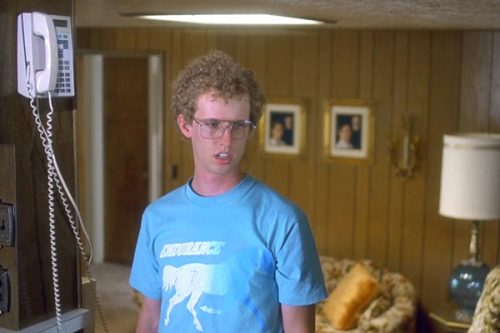 Writer-director Jared Hess and his lead Jon Heder collaborated to bring another heralded nerdy high schooler to the forefront in the Idaho-based coming-of-age comedy "Napoleon Dynamite." Devoutly droll, off-kilter and surprisingly observational, Heder's Napoleon represented every underdog in the school system dealing with their unique form of alienation both in the classroom and at home. The usual obstacles applied in Napoleon's warped world of wackiness — eccentric family members, a stubborn pet llama, school bullies and the popular clique circles. However, Napoleon's route to coolness entails the mission to get his new best friend in transfer student Pedro (Efren Ramirez) elected student body president over challenger Summer Wheatley (Haylie Duff), the mean-spirited "it" girl that runs the roost. Ironically, "Napoleon Dynamite" made it hip to be a nonsensical nerd in shaking up the high school hierarchy in the mid 2000's. And remember above all else . . . Vote for Pedro!
#5 "The Nutty Professor" (1963) featuring Professor Julius Kelp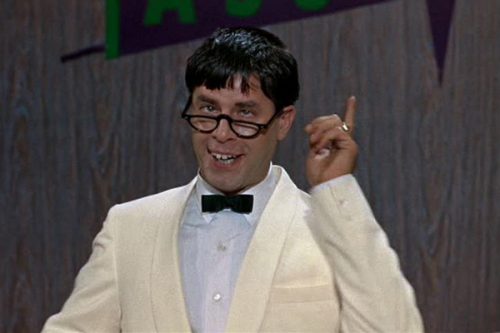 Many consider writer-director-star Jerry Lewis' "The Nutty Professor" his ultimate masterpiece among the conveyor belt of silly 60's comedies he cranked out in the aftermath of his publicized professional split with former comedy partner Dean Martin. Lewis played nerdy Professor Julius Kelp who longs for a romantic relationship with one of his curvaceous college students, the pretty and perky Stella Purdy (Stella Stevens). Thus, Professor Kelp's Dr. Jekyll and Mr. Hyde-type experimentation in the lab results in his transformation to swinger Buddy Love, a handsome, but relentlessly boorish brute whose obnoxiousness and self-serving sense of importance left much to be desired. Julius Kelp was a beeker-pushing nerd, but he was also inherently sweet and considerate . . . an alternative to the polished but poison-tongued Buddy Love. The lesson was reinforced in "The Nutty Professor" that being your true self is the only way one can discover one's true identity and heart. In the end, Kelp embraced his nerdy truth and got the trophy girl in the process. We all should be so lucky, right?
#4 "Pee-Wee's Big Adventure" (1985) featuring Pee-Wee Herman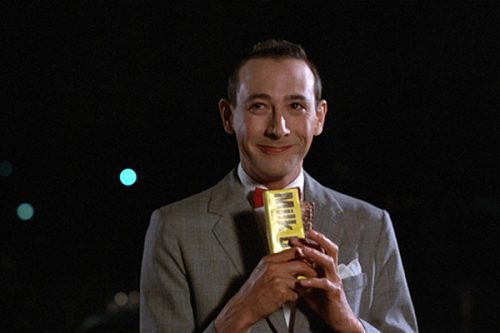 Long before comedian Paul Reubens became damaged goods following a 1991 arrest for indecent exposure in a Florida adult movie theater, his worldwide fame as kiddie pioneer goofball Pee-Wee Herman was the rage on both daytime children's television and later in the movies. The bow-tied, squeaky-voiced simpleton had made his mark in pop culture with his TV/stage events that included the eighties' explosion of exposure with off-balanced fare such as "The Pee-Wee Herman Show" and later CBS children's programming of "Pee-wee's Playhouse." Soon, Reubens' immense popularity highlighted by Pee-Wee Herman-oriented toy merchandising and the works would later welcome his infectious and insane presence on the big screen in "Pee-Wee's Big Adventure" — an unlikely comedy of goofiness that magically appealed to both adults and youngsters alike. Regardless of the personal controversies that dogged Reubens the man, it appears that Reubens the artist left an indelible imprint on the generations of children and grown-ups that grew up in the Pee-Wee Herman universe of child-like ribaldry.
#3 "Revenge of the Nerds" (1984) featuring Lewis Skolnick and Gilbert Lowe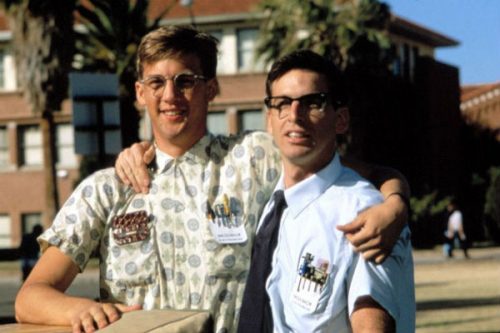 The duo behind the "Revenge of the Nerds" movie movement are Lewis Skolnick and Gilbert Lowe (Robert Carradine and Anthony Edwards), a couple of buddies that led the pack of outcasts and misfits at fictional Adams College in Jeff Kanew's collegiate campus comedy. It was tough on the terrorized twosome as they dealt with the pressures put upon them by the likes of handsome hotshot jock Stan Gable (Ted McGinley) and gigantic goon Orge (Donald Gibb) not to mention the college faculty that were not too thrilled with them as well. Still, Lewis and Gilbert led their fellow nerds: Poindexter (Timothy Busfield), Booger (Curtis Armstrong), Lamar (Larry B. Scott), Wormser (Andrew Cassese) and Takashi (Brian Tochi) to not only survive the slings and arrows of their pitbull peers, but to turn the tables and overcome in more ways than one. All nerds unite!
#2 "Sixteen Candles" (1984) featuring Ted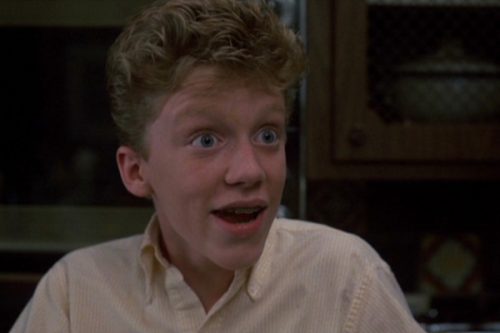 The trials and tribulations of soon-to-be sweet sixteen Samantha (Molly Ringwald) as she navigates through the growing pains at home and in school are showcased in the late John Hughes teen-angst dramedy "Sixteen Candles." So what is Samantha's dilemma? Well, she harbors a tremendous crush for the most coveted boy in high school Jake (Michael Schoeffling), but the problem is that Samantha cannot seem to avoid her unwanted admirer in the person of the Geek, aka "Farmer" Ted (Anthony Michael Hall). Totally spastic and bothersome, the Geek is devoted to his elusive love muffin Samantha, but she is not receptive at all to the intrusive nerd-in-heat. In many ways the Geek was very sympathetic and vulnerable as he felt about Samantha the way Samantha viewed her heartthrob Jake. Deep down we all knew that the Geek was the "one" for the disillusioned Samantha although we can certainly understand her reluctance to ignore her klutzy champion for the dreamed of girltoy beefcake she wanted so badly.
#1 "Superman" (1978) featuring Clark Kent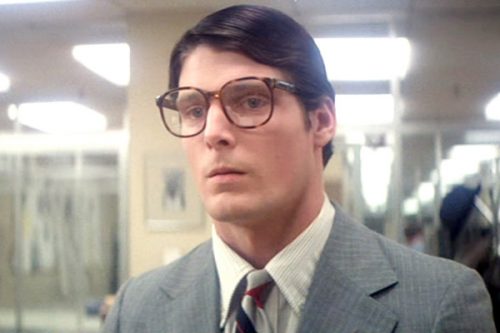 Clearly, Clark Kent is the ultimate king of the nerds . . . or at least this is how the late Christopher Reeve perceived him as when hiding behind this seemingly inept newspaperman to shield his Man of Steel identity to the world he saved on a daily basis. The nerdy Kent (and Superman) held a special affection for fellow reporter — the feisty feminine firecracker Lois Lane (Margot Kidder) — but she had her designs only on the Caped Courageous One. Whether it was an exaggerated act by Clark Kent to act so gawky and goofy is a distinct possibility, he nevertheless, always had the last laugh in the long run as his red-and-blue tights with the big "S" on his chest gave him all the street cred he needed.
HONORABLE MENTION:
"Fast Times at Ridgemont High" (1982) featuring Mark "Rat" Ratner
"Footloose" (1984) featuring Rusty
"Ghostbusters" (1984) featuring Dr. Egon Spengler
"Lucas" (1986) featuring Lucas