The re-imaging of fairy tale characters is officially upon us. Taking cues from Snow White's toughening up ("Snow White and the Huntsman") comes Paramount Pictures' Hansel & Gretel: Witch Hunters. 15 years removed from the gingerbread house where they were both almost eaten by a witch, Hansel (Renner) and Gretel (Arterton) take up leather and arms to rid the world of evil. And boy do they take up arms — Gatling guns, shotguns and other assorted weaponry is employed to dispatch the hags and their summoned. Expect a lot of bloodshed and perhaps a few laughs (Adam McKay and Will Ferrell are producers) from what looks like might be a good way to start off 2013. Get your fix now by watching the embedded trailer.
Hansel & Gretel: Witch Hunters stars Jeremy Renner, Gemma Arterton, Famke Janssen, Peter Stormare, Thomas Mann and Derek Mears.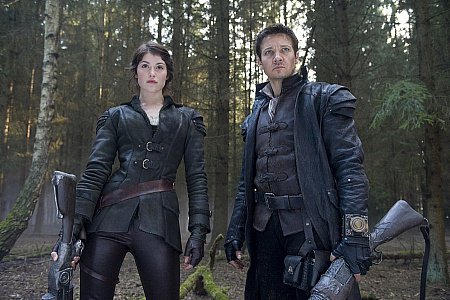 Hunting in the forest.[/caption]
Hansel & Gretel: Witch Hunters hunts in US theaters on January 25, 2013 and UK theaters on February 22, 2013.